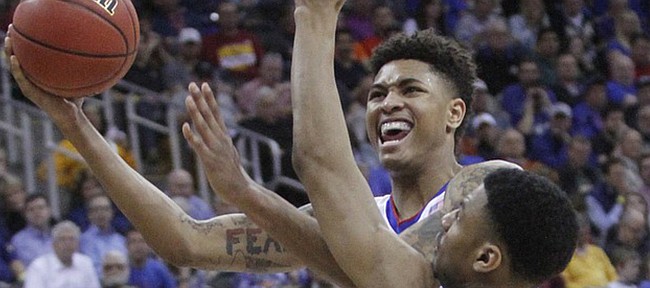 Kansas City, Mo. — Kansas University freshman Kelly Oubre, Jr., couldn't sit still in front of his Sprint Center locker room stall before his first postseason game as a collegian.
"He was in here running around. He was throwing Gatorade bottles up, trying to run and catch 'em. He just had a lot of energy. I knew he had a lot of bounce today," KU junior forward Jamari Traylor said after watching the 6-foot-7 wing carry the same enthusiasm into KU's 64-59 Big 12 tournament quarterfinal win over TCU.
Oubre scored a career-high 25 points, including 15 of his team's final 21 points over the last 11 1/2 minutes. He hit 15 of 19 free throws with six rebounds, three steals and two blocks in 34 minutes. His 15 free throw makes were the most ever by a KU player in a Big 12 tournament game, second most of any player in conference tourney history. Linas Kleiza of Missouri made 17 against Oklahoma in 2005. It was the most makes by a KU freshman in any game since Andrew Wiggins hit 15 at West Virginia last season.
Photo Gallery
Kansas basketball v. TCU in Big 12 Tournament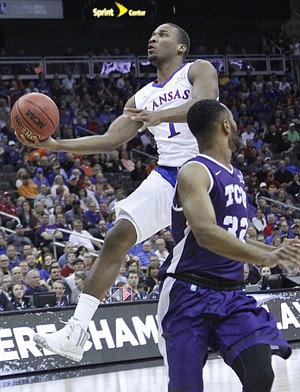 Images from the Kansas Jayhawks Big 12 Tournament game against TCU Thursday, March 12, 2015 at the Sprint Center.
Podcast episode
Kansas basketball coach Bill Self, as well as players Kelly Oubre Jr. and Landen Lucas, discuss KU's win over TCU in the quarterfinals of the Big 12 Tournament, in Kansas City, Missouri. They say the Jayhawks advanced without playing very well.
KANSAS 64, TCU 59
"I was there a lot. I called it my home I guess," Oubre said of the free throw line.
His work on the offensive end helped make up for the loss of Perry Ellis, who missed his second straight game because of a sprained right knee. Coach Bill Self thinks Ellis likely will return to action today in a 6 p.m., semifinal versus Baylor.
"Perry is out. I had a chance to slide into his (power forward) spot today. I tried to take advantage of my opportunity and help my team get a victory," Oubre said.
Oubre surpassed his previous career high of 23 points against Lafayette. His previous high in a Big 12 game was 19 points versus Oklahoma on Jan. 19 in Allen Fieldhouse.
"Kelly and Landen pulled us through," Self said. Sophomore forward Landen Lucas contributed 13 points, seven boards and three blocks in 24 minutes.
"Those two guys ... you end up counting on a freshman and a guy you thought maybe was your 11th, 12th man coming in the year to carry you in the Big 12 tournament. They did that. They played well today," Self said.
Self was miffed that several players didn't have the same enthusiasm as Oubre or Lucas. He benched Wayne Selden, Jr. (seven points, four turnovers, 25 minutes) in favor of Svi Mykhailiuk to start the second half.
"I was going to play Svi the entire second half if he got off to a good start," Self said of Mykhailiuk, who had two points and two assists in 11 first-half minutes and played just four minutes the final half. "He got off to a rough start. Wayne made a basket or two which helped him. We need Selden and Brannen Greene (0-3 from three; now 0-14 over four games) to step up."
And everybody to bring enthusiasm.
"It's getting old," Self said of the team not being ready to play with energy. "I think personality, body language, guys playing cool I think is contagious. That's as quiet a building as you'll ever have with Kansas playing. In large part we made it that way. We need our point guard (Frank Mason III, six points, five rebounds, three steals, two assists) to play with emotion, Wayne with emotion. We were emotionless today. Maybe because it's the first time all year we've played on a Thursday. Hopefully on Friday we'll play better," Self added, smiling.
If not ... "we'll go home," Self said simply.
This was a day Oubre definitely stole the show and pretty much saved KU, which improved to 25-7.
"He was amazing. He was the only guy who could get in there and drive and make something happen for us. He had that thunderous dunk. He was great. Period," KU's Greene said.
Oubre accepted a pass on the wing and raced in for a two-handed slam with 1:09 left, giving KU a 61-57 lead.
"I wanted to step over him so I could dunk on him (defender)," Oubre said with a smile. "I was going to dunk regardless."
He played a lot at the 4-spot with Ellis out.
"The lane opened up. When it opened up, I took the opportunity to get in there," Oubre said. "Fouls happened to keep coming my way. It was great."
Selden, who has been Oubre's mentor this season, was especially proud of his pal's effort.
"I said just, 'Good game. Keep it going,''' Selden said of his postgame message to Oubre. "We don't want any complacency right now. He's playing really well and I'm proud of him."
There's not much chance of complacency with Oubre, who is regarded as a likely one-and-done player. This postseason could be his only one at KU.
"I love playing with Kansas across my chest. It's a blessing," he said.
About the only negative is he missed two threes on a day KU went 0-for-8. KU has not made a three in two of its last three games, going 0-for-15 versus West Virginia with a 5-for-15 thrown in between against Oklahoma.
"You could look at it glass half empty or full," Oubre said. "We've been getting wins without hitting threes. What's that tell you? When we start hitting, we'll be lethal."
---
More news and notes from Kansas vs. TCU at the Big 12 Tournament
---