Kansas City, Mo. — Freshman Kelly Oubre Jr. scored a career-high 25 points to lead top-seeded Kansas University past upset-minded TCU, 64-59, in Thursday's Big 12 tournament quarterfinals at Sprint Center.
Oubre scored 15 of KU's last 21 points en route to his career day. He scored 15 of his game-high 25 points at the free-throw line, where he attempted 19 shots.
Oubre also added six rebounds, three steals and two blocks in 34 minutes.
Photo Gallery
Kansas basketball v. TCU in Big 12 Tournament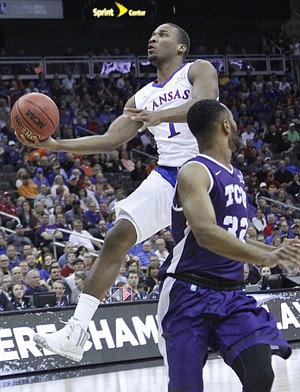 Images from the Kansas Jayhawks Big 12 Tournament game against TCU Thursday, March 12, 2015 at the Sprint Center.
Podcast episode
Kansas basketball coach Bill Self, as well as players Kelly Oubre Jr. and Landen Lucas, discuss KU's win over TCU in the quarterfinals of the Big 12 Tournament, in Kansas City, Missouri. They say the Jayhawks advanced without playing very well.
KANSAS 64, TCU 59
Landen Lucas added 13 points and 7 boards to help lead the way down low on yet another day in which KU junior Perry Ellis did not play due to his knee injury. KU coach Bill Self said Thursday morning that Ellis would not play vs. TCU.
After a sluggish first half by both teams that saw some sloppy play and a bunch of whistles, the Jayhawks gained some separation heading into the locker room by locking in on defense in the final two minutes of the first half.
The defensive prowess led to some easy buckets in transition and Frank Mason I'IIs jumper that beat the halftime buzzer put KU up 33-26 at halftime.
Here's a quick look back at some of the action:
• The game turned when: It really never did. It was not until back-to-back dunks from Oubre and Lucas in the final 40 seconds of the game when you thought the Jayhawks were definitely going to hang on.
• Offensive highlight: Early in the second half, Oubre found a way to get two points by both contorting his body and the spin on his shot on a driving layup that took him from the left side of the basket to the right side in a couple of dribbles. Oubre, who tallied with points, was good at attacking the rim all day, whether he finished or not.
• Defensive highlight: Oubre came up with a handful of deflections and steals throughout the game, but Mason may have had the best single defensive play of anyone. With TCU driving after a KU turnover, Mason was on his heels and retreating into the paint. As Trey Zeigler gathered to go to the rim, Mason slipped his hand in to pluck the ball away and then saved it before falling out of bounds. The move jump-started a KU fastb reak and helped keep TCU from climbing any closer.
• Key stat: 3 points and 24 minutes. Those were the numbers turned in by TCU point guard Kyan Anderson, who had shown in the past that he could be a Jayhawk killer. He was not on Thursday, as the senior fouled out after attempting just three shots all game.
• Up next: The win moved the Jayhawks into Friday's 6 p.m. semifinal, where they'll play Baylor, which knocked off West Virginia by 10 in Thursday's first game at Sprint Center. The Jayhawks swept the Bears during the regular season, winning a one-point dog fight in Waco and holding off a strong Baylor push in Lawrence in mid-February.
---
More news and notes from Kansas vs. TCU at the Big 12 Tournament
---