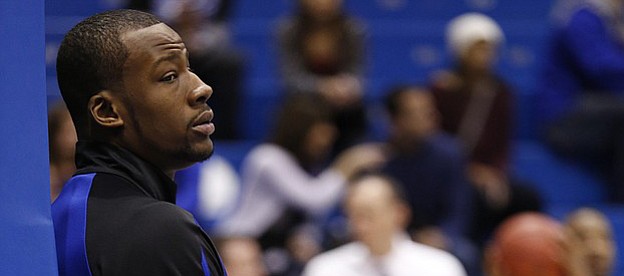 Kansas City, Mo. — An attorney representing Kansas University freshman forward Cliff Alexander put out a statement on Thursday, before KU's 64-59 win over TCU at the Big 12 Tournament, indicating the NCAA will not meet with the KU big man until he provides documents that Alexander apparently does not possess.
Attorney Paul Stafford indicated that the 6-foot-8 freshman from Chicago has provided phone records, texts and bank statements to the NCAA. Stafford says the NCAA, which is looking into Alexander's eligibility, will not meet with the KU forward until he provides additional information.
"Mr. Alexander has completely and expeditiously complied with the NCAA's requests. Through his attorneys, Mr. Alexander has provided his telephone records, text records and bank statements," Stafford's statement begins.
Photo Gallery
Kansas basketball v. TCU in Big 12 Tournament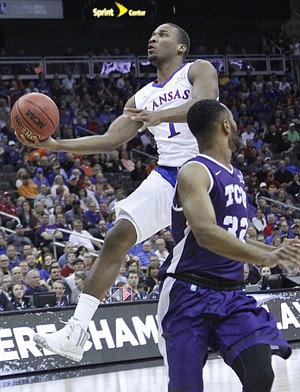 Images from the Kansas Jayhawks Big 12 Tournament game against TCU Thursday, March 12, 2015 at the Sprint Center.
Podcast episode
Kansas basketball coach Bill Self, as well as players Kelly Oubre Jr. and Landen Lucas, discuss KU's win over TCU in the quarterfinals of the Big 12 Tournament, in Kansas City, Missouri. They say the Jayhawks advanced without playing very well.
KANSAS 64, TCU 59
"Mr. Alexander has been ready, willing and able to be interviewed since March 2. Yet he has been informed that the NCAA will not interview him until they receive additional documents that are not his documents, the content of which he has no knowledge, and documents which have never been in his control or possession.
"Mr. Alexander is in Kansas City with his team ready to be interviewed by the NCAA and ready to clear his good name, so that he can get on the court to lead his team through the championship season."
Yahoo!Sports reported that a UCC file has tied Alexander's mom, Latillia, with a finance company that specializes in loans to athletes and agents. Alexander has been held out of the last four games.
"I've not (yet) read it," Self said of the lawyer's statement. "If that is what is said I'd say that is the stalemate. That's not us. That's not Kansas. The whole deal that is frustrating to me ... why can't we get this thing done or handled? I don't know exactly what they are asking for. I wish whatever they are asking for it'd be delivered and then you go through it. If it hasn't been done in two weeks, what makes me think it'd be done tomorrow? I talk about it too much already," Self added.
He also stated: "It's almost to the point I'm emotionless about it. To me it's not that complicated a deal. It seems to me it could be handled. I'm approaching it we'll coach the guys who are eligible and healthy."
---
More news and notes from Kansas vs. TCU at the Big 12 Tournament
---