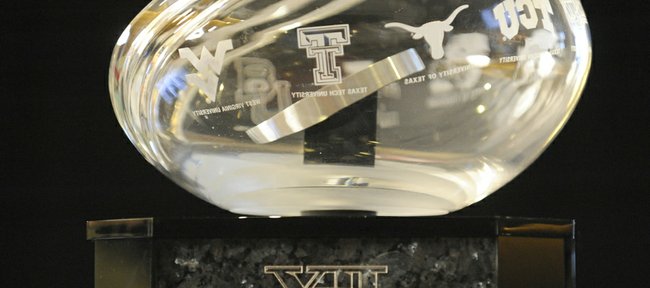 Kansas University's basketball team will take the court tonight against West Virginia as champions — 2014-15 Big 12 champions.
Iowa State's victory over Oklahoma on Monday night dropped the Sooners to 11-6 in the league, meaning ISU, West Virginia and OU each are two back in the loss column with two KU games to play.
KU (23-6, 12-4), which is assured at least a tie for its 11th-consecutive Big 12 regular-season crown, can claim the undisputed title with a victory over the Mountaineers (22-7, 10-6) at 8 tonight in Allen Fieldhouse.
"What these kids have done is pretty remarkable," KU coach Bill Self told the Journal-World late Monday, moments after the horn sounded on Iowa State's 77-70 victory over OU.
"There were numerous times this year we didn't know if we could get there. The kids have done great. We still feel we can play better. We certainly want to win it outright. We don't want to share it. In order to win it outright, we need to take care of business and play well against West Virginia."
Self and his wife, Cindy, did not watch the Iowa State-Oklahoma game. They merely followed the score on the Internet.
"We're just chilling (at home), both very excited," he told the J-W, adding, "I'll sleep good tonight. This year has been a grind. Of course, it's not near over. The most important games are still in front of us. But this conference is so good, there are so many good teams, it's nice to guarantee a share. Of all the years to at least get a piece of it, of all the years to do it, I really believe this one may have been as difficult as any because of the quality of competition in our league."
Even though Self sorely desires a win and the undisputed league title tonight, he felt he needed to congratulate his Jayhawks late Monday night.
"I'm getting ready to text all the fellas, tell them 'Congratulations, but there's still a lot of work to be done,'" Self told the J-W. "We need to play well this week (tonight and Saturday at OU). That is our mission, and that is our objective."
Tonight's game, KU's last home game of the 2014-15 basketball season, now has the makings of one of the most glorious occasions in this or any of the other 59 campaigns in Allen Fieldhouse history.
"We've had some good nights this year, but this could be the best night of the year — if we play well," Self said earlier Monday referring to the contest against West Virginia.
"It's Senior Night (for walk-on Christian Garrett), and if you do play well, you get a chance to celebrate with your fans, which we haven't had a chance to do here in a long time. It all comes down to us winning. Without a win it certainly minimizes the festive mood that everybody has for our respective seniors."
Eleven straight conference titles is the most in KU history, of course. It's the second-longest streak of league titles in NCAA history. KU has tied Gonzaga, which won 11 straight West Coast Conference crowns (2001-11). The all-time leader is UCLA, which won 13 Pac-10 titles in a row from 1967-79.
Self was asked if "people" tend to take league titles for granted.
"I think fans do, no question. Fans around here do. That's OK," Self said. "You stop and think of the number of league championships Kansas has won. It think it's a pretty substantial number higher than the second place team has won."
KU has won 58 league crowns. Kentucky is second with 51.
"I think people around here probably assume, but let me tell you something ... you win the league three times in a row in the Big Ten, it's not a big deal, it's a huge deal. You have somebody else in our league win it two or three times in a row, it's a big deal.
"I don't want our guys to take for granted the opportunity to play for a league championship and have a chance to win a league, whether it's shared or outright. You may have some coaches say, 'Our goal is a national championship.' That could be a goal, but if you are not the best team in your league, the chances are your goal to be national champion is not as realistic, though it has happened before, but it's not the norm. Everybody wants to win league because it's who we recruit against, that's who we compete against, that's who we are measured against ... the teams we face on a regular basis and recruit against on a regular basis. I'm a firm believer in life we all get opportunities. Sometimes opportunities are few and far between. When you have a chance to do something special, you have to take advantage of those opportunities."
Bumps, bruises: West Virginia guards Juwan Staten (knee, groin) and Gary Browne (ankle) have been listed as day-to-day because of injuries.
Asked on the Big 12 teleconference if he might do what NBA teams do and rest the players with an eye on the postseason, Huggins said: "You prepare all year to play during the season. Why you wouldn't play guys, why guys wouldn't want to play, doesn't make any sense to me at all."
KU's Frank Mason III (toe) practiced Monday and should be ready to go tonight.
Garrett to start: Self said, per tradition, senior Garrett would start tonight. Freshman Kelly Oubre Jr. confirmed to reporters he'd be the regular starter to come off the bench.
"I'm 100 percent happy for him. It's his last game in the fieldhouse. We want to give him what he deserves, a win," Oubre said.
Garrett will give a senior speech after the game.
"I wrote it last night. I know what I'm going to say. It's not that long," Garrett said. "I'm not going to force it on people. I'm excited for it. I always thought about this day, how cool it's going to be. It just came a lot faster than I thought."
Asked how long Garrett's speech would be, Self said: "It will be short. He knows it, because Christian can get long-winded like a lot of our past players. It'll be five minutes, max. He won't go over that. If he does, there will be a gong like the 'Gong Show' of the past. Somebody will hit it, and that'll be the end of it," Self added with a smile.
Last home game for Oubre?: Asked about his own future, NBA prospect Oubre said: "I mean, I'm playing for Kansas University right now. I don't really think about that stuff. That's in the future. The present will take care of my future. I try to not let those outside distractions get in my head."
Cliff still out: Barring some day-of-game decision by the NCAA regarding Cliff Alexander's unknown eligibility issue, the Chicago freshman will miss his second straight game.
"We'll be short a body inside, so we'll have to use our quickness," Self said on his "Hawk Talk" radio show.
As to when the NCAA will decide Alexander's fate, Self said:" We're hopeful this week. It's a precautionary thing with what we're doing. We're being encouraged to handle it this way by higher-ups, which I totally understand. I don't necessarily like it, but I agree with the strategy. Hopefully we'll know something very soon."
Honors: KU junior Perry Ellis on Monday was named Big 12 player of the week for the third time this season. He averaged 26.0 points and 11.0 rebounds as KU beat Texas and lost to Kansas State. ... KU freshmanOubre Jr. is one of 10 finalists for the Wayman Tisdale Freshman of the Year award. Others: James Blackmon, Devin Booker, Stanley Johnson, Tyus Jones, Jahlil Okafor, D'Angelo Russell, Karl-Anthony Towns, Melo Trimble and Justise Winslow.
Hall to be closed: KU's Booth Family Hall of Athletics will close for approximately six months after tonight's game to accommodate the fieldhouse phase of the construction of DeBruce Center. It will re-open in mid September.