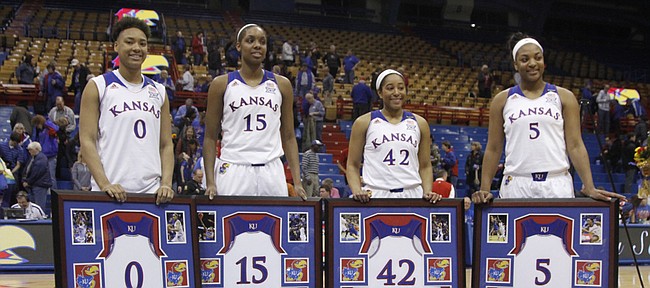 As hard as it is for a program to say goodbye to four seniors like the ones the Kansas University women's basketball team said goodbye to on Monday night, big-time plays from a couple of freshmen sure made it easier.
Freshmen guards Terriell Bradley and Chayla Cheadle made some of the biggest plays of Monday's 68-64 victory over Iowa State at Allen Fieldhouse, which helped send seniors Asia Boyd, Chelsea Gardner, Natalie Knight and Bunny Williams out with a victory in their final home games.
"We didn't really have much time to talk to them after the game," Knight said of the freshmen. "But T (Bradley) and Lauren (Aldridge) and Chayla stepped up big-time tonight, and I think that was because they wanted us to go out with a win."
Bradley scored 10 points and knocked in a huge three-pointer with the shot clock winding down and KU leading by one with 33 seconds to play. And Cheadle, who fouled out, added 10 points, three rebounds and two assists, highlighted by a three-minute stretch that included seven consecutive points as Iowa State crawled back into it with less than 10 minutes to play.
Bradley and Cheadle combined to shoot just 6-for-17 from the floor, but Bradley's three-pointer was as big as any play in the game and meant more to the Jayhawks than just the three points it put on the scoreboard.
"She knows everyone on that bench wants her to shoot that," a proud KU coach Bonnie Henrickson said.
Of course, as big as all of those plays by the underclassmen were — Aldridge played one of her best games, finishing with 10 points, seven assists and just one turnover in 40 minutes — Monday was still all about the seniors.
And the tears showed up even before tip-off.
"Bunny got a little emotional before the game," Knight said. "And we were like, 'Bunny, not now. We've still got 40 minutes of basketball to play.'"
It took all 40 of those minutes for Kansas to claim the victory. And Henrickson smiled as she recalled Gardner and Knight stepping to the free-throw line to ice the game in the final 20 seconds. Six shots. Five makes. A whole bunch of smiles.
"It should be them finishing it at the free-throw line," Henrickson said. "That's what it should be."
Added Gardner: "I think it was something (special) for both me and Nat."
Gardner's final game in Allen Fieldhouse looked an awful lot like so many that came before it. She finished with 25 points, 12 rebounds and five blocks and became the fourth player in program history to top 1,400 points and 850 rebounds for a career.
Even with all of the great games she and Knight put up and all of the times they carried the program in good times and bad, the one thing everyone wanted to talk about after Monday's victory was Williams' ferocious start.
Making the 15th start of her career — and first of the season — Williams tallied two points, three rebounds and a blocked shot against the Cyclones (18-11 overall, 9-9 Big 12), all in the first four minutes.
"I think so for Bunny," Henrickson said when asked if the adrenaline of the night propelled her team to its hot start. "She did a great job, and then everybody (fed) off of that. Bunny's start to the game was just huge for us."
KU now travels to Dallas for this weekend's Big 12 tournament. Match-ups will be released later this week when the rest of the conference wraps up the regular season.
Winners of two straight, the Jayhawks (15-16, 6-12) will have to keep their hot streak going if they hope to play beyond this weekend. And there's not a player or coach in the locker room that's expecting anything else.
"We've been in every game we've played," Knight said. "So we know we can win any night if we just put it all together. I think everybody's just real excited to see what we're capable of in the tournament, and we're just gonna give it our all, and whatever happens, happens. But we're gonna go out fighting."