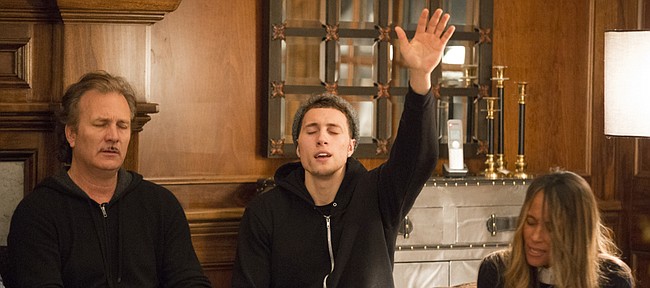 Christian Abraham Garrett sits in the spacious living room of his parents' stately 6,813-square foot Alvamar home, eyes closed, left hand pointing skyward.
Next to the Kansas University basketball senior guard are his mom, Cynthia Garrett, and stepdad, Roger Charles, who, along with about 50 KU students — athletes and non-athletes alike — sing reverently with Christina Reynolds, worship leader at Kansas City, Missouri, International House of Prayer. She on this particular Thursday opens the Garrett family's weekly worship service/Bible study striking sweet-sounding chords on a finely tuned grand piano.
"In the secret, in the quiet place
In the stillness you are there;
In the secret, in the quiet hour I wait
Only for You, 'cause I want to know you more."
Family dog Levi, a tiny Pomeranian/Bijon mix, is as cordial as the human hosts, snuggling on the laps of strangers during the two-plus-hour service, which includes a prayer from Christian and on this night inspirational testimony from Cynthia.
"I am reaching for the highest goal
Then I might receive the prize.
Pressing onward, pushing every hindrance aside,
Out of my way, 'cause I want to know you more."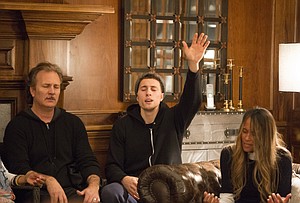 Some of the most memorable moments in Christian Garrett's four years at KU have taken place in Allen Fieldhouse, where he will start his first college game — and play his last home game against West Virginia on Tuesday night — and in his parents' abode, where the weekly Bible study has attracted more than 100 individuals on a given night.
The services, which often include longtime Lawrence pastor Leo Barbee, tend to start late, 9 p.m. or so — college students are night owls, you know — with students being known to remain for fellowship hours after Cynthia and Roger have gone to bed.
"We have all different types of people who believe different things. People just come," said Christian Garrett, who started the group prayer service his freshman year with teammates Jeff Withey and Jordan Juenemann. Current KU players Landen Lucas and Perry Ellis are frequent visitors, along with others who might stop by.
"Everyone is at different stages of life, with different beliefs, but all are coming to seek God, seek the Lord. I will never, ever deny what Jesus has done in my life. It's cool to see people encounter the same thing," Christian said.
Cynthia Garrett, who has worked as an author, actress, talk-show host and creator of sitcoms in her native Los Angeles — she's about to embark on a new talk-show project — and Roger Charles, an architect, visit with their student guests one-on-one and in group discussions.
"We have an open door. Sometimes kids have exams, so they come in and out," Cynthia said.
All are welcome.
"They say you judge a life well-lived by the fruit of that life, and all of these kids are my fruit. I tell them to reproduce well because I get credit in heaven for all the fruit on their trees," Cynthia said, smiling.
"I'm in love with all the boys. Through the years, so many have stayed close to us," Cynthia added of the Jayhawk basketball players. "For instance, Tarik (Black, Los Angeles Lakers) does Bible study on Facetime with my husband every week. When he was in Houston (to open season with Rockets), he and Dwight Howard and a couple other guys would do Bible study with my husband every Thursday night.
"Another one of the kids (who had left KU) called me a year ago and said, 'Mama Cyn, I trust you. I want to live my life for Jesus Christ, but I don't know what that means, would you help me?' That was like ... I cried," she added.
Her favorite, naturally, is her own son, the former Florida IMG Academy guard who chose to walk on KU's team on Jan. 23, 2011, over finalists North Carolina State, Alabama, Stanford and Harvard.
"He is awesome. I do think Perry (Ellis) may be close to perfect, though," Cynthia said with a smile. "I'm proud of him (Christian). He's a good kid and really strong young man. I didn't live this way in college. I was much less focused and a lot less disciplined. I am impressed with his friends and the people he's brought in our home the last four or five years."
"I want to know you
I want to hear your voice
I want to know you more.
I want to touch you,
I want to see your face
I want to know you more."
Cynthia and Roger have been supportive parents. They've attended almost all of KU's basketball games the past four seasons.
That's home AND away.
"My mom got sick one time, might have missed one game," Christian Garrett said. "Or she might have had to go home (to California) and see family, something like that. They've pretty much been to every one. That's something they felt they had to do, which is pretty cool.
"I think part of it is my mom really wasn't there a lot to watch me play basketball growing up. She was really busy. I think this is kind of her enjoying that period most parents get to have with kids at a younger age."
Cynthia simply loves the players — she and some other moms have cooked meals for the Jayhawks on occasion the past four years — and the games.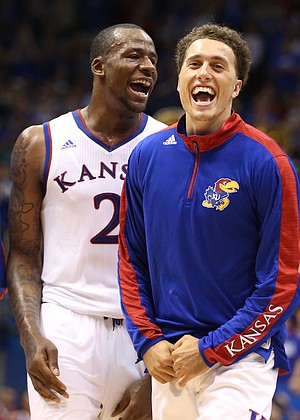 "Christian and KU basketball have provided me with the most enjoyment I've ever had in my life, and that says a lot because I've done a lot of things, walked a lot of red carpets. This is the best. It's fun. Oh my gosh, traveling to watch KU has been so fun," Cynthia Garrett said.
Of course, it's even better when her son does enter a game. As a walk-on, Christian has played in 34 games in his career, logging 64 precious minutes.
"As the year kind of started closing down, I was like, 'Man, it sucks. I didn't reach my goal of playing here a lot,'" Christian Garrett said. "But there's so much more to it than that. My life has changed. I've been able to be used in a lot of people's lives. I played for a dream school that had everything I could ever have desired.
"I played for one of the best coaches, one of the best programs, been around the best people, gone to one of the best schools. My whole life changed as a person. I've grown as a man here. That's priceless," added Garrett, who re-dedicated his life to God his junior year of high school and said he continued to grow in the faith here.
"Hungry, I come to you
for I know you satisfy
I am empty, but I know Your love does not run dry
And so I wait for You"
Garrett, who had scored two points in an exhibition win over Fort Hays State his junior year and plenty of points for Athletes in Action on an overseas tour two summers ago, chalked up his first basket as a Jayhawk with 1:56 left in an 86-54 victory over Texas Tech on Jan. 10 in Allen Fieldhouse.
The 6-foot-3, 185-pound guard used a crossover dribble through the lane to break free for a left-handed floater. Connecting on the short shot meant a lot to the fans, who gave him a loud ovation, and his teammates, who mobbed him after the final horn.
"That was cool. It wasn't the biggest thing to me. I see it differently," said Garrett, who played meaningful minutes at IMG Academy and a pair of Los Angeles high schools and at various camps he attended during the summers — such as the John Lucas camp in Houston last summer — to improve his game.
"The love and support for that (basket) was cool. I definitely appreciate how much people love all of us here," Garrett added.
Garrett felt that love on his official campus visit, Jan. 22-23, 2011. He arrived on the day of KU's home loss to Texas — a game played just hours after KU players and coaches gathered in Thomas Robinson's dorm room to console the player about the death of his mother.
"I was like, 'Whoa, this is a lot,' but it was great to see how close the team was, how much a family it is," Garrett said. "That even more solidified my feelings about this place.
"The next day I went to church services with Coach T (assistant Kurtis Townsend), and the message that day was, 'If God opens doors, you have to go through them.' That was pretty clear to me. That has to be God (speaking). At the end of the day, I was, like, 'There's nowhere as good as this.' I brought one bag with me, and I stayed with that bag," added Garrett, who, fully qualified for college, accepted a Sunday morning offer from coach Bill Self to join the team as a walk-on.
It was hoped KU would also land Garrett's best friend, IMG Academy's DeAndre Daniels, who ultimately decided to attend UConn and now plays overseas.
Self says the bottom line is he has thoroughly enjoyed working with Garrett, who also was an IMG teammate of KU junior Jamari Traylor.
"Christian has been great for our team, great for our program," Self said. "He's been a great ambassador and representative of what we're trying to do. He is our spiritual leader, without question. Although I haven't been to one of his services, I've listened to him many times within the confines of our team."
"Broken, I run to You
for Your arms are open wide.
I am weary, but I know Your touch restores my life.
And so I wait for You"
Garrett, who will graduate in May with a minor in business and major in sports management, is happy to report his parents plan to stay in Lawrence next school year, while he does his best to land a job playing basketball somewhere overseas.
KU sophomore forward Lucas will be sure to stop by on Thursdays to worship with Roger and Cynthia, whom Lucas calls, "a mom to the team, somebody definitely nice to have around."
"I've been to their house many times. There are powerful people there. It's awesome to go over there," Lucas said. "If you go over there, he (Christian) and a lot of other people will lay hands on you and pray for anything you need."
Lucas loves the fact Christian Garrett is an inspiration around all of KU's players, no matter their level of faith.
"He will always reach out to people when they are going through things," Lucas said. "If somebody has an injury or anything, he'll always reach out. He's a good person, a person of great character and a strong believer in his faith — a great kid, one of the best."