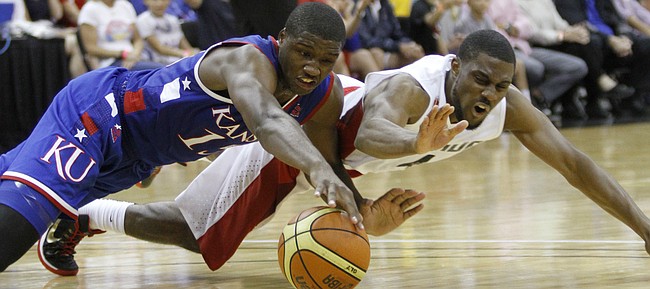 Gwangju, South Korea — Kansas University freshman Carlton Bragg broke his nose about 30 minutes into Team USA's second practice at Gwangju High on Wednesday.
"Unfortunately today, Carlton broke his nose," KU coach Bill Self said after practice. "We'll see how long he's going to be out of pocket with that. Hopefully he won't miss anything."
Bragg, a 6-foot-9 forward from Cleveland, broke his nose on a trip down the court. He didn't run back, putting his hands on his knees before falling backwards onto the court. He didn't appear to lose consciousness. Trainers gave Bragg water and put towels on his head.
He lay on the court for about five minutes before he was able to sit upright. Ten minutes later, he was moved to a chair on the side of the court. He walked to the team bus after practice under his own power with cotton stuffing in his nose.
Self said he doesn't expect Bragg to miss any time.

"Well that's not an injury," Self said. "A turned ankle is actually a worse injury than a broken nose. Although the broken nose hurts bad. But really no concussion symptoms. It's one that you come back (from)."
"It's just can you play without being nervous about getting hit," Self added. "He can do that. In all honesty, it's probably not bad for him to play through some stuff. But it would be nice if we could find a mask, but I don't think we're going to be able to. He can't hurt it worse. He'll wait to have surgery until he gets back to straighten it up, but he should be fine."