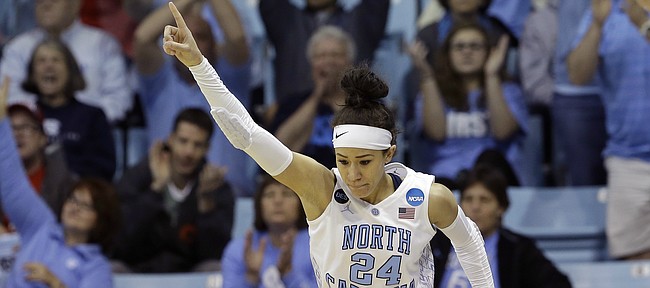 Former North Carolina basketball point guard Jessica Washington has decided to transfer to Kansas University, Washington has reported on Twitter and Instagram.
A 2013 McDonald's All-American out of Tulsa's Jenks High School, the 5-foot-8 Washington averaged 7.3 points and 2.4 rebounds a game her sophomore season at UNC. She averaged 18.3 minutes a game in 35 games for the 26-9 Tar Heels.
She hit 37.4 percent of her floor shots and 36.4 percent of her threes (48 of 132) last season. She had 37 assists to 48 turnovers.
"As of today it's official and I couldn't be anymore excited. New journey with great group of people," Washington wrote on Instagram.
Her initial tweet in announcing her choice was "JAYHAWKS #NewFamily KU.
Washington was ranked the No. 14 overall player nationally and No. 2 guard in her class her senior year of high school by HoopGurlz. She has two years of eligibility remaining starting in 2016-17. She must sit out next season in accordance with transfer rules.
When she announced plans to transfer in May, UNC coach Sylvia Hatchell said: "Jessica is a very talented player and we wish her a successful next chapter in both her basketball career and in life. We appreciate the hard work she has put into our program over the last two seasons."
First-year KU coach Brandon Schneider has not yet announced the transfer.
KU recently added transfer McKenzie Calvert, a 5-9 guard from USC. Calvert, who is from Steele High in Schertz, Texas, was ranked No. 15 nationally in the Class of 2014 by HoopGurlz. She has three years of eligibility remaining.