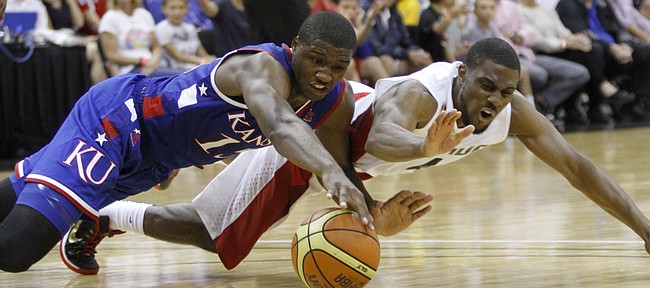 The first thing that stands out about Carlton Bragg, the McDonald's All-American out of Cleveland in his freshman season for the Kansas University basketball team, is his height.
Unlike most college basketball players, Bragg appears taller on the court than in the program, which lists him at 6-foot-9.
"Everyone tells me I look taller in person," Bragg said after KU's Friday night exhibition victory against Canada.
Bragg thinks he knows why he hears that so much.
"I continued growing throughout high school and I'm like 6-10, 6-11," he said.
When he attempts to establish position inside, he can look like a player whose body hasn't quite caught up with his growth spurt. He's a little too vertical and too easy for older, stronger players to shove across the lane, as was the case vs. Canada.
"It's getting there," Bragg said of his body tolerating the growth. "The hardest part about it is having knee pains. Playing through the pain. I'm still icing them."
It's possible Bragg hasn't stopped growing.
"I don't know," he said. "That's a good question. I'll keep you updated though."
Polite, personable, eager to please. That's always subject to change once the hero worship hits him in big doses and the recruiters for agents try to fill his head with notions of getting to the NBA as quickly as possible and making not getting hurt the primary goal of college basketball. Clearly a sharp thinker, Bragg is more equipped to see through all the nonsense and make self-improvement a priority over self-adoration. He already understands that playing well against college basketball players is tougher than it looks on television.
Bragg answered quickly when asked if any Kansas player is far better than he thought he looked on TV.
"Perry Ellis. Perry Ellis," Bragg repeated. "I didn't know he was that good, that strong, that quick. Watching him on TV you know he's competitive, but playing against him is a lot tougher. And he's a great guy in the locker room."
As for what makes Ellis difficult to guard, Bragg said, "His quickness, his strength, his mobility, everything. Everything about him is strong. And he's real good in the locker room too. He's helped me a lot in the weight room, telling me to do extra reps."
The second thing that stands out about the long-armed, slender Bragg, is how comfortable he looks shooting jumpshots with such smooth mechanics. His soft touch from the perimeter commands respect from the defense. But pay too much attention to his scoring ability and he'll instantly find the open man on the inside, as he did setting up Jamari Traylor with a beautiful feed in the first game. He also brings considerable dribbling skills for a man so young and so tall.
Look for Kansas to run with regularity pick-and-pop plays to utilize Bragg's soft perimeter touch.
"Pick and pop, that's my shot," Bragg said. "I get mad when I miss it because I work on it every day. Elbow jumper. It doesn't matter if anyone's in front of me. I just stay in rhythm."
His height, high release and the lift he gets on his jumper make the shot so difficult to block. Knowing that, Bragg doesn't let a defender's presence force him to bypass the shot or shoot it too quickly. Guarded or unguarded, Bragg looks the same shooting.
At the moment, Bragg has a more developed perimeter game than in the post and he's not in denial about that.
"My strength," he said when asked where he needs to make the most improvement. "A lot of people say I'm strong. A lot of people say I'm not strong. I take it as I'm not strong at all. And people try to take advantage of that."
In some ways, Bragg recalls Rudy Gay as a freshman at UConn, when he averaged 11.4 points and 5.4 rebounds a game. In other ways, Horace Grant in his early years at Clemson is a decent comparison.
Like most freshmen, Bragg won't be able to turn his considerable potential into production on a nightly basis, but on those nights it clicks, he'll be a load to defend.
He and the rest of the Jayhawks are fortunate to have had the extra practices in advance of the trip to Korea, as well as the games vs. international competition.
How soon will Bragg develop into a good basketball player?
"I think it'll be quick," Ellis predicted after the first exhibition vs. Canada. "I really like his game. He was out there hustling. He played a great game. Real skilled also. Bright future for him."