Kelly Oubre Jr.'s one season at Kansas University made him a top-15 pick in the 2015 NBA Draft.
The Atlanta Hawks selected the 6-foot-7 small forward with the 15th overall pick Thursday night, in Brooklyn, New York.
Yahoo's Adrian Wojnarowski reports the Hawks will trade him to Washington.
Oubre averaged 9.3 points, 5.0 rebounds and 1.1 steals in 20.9 minutes a game for the Jayhawks in the 2014-15 season. Scouts mostly love his 7-2 wingspan and, of course, potential to become a more dynamic player as the 203-pound 19-year-old grows and adds to his game.
https://twitter.com/WojYahooNBA/status/614241302624997376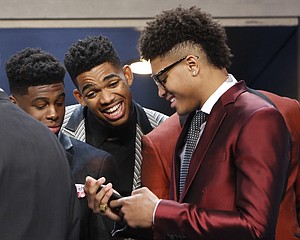 Once NBA commissioner Adam Silver called Oubre's name, he became the 13th first-round pick out of KU to play for coach Bill Self, who arrived following the 2002-03 season.
Since 2010, at least one Jayhawk has been taken in the first round of the draft every year.
Alexander not drafted: Oubre's KU teammate Cliff Alexander didn't turn out to be the lottery pick many projected out of high school. He didn't even hear his name called in the 60-pick, two-round draft after leaving early.
Alexander's stock fell throughout his one season at Kansas, where he averaged 7.1 points, 5.3 rebounds and 1.3 blocks in 17.6 minutes a game, and missed the last month of the Jayhawks' season due to an NCAA investigation into his eligibility.
— Check back in later at KUsports.com for much more on Kelly Oubre Jr., Cliff Alexander and the draft.
KU's FIRST-ROUND PICKS IN BILL SELF ERA
2015 — Kelly Oubre Jr. (No. 15, Atlanta)
2014 — Andrew Wiggins (No. 1, Minnesota); Joel Embiid (No. 3, Philadelphia)
2013 — Ben McLemore (No. 7, Sacramento)
2012 — Thomas Robinson (No. 5, Sacramento)
2011 — Markieff Morris (No. 13, Phoenix); Marcus Morris (No. 14, Houston)
2010 — Cole Aldrich (No. 11, New Orleans)
2008 — Brandon Rush (13th, Portland); Darrell Arthur (27th, New Orleans)
2007 — Julian Wright (13th, New Orleans)
2005 — Wayne Simien (29th, Miami)
SECOND-ROUND PICKS OF SELF ERA
2013 — Jeff Withey (39th, Portland)
2012 — Tyshawn Taylor (41st, Portland)
2011 — Josh Selby (49th, Memphis)
2008 — Mario Chalmers (34th, Minnesota); Darnell Jackson (52nd, Miami); Sasha Kaun (56th, Oklahoma City)
(Draft info from Stats.NBA.com — Players listed with team that drafted them; some got traded after being picked)