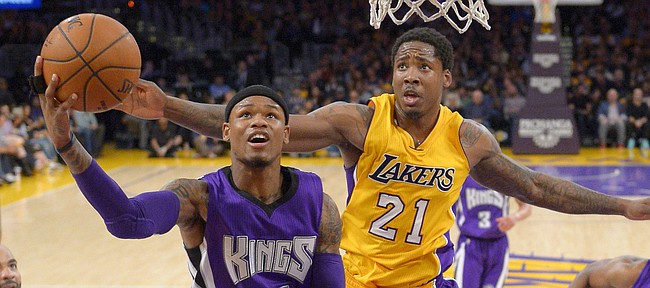 It's not often that Ben McLemore takes a break from basketball. After two seasons with the Sacramento Kings, Kansas University's former one-year sensation knows he is far from a finished product in the NBA, so his offseason mostly consists of working out and developing more tools and tricks.
The 22-year-old carved out a small chunk of his schedule this week to offer a three-day youth hoops camp at Sports Pavilion Lawrence, and provided full camp tuition to five youngsters from low-income families.
"I just want to give back and work with the kids," said McLemore, who offered the same format to youngsters in Sacramento, California, earlier in the month.
The chance to impact his college's community brings with it, of course, a perfect setting for personal improvement, as well. The 6-foot-5 shooting guard has spent much of the past week in Lawrence, using KU's facilities and running the floor with Bill Self's Jayhawks.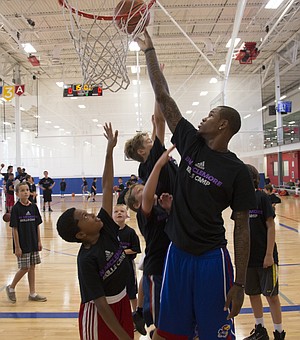 "Every time I come back I have the opportunity to work out with them and just see their faces again, all the coaches and stuff like that," McLemore said. "Back home, man. I love coming back and spending time with those guys."
Though the two can no longer call themselves teammates, McLemore remains close with senior forward Jamari Traylor. The duo arrived together in the 2011 recruiting class, and both had to sit out the 2011-12 season as partial qualifiers.
"That's my guy, man. He's like a brother to me," McLemore said of Traylor, adding the 6-foot-8 post player will make a big impact for KU in the 2015-16 season.
With veterans such as senior forward Perry Ellis and junior point guard Frank Mason III leading the way, McLemore predicted plenty of success ahead for Kansas.
"I like 'em. They got young talent coming in, a lot of veteran guys that's been on the team that understand what it takes to win games and continue the streak of Big 12 championships," the former all-conference guard said.
Sacramento's starting 2-guard wants to keep his career trending upward, too. After starting all 82 games for the Kings in his second season, McLemore improved upon his rookie-year numbers in scoring (12.1 points per game in 2014-15), field-goal percentage (43.7 percent), three-point shooting (35.8 percent) and free-throw shooting (81.3 percent).
"I feel like I was a little bit more consistent this year, focused a lot and also just wanted to go out there and just compete. I just played my hardest on both ends of the floor, offensively and defensively, and then my confidence was on a different level this year," McLemore said. "I want to continue to do that next season, just come in with a different mindset, different skills, so everybody can know, 'Ben worked on his game this summer.'"
Playing in the Western Conference inspires adaptation. McLemore said he often has to check the opposition's top perimeter player on defense.
"There's tons of talent, but I think the toughest matchup I've had is probably James Harden," McLemore said of Houston's MVP runner-up. "He's a great superstar, and so tough to guard, because he can do everything out there on the floor."
In three games versus Sacramento this past season, Harden scored 26 (Nov. 26), 44 (Dec. 11) and 51 (April 1). When an opponent has that kind of success, McLemore said he has to find a way to keep fighting. That's part of what makes all the summer work — in the gym or watching video — so exciting for him.
"I know I can be a great superstar in this league," McLemore said, "so I've gotta continue to keep that mindset and keep doing what I gotta do."
The Kings need their young shooting guard to make that type of quantum leap, too. Sacramento finished 13th (29-53) in the West, behind Denver, Utah, Phoenix and Oklahoma City, all of which also missed the playoffs.
"We've got a young, talented team," McLemore said of a core that currently includes 24-year-old center DeMarcus Cousins and small forward Rudy Gay, 28, "but at the same time we've gotta go against teams that have been through the playoffs, know the way to win and how to get to that spot."
The conference offers so many unique challenges night after night, breaking into the top eight spots requires toiling in the offseason, too. McLemore aspires to begin making a noticeable impact from the moment he arrives at preseason training camp in the fall.
So as the draft looms tonight — the Kings own the No. 7 overall pick — and trade rumors involving franchise player Cousins swirl, McLemore focuses on himself, not knowing for certain what exactly the roster will look like by the time next season starts.
"It's crazy in the offseason, you don't know what's gonna happen," McLemore said. "Let the front office handle all of that stuff."