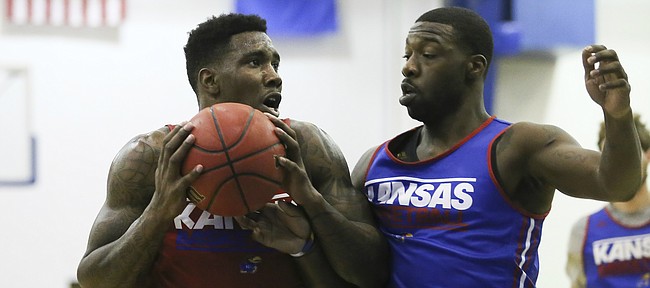 Too often, Jamari Traylor looked like a young man whose emotions were residing in a cave, dark and damp. He didn't look that way Tuesday night at Sprint Center, where he helped Team KU/USA to an entertaining 91-83 victory against Canada.
Quite the opposite.
His body language and vocal participation revealed him as a senior ready to make the most of his last chance. One game does not a change cement, but it was an encouraging night for the power forward who experienced many a cold-and-gray Chicago morning before coming to Kansas.
Traylor played 19 minutes off the bench and contributed 12 points, 10 rebounds and four blocked shots vs. Canada. He played as if there was nowhere he rather would be, nothing he rather would be doing.
Not so a season ago, when nothing about him suggested he had confidence in his ability.
His numbers suffered as well, particularly on the defensive glass, where a former strength became a liability. As a sophomore, Traylor had a respectable defensive-rebound percentage of 18.5. As a junior it plummeted to 11.2 percent, which ranked him seventh on the team, behind Cliff Alexander (19.9), Kelly Oubre (19.2), Landen Lucas (19.1), Perry Ellis (17.2), Hunter Mickelson (15.1) and Brannen Greene (13.0).
Defensive rebounding is as much about energy and effort as anything. If Traylor doesn't stand out in this area, he'll lose playing time to players with more natural talent.
If Traylor can bring the energy he brought in Tuesday's exhibition on a consistent basis this coming season, Self will play him. If he lapses into 2014-15 mode, the coach has plenty of other options, including freshmen Cheick Diallo and Carlton Bragg, junior Landen Lucas and senior Hunter Mickelson to complement All-American candidate Perry Ellis.
Sometimes just seeing the word "senior" next to his name can make a college basketball player feel more important, more responsible.
"I just wanted to get other guys going," Traylor said after the game. "I feel like I was talking to (freshmen) Carlton (Bragg) and Lagerald (Vick) the whole time in the game. I feel like that's my role, to help guys out when I can because I know a lot and I've been here. I know what coach expects from guys. Be a vocal leader out there and lead by example, my hustle, my energy, and guys will follow from that."
That's his ticket to playing time. Only he can punch it. He seems well aware that his time is running out and he can't afford to waste any of it moping. He's approaching last call for college basketball.