Kansas City Mo. — Frank Mason III gave Bill Self's basketball campers a taste of his new-found offensive prowess by scoring 31 and 30 points in a pair of intra-squad games contested the past two Wednesdays in Horejsi Center.
The 5-foot-11, 185-pound junior point guard from Petersburg, Virginia continued his June scoring spree — this time on a much bigger stage — Tuesday. He exploded for a game-high 28 points — 24 in the second half — in Kansas University's 91-83 World University Games exhibition victory over Canada before 8,235 fans in Sprint Center.
"Frank ran the show. That's probably as good as Frank's played since he's been at Kansas," KU coach Bill Self said after the first of two exhibitions vs. Canada. The two teams will go at it again at 7 p.m., Friday, in Sprint Center.
Mason scored 16 points in the fourth quarter (the game consisted of four 10-minute quarters) off 6-of-6 shooting and 3-of-3 work from the line. His three-point basket with 2:27 to play erased an 80-79 deficit and put the Jayhawks ahead for good. 
Mason wound up scoring seven points in a game-ending 12-3 surge.
Photo Gallery
Team USA vs Canada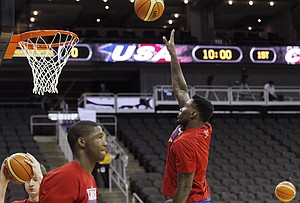 Photographs from the Kansas Jayhawks/Team USA exhibition game against Canada Tuesday June 23, 2015 at the Sprint Center in K.C., MO.
Podcast episode
Kansas basketball coach Bill Self discusses the Jayhawks' approach to international play following KU's summer debut — an exhibition victory over Canada, in Kansas City, Missouri.
Podcast episode
Kansas basketball veterans Frank Mason III, Perry Ellis and Jamari Traylor meet the media Tuesday night at Sprint Center, following the Jayhawks' exhibition win over Team Canada.
"Well, I hit a couple shots late," said Mason, who hit 9-of-14 shots overall and went 8-of-8 from the line. Mason also had six rebounds, five assists and four turnovers in 32 minutes.
"I felt pretty confident. I have to give props to my teammates. They did a great job screening, getting me in a great position to score. I just made a couple shots late," Mason added.
Mason's only glaring mistake was getting called for an 8-second count (instead of 10 seconds in college) as he walked the ball up the court with 3:04 left and KU ahead, 79-78. In other words, his crucial three to put KU up for good came after that turnover and ensuing bucket by Canada.
"I am good at creating my own shot," Mason said. "At the start of the possession, coach wants me to create and get an easy shot for my teammates. It's what I try to do. Once it gets down to five seconds, I know I can get a shot up."
Mason's teammates were certainly impressed with the floor general's play. The fans were impressed, also, chanting "USA, USA" after several of Mason's highlight-reel plays.
"He did a great job controlling the pace of the game. He did everything we asked," said senior forward Jamari Traylor, who scored 12 points and grabbed 10 rebounds with four blocks in 19 minutes.
"He was doing downhill drives. That's what coach wants. It was opening other things up," said senior forward Perry Ellis, who had 17 points, eight rebounds and two blocks in 25 minutes. "He was knocking down shots. It was big."
Wayne Selden, Jr., was a fourth player in double figures with 13 points and six assists. SMU senior Nic Moore scored nine points with five assists and two steals in 29 minutes. Moore scored five of KU's first nine points but overall went 2-for-7 shooting and 1-for-5 from three on a night KU hit five of 18 threes.
"Nic got off to a good start tonight, then didn't find any rhythm after that," Self said. "He deferred to Frank late which is good, but we don't want that. We want Nic to make plays, too. Nic is good for Frank and Devonté (Graham, injured). He came in the first day and controlled the whole practice. He's smart, talks. He's little (5-foot-9) so he has to take advantage of intangibles. It's a shame Devonté can't play (in University Games in South Korea). He would have benefited from playing with Nic, as well."
KU actually trailed by 10 points (35-25) with 6:27 left in the second quarter. KU did cut the gap to 43-41 by halftime. The game was close, competitive and physical.
"I think the same thing goes through our minds every game we're down. We want to get two to three stops in a row, get easy shots and try to take the lead," Mason said.
"It was a pretty bad scouting report," Mason joked. There basically was no scouting report against a Canada team that was formed on Saturday.
"We didn't really know their guys. We believe in ourselves and our ability. We wanted to compete and get the job done," Mason added.
Canada hit 38.8 percent of its shots, including seven of 21 threes. KU hit 42.5 percent, including five of 18 threes. KU out-rebounded Canada, 49-24.
"They'd win games in our league," Self said of how Canada would fare in the Big 12. "I'm not saying they'd challenge for whatever (title). They are definitely a good, solid mid-major team. All their bigs can shoot. When they foul they foul hard. We're playing without four of our top nine. We don't have Devonté, Brannen (Greene, injured), Svi (Mykhailiuk, born in Ukraine and not eligible) so we don't have our shooting team. Cheick (Diallo, born in Mali and not eligible) will have a great chance to start at pivot for us. That was a pretty good team. We've lost to Davidson and UMass in this building before. I think that team ... I'm not saying they could beat those teams those nights, but they could play at that level," Self added.
---
More news and notes from Kansas vs. Canada exhibition
---