When Aaron Miles watches basketball, he can't fight back his strong personal bias in favor of point guards.
After all, that's the position Miles takes every time he steps foot on the court. He mastered his floor general skills at Kansas University, and remains the program's all-time assist leader (954) 10 years after his college career ended.
Miles, a native of Portland, Oregon, hasn't neglected his craft since. In fact, it has taken him all over the globe. This past season, he played for Lokomotiv, in Russia.
The past couple of weeks, Miles dished knowledge instead of dimes, working as a coach at Bill Self's basketball camps. He spent some time with Self's current crop of Jayhawks, too. Wouldn't you know it, he gravitated toward two players in particular: junior Frank Mason III and sophomore Devonté Graham.
No offense to any of the other talented KU players, but the point guards are Miles' favorites.
"I love 'em," Miles said of the Jayhawks' lead ball-handlers. "They work hard and I think, as point guards, we automatically are leaders. By being a leader, you have to lead by example, and I think they do a great job of that. And they're becoming more vocal, which is obviously what we also need."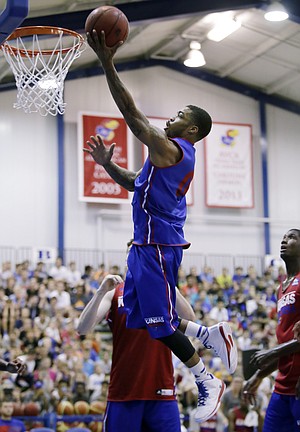 Graham suffered a bit of a setback this past week, when he partially tore a tendon in one of his quads. Self said the sophomore likely will miss regular basketball activities throughout the summer, as he recovers. Most notably, KU won't have Graham in uniform for the World University Games, in South Korea, where Mason, SMU's Nic Moore and late addition Julian DeBose of Florida Gulf Coast will share time at the 1-spot.
Miles watched KU's two point guards from afar this past season, and thinks Mason and Graham will bring even more to the program going forward. Mason averaged 12.3 points, 4.0 assists and 1.4 steals as a sophomore, and made 40.7 percent of his three-pointers. Playing his first season of college hoops, Graham scored 5.9 points, passed 2.1 assists and hit 42.5 percent of his threes, in 28 games.
While both play point guard, Miles likes that they aren't clones of each other.
"Obviously, I think Frank is just a natural scorer and Devonté has a little bit more of a traditional point guard type of play. … That's not saying Devonté can't score, but his natural instinct is to drop a pass or run the show," Miles clarified. "Frank is just in total attack mode. I think they complement each other real well."
Occasionally in 2014-15, Self put his two point guards on the floor together. Miles, of course, loves that idea, and hopes to see the two side by side even more next season.
"I'm big on playing point guards at the same time," Miles said. "My freshman year, we had three point guards out there: me, Kirk Hinrich and Jeff Boschee at the same time. It just makes you faster."
In the season Miles mentioned, 2001-02, KU averaged 90.9 points per game with three quick guards running the floor simultaneously under former coach Roy Williams, and the Jayhawks reached the Final Four.
Miles thinks a pared down version of that, wwwith Mason and Graham pushing the tempo, would mean trouble for the Jayhawks' opposition.
"Nothing against anybody else on the team, but as a point guard, me personally, I feel like we're typically the smartest players on the court," Miles said. "When you mix that in with the skill set these guys have, now we're playing at a faster pace and hopefully there will be higher IQ on the court at the same time — it should be."
Miles isn't a coach yet, but it could be in his future. Right now, he's waiting to see how a nagging injury heals up. He certainly hasn't ruled out continuing his pro career, but said retirement is coming sooner, rather than later. That's one reason he wanted to work at Self's camp this summer.
"I've got more days behind me that in front of me," Miles said. "So I'm just trying to position myself, set myself up."
The point guard said he learned much from Self and other coaches, and left with a better feel for how to approach everything from that side of the game.
"I don't know exactly what I want to do," he said, "but obviously I think (coaching) would be a great option."
If that day comes, Miles might have a hard time not playing favorites.