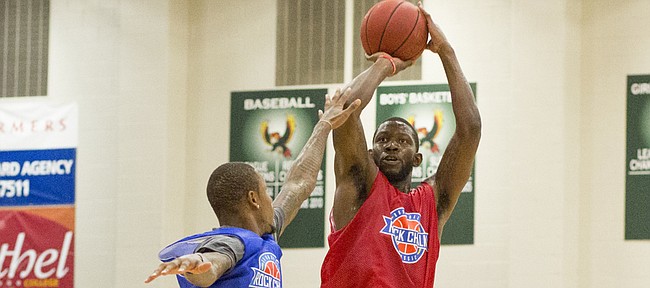 Former Kansas University guard/forward Mario Little has played in the NBA Developmental League, but not yet received a call-up to the big show.
"He's very talented. Just watching him tonight ... he can get places. He can shoot the basketball. In terms of athleticism, ability to guard and get a shot, he can definitely do all those things," assessed former Kansas University and NBA guard Rex Walters.
Walters, the 45-year-old coach of the University of San Francisco Dons, hit a three-pointer and scored five points, while the 6-foot-6, 27-year-old Little went for a game-high 34 points in the Red Team's 102-91 victory over the Blue squad in a festive Rock Chalk Roundball Classic/KU alumni game on Thursday at Free State High.
Little started the 2014-15 season with Oklahoma City's D-League team, but in search of making good money finished the season in Spain's pro league.
Why hasn't he received a shot with an NBA team?
"I don't know," Little said. "Everybody gives me kudos and tells me to keep working. That's what I continue to do. Sometimes it's about timing. It's just about timing."
Little hit six threes Thursday night and outscored everybody on the court, including Blue team member Ben McLemore of the Sacramento Kings, who had 33 points, including a batch of spectacular dunks. Tyshawn Taylor had 21 for the Blues, while Cole Aldrich and Tyrel Reed had 20 and Elijah Johnson 19 for the Reds.
Asked about his ability to put the ball in the basket, former national juco player of the year Little said: "It's different levels. Here in a game like this, it's easier. Up top where I've been trying to get, it's a little more difficult. I do what I can. I enjoy it, though."
Little, who also has played in Ukraine, may be in the best shape of his life. He's normally listed at 210 pounds.
"I'm healthy, not as heavy as I was at KU," he said. "I've been playing a lot, gaining confidence. That's the biggest thing."
It could be back to Spain to play next year.
Box score
BLUE TEAM (91)
Ben McLemore 33, Tyshawn Taylor 21, Brady Morningstar 14, Travis Releford 10, Kevin McLemore 6, Jeff Hawkins 3, Mark Randall 2, Brandon McAnderson 2.
RED TEAM (102)
Mario Little 34, Cole Aldrich 20, Tyrel Reed 20, Elijah Johnson 19, Rex Walters 5, Conner Teahan 2, Danni Boatright 2, Nathan (youngster from stands) 3.
Note: unofficial point totals; box score doesn't match final score.
"I don't know, honestly. I'm just trying to be in the best situation for me," he said.
Walters, meanwhile, has completed seven seasons at San Francisco.
"No. 1, it's nice to be asked to play. It was nice to participate. Bud (Stallworth, Red Team coach) gave me the start (in lineup). I appreciated that, and we got the W," Walters said. "Besides not hitting all my shots, it was a great night."
Walters, who played at KU from 1991 to '93, said: "I got married here, met my wife here. My favorite (on-the-court) memory always will be my senior year, getting a chance to play in the Final Four, and my junior year winning the Big Eight tournament. Those are good ones."
He is thankful he transferred from Northwestern.
"I wouldn't have had the chance to play in something like this," he said, "and have people unconditionally care and love you. I was blessed and fortunate to get a chance to come here."
Highlights: Former KU center Greg Dreiling, 52, didn't score but had several rebounds and still exhibited the ability to fire crisp outlet passes. ... KU football coach David Beaty missed his only shot attempt. ... Taylor had a vicious one-handed dunk off a drive to the hoop. He also threw the ball off the backboard to a trailing McLemore for a slam. Reed bounced a pass off the board to Aldrich for a slam. ... T.J. Pugh, a doctor the past 10 years in Houston, didn't score. He spoke to the fans about some inspirational individuals who have battled cancer. The game was a benefit for area families battling cancer.