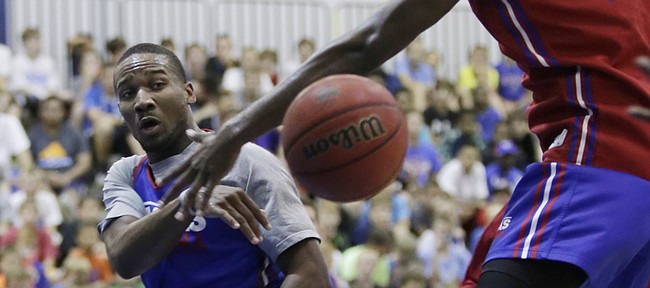 During pregame warmups at Wednesday's Bill Self campers game, Carlton Bragg was told to put on a Red jersey, same color as a certain second-year NBA player.
"I saw Ben McLemore was here, so I had to step up to the competition," Bragg, Kansas University's 6-foot-9 freshman forward from Cleveland, said, referring to the Sacramento Kings guard, who hit seven threes and scored 29 points in the Red team's 92-91 loss to the Frank Mason III/Wayne Selden Jr.-led Blue squad in Horejsi Center.
Bragg, who had eight points in last week's campers game, erupted for 18 points, including two threes that had McLemore applauding enthusiastically.
Photo Gallery
KU basketball team scrimmage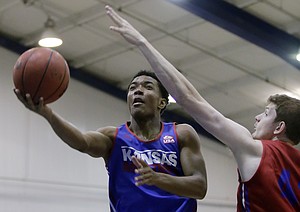 Current and former KU basketball players competed in a scrimmage Wednesday, June 17, 2015 at a Bill Self Basketball Camp.
Box score
BLUE (92): Frank Mason 30, Wayne Selden 21, Perry Ellis 14, Sviatoslav Mykhailiuk 9, Tyler Self 9, Devonté Graham 5, Landen Lucas 4.
RED (91): Ben McLemore 29, Carlton Bragg 18, Elijah Johnson 15, Sherron Collins 12, Hunter Mickelson 9, Lagerald Vick 6, Evan Manning 3. x-Red scoring is one point off. No official stats were kept.
"I like his game. He's going to be a good part for coach (Bill) Self's system in how he (Self) wants to play," McLemore said. "He is a 4-man that can shoot the ball, dribble a little bit, too. He can hurt a lot of teams with his ability to shoot the ball and stretch out."
Bragg, who naturally admits to being a bit homesick after being away for the first time — "There are times when you are laying in the dorm late at night you might have a dream missing home, my little sister," he said — acknowledges it's been a tough indoctrination into college basketball.
The Jayhawks have been practicing hard the past week-and-a-half in preparation for the World University Games, July 3-14 in South Korea.
"I've learned a lot. I didn't know there was that much to basketball," Bragg said. "Everything is my weakness right now. I want to get better every day."
He practices with the bigs — a group that includes seniors Perry Ellis, Jamari Traylor and Hunter Mickelson and junior Landen Lucas.
"It's very tough, very intense," Bragg said. "I've been getting pounded down low, not learning stuff, coach getting on me. It can be a pretty big challenge, but I managed to get through it (first week) and keep progressing more.
"They (older teammates) are getting me ready mentally. I'm going through what they went through their freshman and sophomore years, how coach can get on you, them telling me to stay positive. I love it," he added of the support. "It's like a family. The culture here is amazing."
The 225-pound Bragg, who showed good touch on his jumper and ability to run the floor, knows his defense needs to improve.
"I have to pick up a lot. Coming here with coach Self, he teaches angles. It's very hard to guard. I still can't get adjusted to it yet. I'm learning, will keep progressing," Bragg said.
Bragg said he enjoyed teaming with McLemore Wednesday. At one point, the 6-foot-5 McLemore tossed the ball off the backboard to a trailing Bragg, who couldn't complete the slam dunk.
"He has a high motor. He can shoot it real well," Bragg said of McLemore. "He kept saying to me, 'Kid, pick and pop, pick and roll.' He liked my shot.
"It's more than a pick-up game," Bragg added of the 30-minute contest played in front of 600 screaming and foot-stomping campers. "You can learn from the guys, just take in knowledge, be a student of the game. I love playing for the kids (campers), too."
Selden, who had 21 points to Mason's game-high 30, hit the game-winning shot. Selden drove the lane for a bucket that gave the Blue a one-point advantage with 30 seconds left.
"What game-winner? Oh, no, that wasn't real basketball. That wasn't anything," Selden said of the shot. Pressed about it, Selden did acknowledge: "At the end, under 10 seconds, under two minutes it turned into a real game. We do whatever it takes to win because the competitor comes out in you. You really just want to win the game.
"I feel good," added Selden, who had 23 points in last week's campers game. "My biggest thing is try to use my body more this year, not trying to use speed as much, slowing down. I'm trying to get down in weight a little bit," added the 6-5, 230 pounder.
Traylor day to day: KU senior Jamari Traylor hurt his hip in practice Tuesday and did not play. Self said an MRI showed no structural damage and he's listed day-to-day.
Ben's camp coming: Ben McLemore will hold a camp for youths (boys and girls 5-14, all skill levels) from 9 a.m. to 3 p.m., Monday through Wednesday at Sports Pavilion Lawrence at Rock Chalk Park. To register go to http://ljw.bz/1CexITk
"We had one in Sacramento. I'm really looking forward to working with kids," McLemore said.