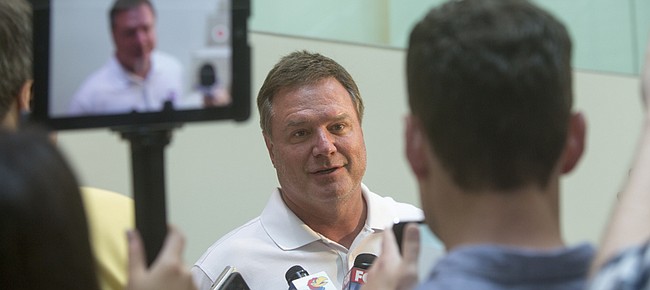 The pace of play has been fast and furious at Kansas University's World University Games basketball practices the past nine days.
"Our guys ... they always say they want to play fast. They don't know what playing fast is until they've actually practiced this way," KU coach Bill Self said Monday before holding a two-hour workout in the Jayhawks' practice facility.
There is no walking the basketball up the court during the Jayhawk workouts in response to international basketball's 24-second clock. It is drastically different from the 35-second clock college hoops has employed the past many years, to be reduced to 30 seconds for the 2015-16 season.
"It's different," Self said. "Playing with a short clock, you can't run a different offense against every defense. You can't have a slow press offense whenever people try to soft press you. You've got to get it and go. It's been good for me to basically kind of re-evaluate how we do things to make our guys play with more pace.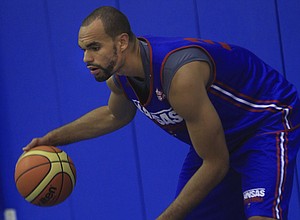 "Think about it," Self added, "you get across halfcourt, even if you push it up, you are at 20. Now you've got 20 seconds to get a shot. It's not going to be a situation where you come down and set it up. Most teams start scrambling to get a shot with 12, 10 seconds on the clock. You get an offensive rebound (clock re-set to 14), you get it out there, by the time they catch it and square up, there's 12 on the clock. You've got to get another shot immediately. It's totally different, but one (rule) I think will make us play faster. Hopefully we can convince our guys you can be patient and still get the ball to the second and third side before you look to score."
As far as individuals and how they've responded to FIBA rules ... Self said senior Perry Ellis "has been our best player so far. I think he's ready to have a breakout type year — a player of the year type year."
Of point guards Frank Mason of KU and Nic Moore of SMU Self said: "Frank is a terrific talent. I'm not sure there's anybody in our league from a raw-talent standpoint that could do more things than Frank, but Frank's not a natural point guard. Nic's a natural, verbally, getting guys organized, understanding what all five guys are supposed to be doing at all times. Frank has been more of a player, but he's trying really hard. I think Nic can teach him to be better at the intangible things which will be very beneficial not only to Nic, but Devonté (Graham, soph point guard) as well."
On MERS: Self said he's been briefed regarding the Middle Eastern Respiratory Syndrome (MERS) outbreak in South Korea. It has infected 150 people and been responsible for 16 deaths since mid-May in South Korea.
"If there's any danger at all, the U.S. — the doctors' delegation — won't allow anybody to go. I'm not the least bit concerned yet," Self said. "Of course if it becomes a concern, obviously that would take place then," he added of athletes not attending the July 3-14 Games. "All indications from what I've heard is it's the longest of long shots. I know we've had different scares going on here in our country, most recently I guess Ebola when there's a few different cases in different areas of the U.S. I think this particular situation, it's pretty isolated. It's a long way away from Gwangju. That doesn't mean something can't happen or spread. I think right now they feel good about it. We're informed on a daily basis if there's any change."
Hitting the books: KU's players are taking a class on South Korea history and culture in preparation for the trip.
"You attend class here four weeks then you have assignments you have to do over there as well in order to class credit, to pass the class," Self said. "Our guys say their workload has been pretty heavy so far. Everybody needs to be going to summer school. Everybody needs to be taking classes. This is our way to actually do it this year and not miss out on any of the activities taking place."
He noted "we needed to do something ... the trip occurs at a bad time because you are going to miss close to seven to 10 days in each (summer school) session."
Embiid update: Self on former KU center Joel Embiid of the Philadelphia 76ers, who has had a setback in his recovery from foot surgery. Embiid missed his rookie season and there are published reports he could miss time next season.
"Norm (Roberts, KU assistant) talked to Jo yesterday. He said he hasn't re-injured anything," Self said. "The doctors have told him based on re-doing MRIs or X-rays or whatever they do, even though it feels better, it doesn't look like he's made the progress they would hope at this stage. They are going to slow him down. By no means from what Joel has told us 'slow down' does not mean 'major setback.' (They will) give it a little bit more time to heal before they put him in stressful situations."
This, that: Canada's World University Games team will arrive in Lawrence on Friday to being preparations for Tuesday's 7 p.m., KU-Canada exhibition in KC's Sprint Center. Self said the Jayhawks may practice some with the Canadian players. Currently, the men's development team listed on Canada Basketball's Website has 12 players, none currently attending U.S. schools.
Self on the June 25 NBA Draft: "I think Kelly (Oubre, Jr.) has a chance to sneak in the lottery. I think that would be awesome. I think that's where he deserves to be picked. Cliff (Alexander) ... I don't have a good feel for Cliff at all. Most people are saying early second. Workouts may dictate where he could go earlier. We'll wait and see. I think both will be playing in the league next year."