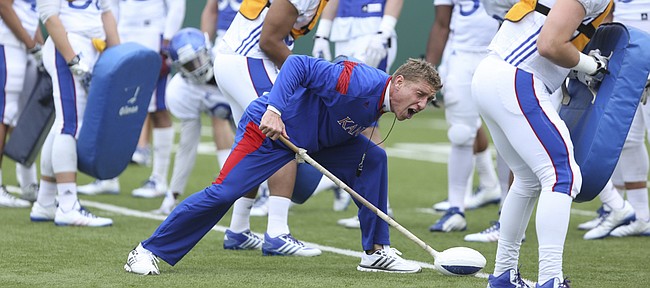 College assistant football coaches, in many ways the nomads of the sports world, have been known to go just about anywhere to stay in the game. New Kansas University special teams and tight ends boss Gary Hyman, in the early days of his first big-time coaching break, has left many a post office with his forwarding address.
Hyman, 38, grew up in the north-central California town of Stockton and headed south to start his junior college football career as a wide receiver in the San Fernando Valley at Los Angeles Valley College. He headed north in the same state to Humboldt State in Arcata, known for its tall trees and its, well, grass.
Hyman's college eligibility expired there, but he wasn't done catching passes, even if that meant he had to chase the sport all the way to Europe to play a year in the France Federation of American Football.
Then it was back to LA Valley College for a year to launch his coaching career. Next, he was off to his longest coaching stint, at San Joaquin Delta College, a junior college in hometown Stockton, where he spent nine years instructing wide receivers, then running backs, then offensive linemen, then quarterbacks.
Next stop, El Paso, Texas, where Hyman found his mentor and his niche working for UTEP.
Very often special teams is the least coveted position on a coaching staff. It's the job a coach takes when he can't land anything else. You tend to get noticed only when something goes awry. Many of your players prefer their primary positions. And there is so much ground to cover in such little time.
And then there are coaches who get hooked on special teams and stay there forever. Hyman puts himself in the latter category.
"I sought it out because of the special teams coordinator I got to work with," Hyman said, meaning current Texas A&M; special teams coach Jeff Banks. "He runs around and is fired up and that's how he gets those kids to buy in. You can make it fun and still get in quality work. He taught me that. Because of that, that's what we do. Getting better doesn't have to be a grind. We have a lot of fun doing what we do and we're getting a lot better doing what we do. That was a great lesson he taught me. Shoot, that was back in the UTEP days and I'm wet behind the ears and he's teaching me the ins and outs of special teams."
After two years working under Banks as a graduate assistant, Hyman moved to Div. II South Dakota School of Mines, where he coached special teams and wide receivers for two years. Then he reunited with Banks as quality control coach for special teams at Texas A&M; for a year before Beaty hired him. If looking at where and how often Hyman has moved to coach football isn't enough to prove he loves his job, watching him at practice seals the deal. If he wore a Fitbit bracelet it might explode midway through practice. He's always moving forward or sideways or backpedaling, his long arms sometimes looking as if they haven't quite caught up with his feet. He tends to deliver his message at eyeball-to-eyeball range.
By the end of practice, he's exhausted.
"If I wasn't, then I'd go check the man in the mirror and see why he wasn't putting in any money," Hyman said. "You've got to invest. You've got to invest, baby. You've got to invest in who you are. I tell the players that, 'You want to be a professional? Then invest in you. What are you going to get better at today?' It's no different for a coach. I can look at film and say, 'Hey, this drill was set up to a tee. I like the organization here. The players knew what they were doing here.' Or, 'They didn't know what they were doing here. Why didn't they know? Hey, it ain't their fault. Where did I miss the communication?' If I'm going to hold them accountable, then I better hold myself accountable as well."
Football is all about getting 11 parts to work together as one. Hyman pointed out an interesting challenge unique to special teams.
"Take a wide receiver," Hyman said, "he might be working with the defensive guy that he goes up against every day in practice, tries to beat one on one and then they're working for a common goal. How do you get those guys to work together, to come together for a common goal? If you have that answer, that magic, then you and I would have lots of money in our pocket because that's the trick. That's a hard task to accomplish. But they are seeing that I believe as we're working through the spring, some of the players are understanding that."
KU's special teams have lacked consistency in recent years, most notably at kicker. Coaches aren't allowed to discuss players who have not signed letters of intent, but Texas all-state kicker Tre Honshtein from East View High in the Austin area announced Feb. 16 on Twitter that he would continue his football career at Kansas as a preferred walk-on. The Austin American Statesman reported that in the past two seasons, Honshtein has kicked 100 touchbacks, made 113 of 113 extra points, and made 17 field goals, including a pair of 51-yard three-pointers. Most programs don't use scholarships on kickers. The only scholarship offer Honshtein received was from Army. Oklahoma State was among the schools offering him preferred-walk-on status.
Asked how he evaluates kickers, Hyman said that he has to see them in person before believing in them.
"It's like a quarterback, in my opinion," Hyman said. "Like you hear coach (Rob) Likens talk all the time, if he's going to go offer a quarterback, he's going to see him throw in person because a highlight film's a highlight film. No different for a kicker. We're going to look at a kicker on film, but before we get fired up about a punter or a kicker, we're going to go see him in person."
Hyman explained the value of that.
"Seeing the ball pop off a punter or a kicker's foot live is what you want as a specialist coach," he said. "You can also see leg speed a lot better in person, a lot better. And you'll say, 'All right, give me 10 kicks.' Then you're going to see it. You're not going to see a highlight reel. 'Give me 10 kickoffs, your best.' Then you're going to get a great average of height, hang, distance. And get a range. What's his best? What are his mis-hits?"
Not surprisingly, speed is the first priority when Hyman assembles coverage units.
"Those gunners make your cover team," Hyman said. "If you can win with speed, and have those guys who are fast, let them win with speed. We've got some team speed. I'm still trying to figure out who that is. If we can be smart and let those guys with speed play fast and not force them to be thinking too much, we've got a chance."
Lacking so much depth in so many areas, Kansas projects to have difficulty scoring and especially preventing the other team from scoring, so strong special teams play is a must. If Hyman can't figure out a way to make that happen, it won't be for lack of effort.