Kansas University basketball coach Bill Self had the full attention of 600 youngsters as he introduced the participants in Wednesday's current players/alumni campers game in Horejsi Center.
"He may be the best athlete on our team. He may be the highest jumper. He may be the quickest player ... Lagerald Vick," Self said of the 6-foot-5, 175-pound freshman combo guard from Memphis.
Vick, who swished a pair of threes and leaped high to flush a lob from Devonté Graham in his Blue team's 95-74 loss to the Red squad, smiled when asked about the words of praise from his new boss.
Photo Gallery
KU basketball Scrimmage at Bill Self Camp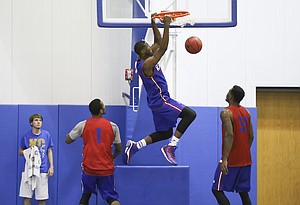 View a gallery of images as Jayhawks old and new scrimmaged Wednesday at Bill Self's basketball camp.
"Coming to Lawrence was probably the best thing that has ever happened to me," said Vick, who averaged 26 points and 11 rebounds last season at Douglass High. "I like the Jayhawk family. The community is amazing. I've never had a feeling like this."
Vick was one of a slew of productive guards who assembled Wednesday in Horejsi. His Blue teammate, Graham, connected on seven threes en route to 23 points, while Sviatoslav Mykhailiuk hit three threes and scored 13 points.
Frank Mason III iced five threes and scored a game-high 31 points for the Red team, while Wayne Selden Jr. converted three threes and scored 23 points. Former KU guards Elijah Johnson, Brady Morningstar and Sherron Collins had nine, six and five points respectively.
"Those guys have experience, so I just watch them. I learn from them. It's a huge advantage for me that I can become, be like them," Vick said.
Camp game box score
RED (95): Frank Mason 31, Wayne Selden 23, Landen Lucas 14, Jamari Traylor 11, Brady Morningstar 6, Sherron Collins 5, Evan Manning 5.
BLUE (74): Devonté Graham 23, Svi Mykhailiuk 13, Elijah Johnson 9, Perry Ellis 9, Lagerald Vick 8, Carlton Bragg 8, Hunter Mickelson 4.
Vick scored all eight of his points the first of two, 15-minute halves.
"It was a good experience. The Jayhawk nation ... it is a very cool crowd," he said of the foot-stomping campers who packed the south Horejsi bleachers.
Vick believes he can bring a lot to the table in his freshman season.
"My shooting and my slashing ability. I'm getting better on defense. I'm working on my defense," he said. "I should be a lockdown defender by the time fall hits."
Sophomore Graham and KU grad Collins both were impressed with Vick.
"He's long. He's bouncy. In camp games, everyone's not playing as hard as they can go. I think they have a good overall group. I like the big fella, too," Collins said of 6-9 Carlton Bragg, who had eight points, scoring inside and out. "He (Bragg) has some moves that will be hard to guard. He's going to be a versatile guy."
"He (Vick) is an athlete. He has a quick first step. He shoots the ball pretty well. He can get in the lane and finish," Graham said. "He's been here three days. He doesn't really know any of us. He talks a little bit in the locker room.
"We'll open him up," Graham added, asked about Vick's quiet demeanor.
Mason on fire: Mason put on a show for the campers, scoring off drives and jumpers alike. "He's a bulldog. He reminds me of myself so much," Collins said. "It's a joy to see him keep growing. I think he understands now being an upperclassman he has to be leader. I tell him the same thing every time. He's getting it. I just think he's fearless."
Educated about Korea: KU's players have been taking a class on campus on South Korea history so they will be well-educated heading there for the World University Games on July 3-14 in Gwangju.
"We learned a coupe of things to say (so far). One of the weirdest things is, if I'm sitting on a bus and a lady comes up, I'm not supposed to give my seat to her," Graham said.
Graham speaks: Graham, on which player has made the biggest improvement from March until now: "I think Svi. I think he has gotten way more aggressive than he used to be. He's looking for his shot more and looking to attack the basket more and it's going to help us."... On his seven threes: "I was just shooting the ball. It ended up going in. It was fun to see it go in." He noted he's a lot more confident this year as a sophomore.
This, that: The Jayhawks are using FIBA basketballs in preparation for the World Games. The FIBA balls have a two-tone color with 12 composite leather panels each. ... Self, in introducing Perry Ellis, told the campers, "He's going to be the player of the year in the Big 12 next year." ... Vick on why he picked KU over Kentucky, K-State, Auburn and others: "Well, Bill Self kept it real. He told me what his standards were. I agreed with it. It's what made me pick Kansas over everywhere else." ... KU has offered a scholarship to Nick Richards, 6-10 junior-to-be from St. Patrick High in Elizabeth, New Jersey, Zagsblog reports. He's also considering Kentucky, UCLA, Syracuse and others. ... On Wednesday, Graham passed off the backboard to Mykhailiuk for a slam. ... Landen Lucas (14 points) dunked off a no-look pass from Collins.
http://www.youtube.com/watch?v=mAhQXlI7q78
http://www.youtube.com/watch?v=Dxd-YRsHpZw