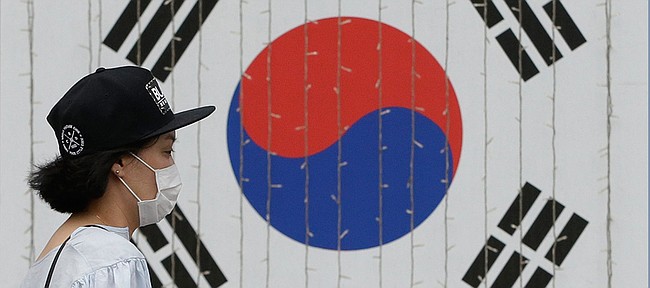 Kansas University's athletic department is aware of, and monitoring, the recent outbreak of Middle East Respiratory Syndrome in South Korea, site of the upcoming World University Games, KU associate athletic director Jim Marchiony said Wednesday.
The South Korean government has been attempting to contain the virus that has caused five deaths and forced 1,800 individuals to be quarantined.
"The medical staff of the USA delegation has been monitoring this and has been in contact with us and all the teams that are going to represent the United States," Marchiony said. KU's men's basketball team will play in the Games July 3-14 in Gwangju, South Korea.
"They are monitoring; we are monitoring it very closely. Right now they don't believe this is going to pose a threat to the Games, but it's obviously something they and we will continue to monitor. Neither the U.S. delegation nor the University of Kansas nor any of the other teams that are going to represent the U.S. are going to put anybody in any kind of danger. We will continue to monitor it along with the staff of the World University Games. We will monitor it closely."
Marchiony stressed: "The medical staff of the U.S. delegation at this point does not believe this (MERS) will be a threat to any of the athletes who are going to participate."
Last weekend, the International University Sports Federation (FISU) spoke about MERS in South Korea, as reported by Via Yonhap News.
"The government of the Republic of Korea is taking very stringent precautions to avoid any further spread of this virus," said Lawrence D. Rink, head of the FISU's Medical Committee, in a statement. "We anticipate that the MERS outbreak, which has really been quite limited will not have any effect on the games. I can assure you that we are watching this closely."
Via Yonhap News reported that the World Health Organization (WHO) is working with scientists and doctors in South Korea.
"WHO is not recommending any entry screening and have not recommended any application of travel or trade restrictions," the statement issued by Rink indicated. "The FISU Medical Committee, in coordination with the Gwangju Universiade Organizing Committee, has set forth stringent protocols regarding reporting of symptoms, reporting of contacts, isolation and quarantine techniques. We have dealt with many viral outbreaks, such as SARS (Severe Acute Respiratory Syndrome), in the past, and we have received international recognition for the way we have dealt with these issues."