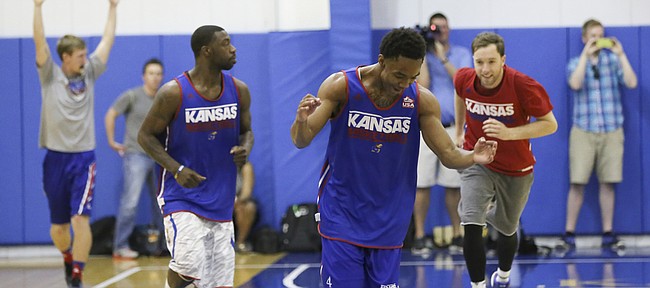 Kansas University's basketball players aren't handed stat sheets after playing in the 30-minute Bill Self campers game in Horejsi Center. Thus, they are somewhat astounded when informed by media of their unofficial totals.
"Thirty one? I didn't know that. Thanks," KU junior point guard Frank Mason exclaimed after a reporter informed him of his point production for the Red Team in Wednesday's 95-74 victory over the Blue team.
"For real?" Blue team member Devonté Graham said with a smile after being told he'd hit a grand total of seven three-pointers en route to his 23 points.
Seven threes is a lot, even in a glorified pickup game. His official career high is three (in eight tries) set in KU's season-ending loss to Wichita State. For his entire freshman year, the 6-foot-2 Raleigh, North Carolina, native made 17 of 40 threes for 42.5 percent.
"That was one of my focuses for this year, getting better beyond the arc, having people respect my three-point game," Graham said. "That will open up the floor for more driving lanes. It will open up the court for Wayne (Selden, Jr.), Svi (Mykhailiuk) Brannen (Greene), everybody."
Overall, Graham hit 46 of 117 shots his frosh season for 39.3 percent.
"I wasn't really a big-time three-point shooter. They (foes) didn't really have a reason to respect me," Graham said.
KU's backup point guard knew teams were giving him the outside shot.
"Backing off, going under screens, stuff like that ... things we do to people who can't shoot," Graham said, laughing. "I think it was being hesitant," he added of his main problem. "I've always been confident in my jump shot. I lost a little bit of confidence last year. I was nervous being a freshman trying to play my role."
In looking back, he realizes how he lost his confidence.
"Not shooting it well, missing a lot of shots, being hesitant. It's a mental thing. I think I'm out of it," Graham said. "You've got to put up shots. I went home (after final exams for about a month) and worked out putting up shots. I just tried to get better."
Graham wants to help make sure KU's incoming freshmen don't lose confidence at any point this season.
"They're going to be big," he said of Carlton Bragg and Lagerald Vick, who are on campus. Cheick Diallo will report for second session of summer school. "They are just learning. I understand how we looked last year, me, Kelly (Oubre, Jr.), Cliff (Alexander), how we were just lost. They are kind of lost right now, not knowing what to do. They picked up on a couple things pretty fast that we taught them. It'll take a couple weeks to learn as far as plays, where to be on the court, trying to talk and understand what we are trying to do."
The Jayhawk players are working to learn FIBA rules for the upcoming World University Games, including a 24-second shot clock.
"That will help us out as far as playing faster," Graham said. "Me, Frank, Wayne, Perry (Ellis) get up and down. We can bring the ball up and down the court faster. Getting up more shots I think will help us out."
Graham can't wait to play games again to completely erase the bad taste of the loss to WSU.
"That definitely will be with us a little while," he said. "I think we've gotten over it. Our fans probably are more hurt about it than we are. We've got to focus on a new year, starting out right, and it starts in (Gwangju) South Korea (site of Games)."