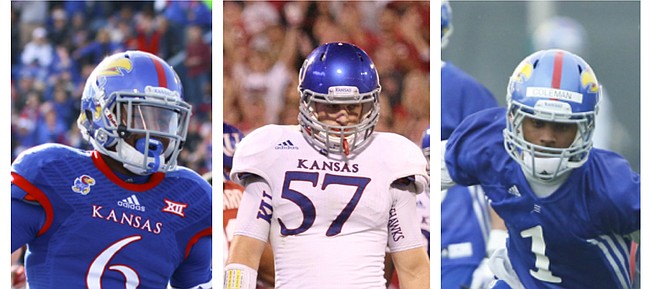 Kansas University football coach David Beaty announced three significant changes to the KU football roster on Tuesday and each figures to have a hefty impact on the upcoming 2015 season.
Linebacker Jake Love is retiring from football for medical reasons. Running back Corey Avery and wide receiver Rodriguez Coleman both have been dismissed from the program following indefinite suspensions for violating undisclosed team rules this spring.
No further information for the dismissal was included.
Beaty also announced that incoming freshman Shola Ayinde, a cornerback from Richmond, Texas, will delay his enrollment at KU and has not reported to campus.
As a true freshman in 2014, Avery led the Jayhawks with 151 carries, 631 yards and five touchdowns. Coleman missed most of last season because of discipline issues, but had one of the best 2014 springs of anyone on the roster and always loomed as a potential breakout player. It never quite materialized, however, and in his two seasons with the Jayhawks, the former junior college standout finished with just 245 yards and one touchdown on 11 receptions in 18 games.
Had Avery and Coleman remained on the roster, both would have been strong candidates to lead the Jayhawks in rushing and receiving during 2015.
In addition to the dismissal of two of the offense's top weapons, the loss of Love takes away another sure starter on defense. Love, who graduated with a communications degree in May, finished fourth on the team with 53 tackles in 2014. Those numbers included three sacks — good for second on the team — and 9.5 tackles for loss.
During his KU career, the Tonkawa, Oklahoma, native, who red-shirted in 2011, finished with 107 tackles while often playing in the shadows of future NFL draft pick Ben Heeney.
"When I think of Jake Love, I think of a hard-nosed, tough, physical football player," Beaty said in a press release. "We are going miss his leadership and tenacity on the field, but we will also miss having a guy out there with the experience he has playing in the Big 12. With that said, nothing is more important than his health and him being able to have a long, productive future outside of football. I am really happy he got his degree and we wish him the best as he moves forward."
In the release, Love also expressed his gratitude for the opportunity to play KU football for the past four seasons.
"I have met so many amazing people on this journey and consider many of them family," he said. "Unfortunately, I have been advised not to play football anymore due to medical reasons. I am thankful that KU has given me the option to start working on my master's degree in the fall and it's something I look forward to.
"I wish coach Beaty and his staff nothing but the best moving forward and will be cheering from the stands come September 5. I (also) would like to thank the fans who have supported me through thick and thin and my parents who have been there for me since day one."
The loss of three front-line players with legitimate experience certainly qualifies as another blow to an already-thin KU team. Because of failed junior-college transfer experiments during the past few seasons, the Jayhawks will open the season with at least a dozen fewer scholarship players than most schools and will attempt to fill the void by developing and using walk-ons to add depth.
Beyond that, those players who have played a meaningful number of snaps during their college careers, in most cases, were reserves or role players and never have been counted on as leaders or go-to guys.
That may hinder KU's chances to keep up, especially against Big 12 Conference foes, but Beaty will not allow the depleted roster to keep the Jayhawks from competing as hard as possible on a weekly basis.
"The number one thing I was looking for when we started looking at our needs, was roster management — getting the depth that we need and still getting the type of players that we need," explained Beaty shortly after being hired. "But you've gotta have the depth. You might have the best player in the world, but if he gets hurt and there's air behind him how are you gonna play the game?"