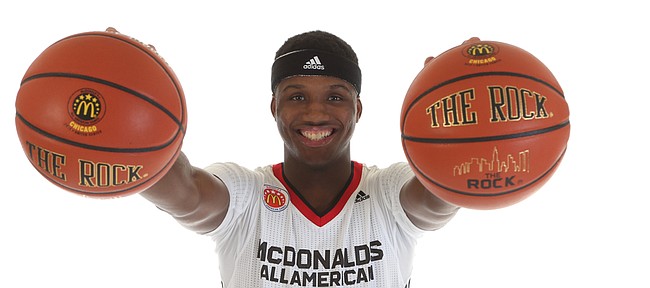 Cleveland native Carlton Bragg, who arrived on Kansas University's campus a day before the start of 2015 summer school classes and World University Games practices, admitted it was hard to say goodbye to family and friends back home in Ohio.
"It was all sad. Everybody takes me out to dinner and stuff (before leaving). It was family time, so it was pretty good," Bragg, a 6-foot-9, 225-pound McDonald's All-American, said Sunday afternoon after signing autographs for 21⁄2 hours at Bill Self's KU basketball camp.
"All the memories ... we just won the state championship, so it was pretty tough for me to leave it, but I'm starting a new chapter."
Bragg, who averaged 21.3 points and 8.0 rebounds a game last season for state champ Villa Angela-St. Joseph High (23-4), had a full first day in Lawrence, that's for sure.
After sitting at a table and signing for more than 600 campers, he then conducted a media interview before playing pick-up basketball with his new teammates, including freshman roommate Lagerald Vick.
Next, he slam-dunked with Vick, Wayne Selden Jr. and Frank Mason III at the parent/child camp orientation session before breaking free for dinner.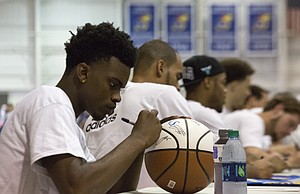 "It feels good to be here. I'm very excited to see what's in store for us," Bragg said.
He arrived in good physical condition, working out regularly on the treadmill back home.
"I was running elevation laps. That helped me a lot," Bragg said. "I was doing 6 minutes a mile, so that was pretty good, kind of hard though."
"When I first started out, it was horrible. It started progressing."
He said he hit the treadmill, "because going into my high school career, I was always winded. I wanted to try something new. Coming into college, I knew it was a big stage, and the court was bigger."
He also chose the treadmill as a form of exercise because "I saw LeBron do it with the elevation thing. It looked pretty cool," he said of Cleveland Cavs phenom LeBron James. "He's from Ohio. I'm from Ohio also. I'm a big fan."
He said he would not be devastated if James and the Cavs fell in the NBA Finals to the Golden State Warriors.
"No, I mean, you just lost Kyrie (Irving) and K-Love (Kevin Love, to injuries)," Bragg said. "I think they can still pull it off, though."
Bragg, who will wear jersey No. 15 at KU, showed his youthful exuberance Sunday when asked if KU will try to win the University Games rather than just bond as a team prior to the October start of the 2015-16 campaign..
"We will (win title). We will," Bragg said with a smile.
Bragg and Vick are the first two KU newcomers to arrive this summer. Freshman Cheick Diallo has some paperwork to complete in New York and likely won't be here until second session of summer school. Ole Miss transfer Dwight Coleby is playing for the Bahamas National Team in the Caribbean Basketball Federation Tournament and also will be here for second session summer school. Diallo and Coleby are not from the U.S., thus can't play for KU in the World University Games.
"They're both great," KU junior point guard Mason said of Vick and Bragg. "I've seen a couple highlights, not really watched them live. I watched Carlton in the McDonald's game. I like his motor, just his personality, who he is. He can shoot the ball, take it off the dribble. He defends. I'm excited to help him. I can't wait to start practice tomorrow (today, for July 3-14 Games in South Korea)."
Coach Bill Self said Sunday: "I'm excited to have them both here. I think both will be terrific. I think it will take them both time. I'm certainly excited to have them both here and get started."
Bragg is known to have a soft touch for a big guy.
"He's a good shooter. He shoots it pretty well," Self said.
The best part of Bragg's game? "My motor," Bragg said. "I've gotten a lot better with my motor."
This, that: Bragg on his new roommate Vick, who will wear jersey No. 2: "He's a pretty cool guy. I love his personality." ... KU's Jamari Traylor was due in Sunday night and Sviatoslav Mykhailiuk today. They were on flights from Chicago and Ukraine, respectively, Sunday. ... KU's players will go to South Korea with knowledge of the country. They will be tutored on the history and customs. ... Former KU players Aaron Miles and Jeff Hawkins are working as coaches at Self's camp. After introducing Miles to the campers, Self joked, "Aaron, they are too young to remember you." He then explained to the campers, "Aaron is fourth all-time in the NCAA in assists for his career — fourth! The reason he got a lot of assists is he was one of the worst shooters all time in the NCAA," Self added, breaking up Miles and the campers and their parents. "Aaron and Hawk are working camp. It's always great to have them here."