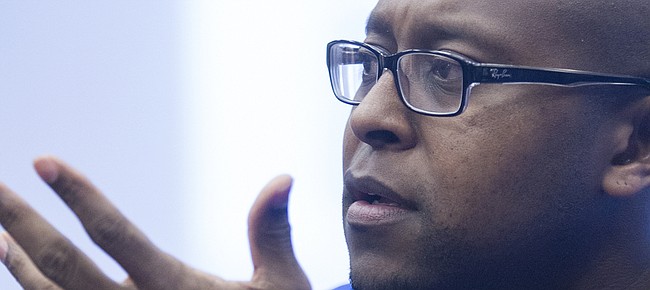 The strength-and-conditioning coach at any college football program makes a living telling athletes to tackle tough tasks and therefore can't shy from them or be labeled a hypocrite.
Je'Ney Jackson, the man David Beaty hired to head up the strength-and-conditioning staff for Kansas University's football program, didn't look forward to telling Indiana basketball coach Tom Crean he was leaving him for another job. But he knew he had to do it.
"That was rough," Jackson said. "That was rough."
Crean is known for his intensity and loyalty, so Jackson took a deep breath and thought about how to break the news.
"I found out on a Wednesday that I was coming, and we were playing Butler that Saturday in Indianapolis," Jackson said. "So I decided to wait until after the game. Fortunately, we beat Butler, so everyone was pretty jacked up."
Here's how it went, Jackson said:
Jackson: "Coach, I want to come in in the morning, and we need to talk."
Crean: "No, we need to talk right now."
"We discussed it, and he was awesome," Jackson said. "I mean, unbelievably good. He's a great guy, great guy. He's a guy I really learned a lot from and enjoyed working for. He is now a true, true friend. He loved my family, just an all-around great guy."
Knowing Jackson feels that way about Crean and still left the job is all the evidence needed to figure out how he feels about Beaty, his new boss.
"We are very similar people," Jackson said of Beaty. "Very energetic, like to communicate with people, like to have fun, like to work hard."
The head coach and strength coach met when Beaty was trying to recruit running back Rex Burkhead to Rice, Jackson to Kansas. Burkhead, now with the Cincinnati Bengals, went to Nebraska, but because of him a friendship that would turn into a working relationship was born.
"We just hit it off, stayed in touch, and then (Beaty) was hired (by Mark Mangino) to coach receivers, and I was with the DB's," Jackson said. "That receivers/DB's coach relationship, you're going against each other every day in practice."
The career coaching paths of Beaty and Jackson have weaved in and out of Lawrence. After earning 12 varsity letters in football, basketball and track at Guernsey-Sunrise High in Wyoming, Jackson was named state football player of the year by USA Today and the Casper Star-Tribune.
Jackson earned All-WAC honors as a senior in college for Wyoming, when he had five interceptions. He worked as a strength-and-conditioning assistant for his alma mater (1999-2004) and then at Kansas (2005-06). Mangino moved him from the weight room to the field to coach cornerbacks (2007-09). He spent 2010 as cornerbacks coach at Southern Miss and then was hired by Crean, who coincidentally also had Jackson's KU predecessor, Scott Holsopple, in that position when coaching at Marquette.
During his time in the weight room at KU under head strength coach Chris Dawson (now at Kansas State), Jackson saw the value in football players doing a ton of what boxers refer to as "road work."
"We're going to run," Jackson said. "We're going to be in great shape. I know we'll play up-tempo offensively, so we've got to be in tremendous shape. But we're also going to be strong and powerful and explosive like we were during that staff's time."
Strength coaches must pull off a difficult juggling act to inspire athletes to reshape their minds, bodies and stamina.
"There is always going to be a little bit of hatred toward the strength coach and a little bit of fear," Jackson said. "But the thing that I feel is, if you show the kids you truly care about them, you're not just some guy disciplining them or punishing them, then when it does is come to a point where we really have to get after it, we really have to grind, they understand it's a necessity, and this is what we need to do to get better. It's easy to bridge that gap if you approach it that way."
The key to unlocking an athlete's perceived physical limitations resides between the ears.
"Your mind will allow you to do so many things that you couldn't imagine," Jackson said. "So that's where I come in, getting guys to believe they can do something they've never done before. I think that's the biggest thing a strength coach does. Even when I was at IU with basketball, I've had guys, they're getting under a squat bar, they have doubt, then you pump them up so much, and you come back to them and say, 'I knew you had that in you. This is what I'm talking about. I knew you had it in you. We just had to bring it out.' And then when you get a kid to do something they didn't really think they could do, it's never ending what they'll do for you after that."
The systems of many high school and junior college recruits who will go through a Jackson-led workout today, the first day of summer conditioning, will undergo shock.
Offensive lineman De'Andre Banks, a juco recruit who joined the program at the semester break and was shocked by the winter workouts, will be there to encourage the newcomers.
"I remember that first day I had called my dad on the phone and said, 'Dad, I don't think I'm going to make it.' Each day it got easier and easier," Banks said. "Toward the end of conditioning season, I was, like, 'OK, I've got this.'"
Banks said the winter workouts prepared him well for the spring.
"Coach Jackson, man, he's done magic for us," Banks said. "I know when I came in here I thought I was in shape until that first 5 a.m. workout, and it was crazy. I would have to say coach Jackson has helped us out a lot, a lot, a lot to get us prepared for this up-tempo offense we'll be running."
The help is on the verge of being turned up a notch. And then another and another and another. That's how it goes.
Asked what was more enjoyable, winter conditioning or spring football, Banks smiled at the silliness of the question.
"Oh, spring football by far," he said. "By far. That conditioning is no joke. No joke."