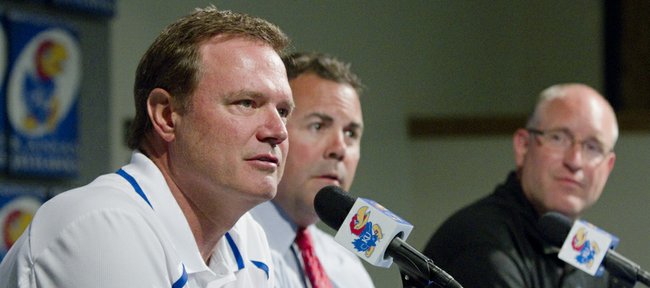 Kansas University basketball coach Bill Self says practice for the World University Games will begin on Monday.
"We'll probably practice five days a week, something like that," Self said. His Jayhawks will play Team Canada at 7 p.m., June 23 and 26 at Sprint Center in Kansas City, Missouri. Team Canada also will train in Lawrence leading up to the exhibitions, and KU can merge practices with the Canadian squad members.
"If we choose to, yes," Self said.
"Nic Moore (SMU guard who will play for KU) will get here the 12th. We'll have approximately two weeks of good practice before we line up and go to Gwangju (South Korea for Games July 3-14)."
KU's 12-player roster for the Games: Newcomers Carlton Bragg and Lagerald Vick plus Perry Ellis, Devonté Graham, Landen Lucas, Frank Mason III. Hunter Mickelson, Moore, Wayne Selden Jr., Jamari Traylor, Evan Manning and Tyler Self.
Svi Mykhailiuk (Ukraine), Cheick Diallo (Mali) and Dwight Coleby (Bahamas) cannot play because they were not born in the U.S.
They can serve as managers and thus have limited duty at practice.
"Cheick is tightening up some things (paperwork) that he cannot quite come yet," Self said of Diallo who has said he plans on being here at some point in the summer, perhaps second session of summer school. "Svi will be here the entire summer. Dwight will stay in the Bahamas, at least early summer, to play with the Bahamian National Team at the Caribbean Championships. Brannen (Greene, hip surgery) will not play because he's injured," Self explained.