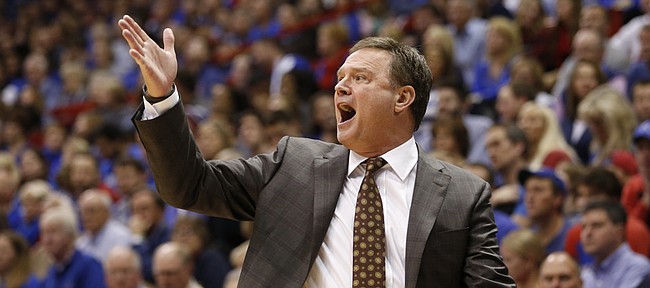 The Golden State Warriors enter the 2015 NBA Finals as heavy favorites to conquer the Cleveland Cavaliers.
Lest gamblers be tempted to bet their entire bank accounts on Stephen Curry's Western Conference champs, they might be reminded four-time MVP, two-time NBA champion LeBron James is healthy and raring to go for the Eastern Conference champion Cavs.
"You know what ... I thought the Warriors would be a slam dunk up until watching LeBron play (of late)," Kansas University coach Bill Self said after the Cavs won the last three games of their semifinal series against Chicago and then four straight in the conference finals vs. Atlanta. "He's doing this without Kyrie (Irving, injured, questionable for tonight's opener) and obviously without Love (Kevin, injured, out).
"(The Warriors' Klay) Thompson is coming into his own. I'll take the Warriors, because four out of seven games ... all it takes is those two guys (Curry, Thompson) getting hot on the same night. Klay has played OK. He hasn't gotten on fire. He kind of did the other day against the Rockets (he had games of 20, 24, 17, 13 and 15 in conference finals). When those two are playing well ... I don't think anybody is going to beat the Warriors this year," Self added.
Golden State went 67-15 in the regular season and is 12-3 in the playoffs; Cleveland went 53-29 in the regular season and has a 12-2 postseason mark.
The Warriors, led by 2015 MVP Curry, are 46-3 at home entering tonight's Finals opener in California.
"We can talk about a different player every year being the best player that year. Everybody knows LeBron is still the best player in the world," Self said. "It was not fair to Durant (Kevin, Oklahoma City) last year. Durant won MVP, but everybody recognized LeBron as the best player in the world. That is true. To me, Durant is one guy you could say could challenge. The biggest thing LeBron does, even at that level, is he's a man playing against boys. You don't see often a 6-8, 270-pound man could move like that and physically be that dominant."
Of course, KU knows all about Golden State's Curry.
He scored 25 points off 9-of-25 shooting (4-of-16 from three) in KU's 59-57 victory over Davidson in the 2008 Elite Eight. KU survived a final Davidson possession — one in which Jason Richards, not Curry, took and missed the last shot, a three that could have defeated the Jayhawks, who went on to win the NCAA title.
"We got lucky," Self said. "He was on an unbelievable roll. He's on an unbelievable roll now. On the collegiate level, he was on a comparable roll. Brandon Rush was guarding him on the last possession. He (Rush) fell down. I think Rio (Mario Chalmers) switched to him, Sherron (Collins) switched to him. He really didn't have a shot to get a look off, fortunately for us, because he's the best there is with the exception of J.R. Smith of making bad shots. I'm just glad he didn't take that last shot, because after seeing him play since then, if he could taken it, he would have made it. It worked out well for us."
Curry has made 73 threes this postseason. The old record was 58 by Reggie Miller in the 2000 postseason.
"He (Curry) is going to make 90 threes. He's already broken the record by 15 so far," Self said. "Pencil in he makes five threes a game. That's unbelievable, because teams are trying to defend it. He's in ridiculously great shape. He knows how to take advantage of the defense when the defense turns its head. He is in perpetual motion. He can get it off the bounce. I've never seen a guy lull you to sleep, then (hit the shot). It's amazing watching him play."