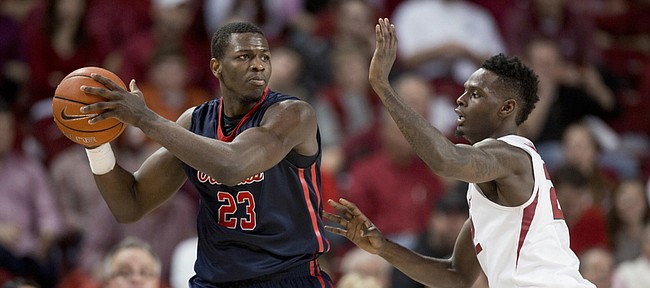 Dwight Coleby will fly from KCI to his native Bahamas on Monday — ready to begin working out with the Bahamas National Team — as a proud member of the Kansas Jayhawks.
"I am excited to be a part of something special here at Kansas #Rock Chalk Jayhawk," Coleby, the 6-foot-9, 240-pound former Ole Miss center, Tweeted at 6 p.m. Sunday, the second day of his three-day KU campus visit.
"I knew it was the best place for me, the overall history and the history with big guys ... how they challenge the big guys here and how they play," Coleby told the Journal-World about 40 minutes after committing — and signing scholarship papers — to KU.
"Other schools were interested in me. Once Kansas called, I knew that was it, so it didn't matter the rest of the schools," added Coleby, who will report to KU for second session of summer school in July after playing in the Caribbean Basketball Confederation tournament in Virgin Islands.
Coleby, who averaged 5.4 points and 4.8 rebounds while logging 16.5 minutes a game in 34 games his sophomore season for 21-13 Mississippi, didn't reveal any of the other schools on his list of possible transfer destinations. It was pretty much a slam dunk he'd be attending KU as long as his campus visit went smoothly.
"There are a lot of schools who called (after Coleby announced plans to transfer on May 19 and received his release)," said Darrell Sears, who coached Coleby at St. George's High School in Freeport, Bahamas, as well as with the Bahamas Jaguars summer youth program.
"He was focused on what he wanted. He did a lot of research himself. I helped as best I could. He knew in terms of coach (Bill) Self's high/low offense … that suited him perfectly. I think once KU came in the picture, that was the end of it."
Sears understood Coleby's decision to commit even before the campus visit was over.
"In terms of what he was looking at, what we know of the program ... you are talking about a Rolls-Royce-type program," Sears said. "How much better are you going to get than Kansas? C'mon. And the style suits him perfectly."
Coleby learned all details about KU's style of play on this trip to Lawrence.
"They showed me the facilities. I was impressed with those. I also watched some tape of the games and how they train big guys. I was impressed by it. I knew it was the right place for me to go," said Coleby, who said he spoke with Wayne Selden Jr., and Frank Mason III extensively on the visit.
Coleby will practice but not play in games next season in accordance with NCAA transfer rules. He'll have two years of eligibility starting in 2016-17.
"I think he has the mentality to do what coach Self and the program needs him to do, be a tough inside guy, because that's what he is," Sears said of Coleby, who hit 53.2 percent of his shots his sophomore season. "He's what I call a quiet killer. He doesn't talk much, but he's a bruiser, a very physical kid. He will go over there and work, work, work, work."
Asked what he brings to the table, Coleby said: "Energy. I can shoot it to midrange, get rebounds, play tough in the post. I am a shot-blocker, too."
Coleby's brother, Kadeem, played his senior year at Wichita State after starting out at Louisiana-Lafayette.
"I knew about Kansas before that," Dwight Coleby said. "I watched games on TV from the Bahamas."
Coleby, who started three games a year ago, hit 67 of 126 shots overall and 51 of 64 free throws for 79.7 percent. He also had 29 blocks.
Coleby scored in double figures six times in 2014-15. He had 11 points, nine rebounds and three blocks on Feb. 2 at Florida. He had 10 points, six rebounds and four blocks vs. the Gators on Jan. 24 at Ole Miss.
He also appeared in five games, averaging 2.6 points and 2.2 rebounds in 6.6 minutes per game as the Bahamas won the gold medal of the Caribbean basketball championship last July.
"It is exciting. It is great," he said of signing with KU. "The history and tradition ... I have to prove I am worthy of being here."
Coleby arrived in the U.S. before his junior year at Piney Woods (Mississippi) High. An unranked three-star player (by Rivals.com), he averaged 20 points, 15 rebounds, five blocks and three assists his senior season and was ranked the No. 2 overall player in Mississippi that year by ESPN. He also lettered in track.
"I've seen him from when he was 14-years-old, when he was a chubby little kid," Sears said. "He has made tremendous strides as a basketball player and young man. We couldn't be more proud of him. For Kansas to be interested in him was a pleasure in itself.
"This is my personal opinion ... he's more skilled than (Cliff) Alexander. Alexander might be a tad more athletic, but (Coleby) is more skilled than Alexander. A year in KU's system, working and coming to play his junior year ... I don't care what kind of freshman is coming in. If he (Coleby) allows one of them to take his spot, that's on him. A guy like Alexander ... he is really solid. And Dwight is coming in more skilled than him, even at this point."
KU has filled its allotment of 13 scholarships for the upcoming season, provided KU commit LaGerald Vick, as expected, reclassifies to the Class of 2015. The incoming class consists Coleby; No. 21-ranked (By Rivals.com) Carlton Bragg, 6-9 forward, Cleveland's Villa Angela St. Joseph High; No. 5 Cheick Diallo, 6-9, forward, Our Savior New American, Centereach, New York; and No. 33 (Class of 2016) Vick, 6-5 guard, Memphis Douglass High. Vick is expected to announce his reclassification to the Class of 2015, perhaps today, and compete for KU's World University Games team this summer. Coleby cannot compete for the World Games team because he was not born in the U.S.