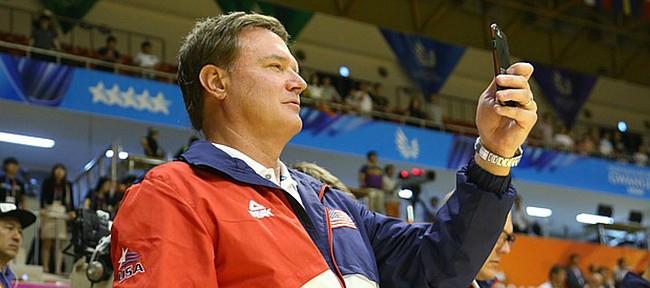 Kansas University's basketball team will win its 12th consecutive regular-season Big 12 title this season, CBSsports.com predicted on Friday.
Basketball writer Matt Norlander tapped KU ahead of Oklahoma, Iowa State, Baylor, West Virginia, Texas, Oklahoma State, Kansas State, Texas Tech and TCU.
He reserved the right to change his picks, however, if highly touted 6-foot-9 freshman Cheick Diallo is ineligible this season.
"The issue in question here is Diallo's prep school, Our Savior New American School, which is located on the eastern side of Long Island. Did the coursework Diallo endure while at OSNAS qualify him for immediate eligibility at KU? It seems no, but the NCAA is still going through the case and deciding," Norlander wrote at the Web address: http://ljw.bz/1DfNZxp
Some of Our Savior New American's past players have had eligibility issues with the NCAA Clearinghouse. Incoming Alabama freshman Kobe Eubanks committed to Baylor last year but ultimately attended prep school after being declared ineligible. Diallo, a native of Mali, came to the U.S. in 2012 and attended Our Savior three years.
"I don't know yet. Hopefully soon," KU coach Bill Self told the Journal-World Friday when asked when he'd learn Diallo's status for this season.
Asked about Diallo on Monday at the Mario V. Chalmers golf tournament, Self said: "Cheick's been here about three weeks now. Everybody loves him. He's great as far as being responsible and respectful. He can play his butt off and plays with such energy. I'm excited to work with him. I've only had a chance to watch him work out since I've been back (from South Korea and World University Games). Certainly he gets me fired up."
Of his eligibility case, Self said on July 15: "He's still going through all the stuff (paperwork filed with the NCAA Clearinghouse). It's good to have him here. Hopefully that stuff will go well with everything (and he'll qualify). He's a great kid and terrific talent. People here will love him."
Diallo is ranked No. 5 in the recruiting Class of 2015 by Rivals.com.
"Diallo is a five-star player (and McDonald's All-America Game MVP), probably one of the 10 best incoming freshmen in the sport," Norlander wrote Friday. "Having/not having Diallo could potentially put Kansas from auto-Big 12 winner to at least questionable favorite. Having Carlton Bragg, another freshman, there to help out Perry Ellis in the paint will be critical."
More from CBS: Norlander says KU's Ellis, ISU's Georges Niang, OU's Buddy Hield and Baylor's Rico Gathers figure to battle it out for Big 12 player of the year. ... Norlander says some coaches in the league will be on the hot seat this season. "Realistically, the worst-case scenario for coaching turnover come April is three of the 10 teams opting to make changes, but I doubt we see that many," he wrote. "Still, Oklahoma State (Travis Ford), Kansas State (Bruce Weber) and TCU (Trent Johnson) are the teams to watch in regard to this. None of the three are expected to reach the NCAA Tournament in 2016, so we'll likely see at least one head coach be shown the door."
Frogs arena ready: TCU's basketball team will play in the newly renovated Ed and Rae Schollmaier Arena this season, the school announced this week. The Schollmaiers provided the lead gift for $72 million worth of renovations to Daniel-Meyer Arena. The entire area will now be known as Daniel-Meyer Athletic Complex.
At a news conference, TCU athletic director Chris Del Conte said as relayed by TCU Athletics on Twitter: "This will be the finest arena in the Big 12 Conference. I can assure you of that."
The TCU men's and women's basketball programs are receiving new locker rooms and team meeting rooms as well as an expanded sports medicine center. There will also be locker rooms for visiting teams and a new video board. There also will be a TCU Athletics Hall of Fame on the concourse level.