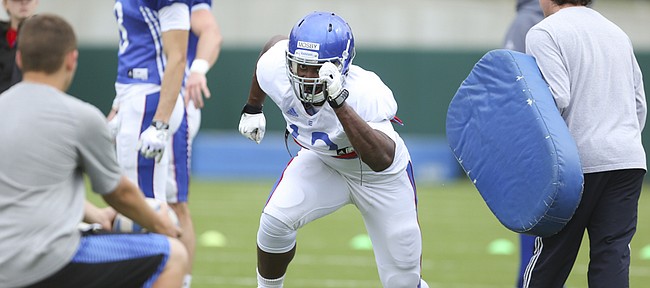 The question, posed in various word combinations, is often asked and almost always followed by a long pause and then a long list of possible answers, not one stated with much conviction.
The question: Best guess, who will be the best player on the Kansas University football team this coming season?
It's time to make a guess: Junior defensive end Damani Mosby.
Recruited by former tight ends coach Jeff Blasko to KU, Mosby played for Jeremy Hathcock at Desert Ridge High in Arizona and then for Ryan Felker at Mesa County Community College. Even before interviewing both coaches over the phone, Mosby was one of the names I would rattle as possible answers to the best-player questions. I would do so partly because of how quick he looked in spring drills for a man who stands 6-foot-3 and weighs 239 pounds. Mostly though, I would list him because of the tone of the voice, the look in the eye and the bite marks on the tongues of KU coaches who tried to downplay his talent but couldn't entirely mask their enthusiasm when talking about him.
Blasko, an energetic yet inexperienced by Div. I standards assistant coach under Charlie Weis, recruited the junior college ranks tirelessly. Too often, the players he landed either fell short academically or couldn't stay out of trouble. Thanks to Blasko's efforts, those of KU's academic-support staff, and ultimately Mosby himself making the necessary commitment to get himself on track toward a degree, Kansas has a keeper.
Mosby redshirted at Kansas last season, giving him three school years and two summers to spread out classes toward a degree.
Soon, he will have the opportunity to see how well he makes the adjustment to his first taste of big-time college football in games.
Don't count Felker, his juco coach, among those curious to see how well he can perform against one of the nation's toughest schedules.
"I'm gonna tell you what, I already know what it's going to look like," Felker said. "I can tell you right now, Damani Mosby's going to be just fine at that level. We put a lot of guys in at that level. Trust me, Damani's going to do some special things."
Such as?
"His quickness off the ball. He's definitely that edge pass rusher. He can get to the quarterback," Felker said. "You don't get a kid at his height and weight that can run like he does. He could have gone anywhere in the country. He had to grow up needed some things academically to make things happen."
Established football powerhouses don't need to take risks on athletes that might not qualify. Kansas took too many risks in recent seasons and it left the program with such bad depth numbers. But Mosby was a risk well worth taking.
"Coach Blasko was a huge part of Damani's recruitment," Felker said. "Damani had a lot of work to do academically and coach Blasko went to the wall with him, wouldn't quit on him."
Felker and Hathcock painted a similar picture of an upbeat personality.
"The kid's so much fun to be around," Felker said. "He's a great teammate, a big, smiley, happy kid, soft-spoken, but an animal on field. You don't have to worry about him getting in any trouble. You're going to love him."
Perfect.
Hathcock said that Mosby was "an honor student," as a youth, but with one parent living in Atlanta and another's time limited by work, he didn't have much oversight academically and got off track.
"In high school, he and my my older son got along and Damani was always at our house spending a lot of time," Hathcock said. "We were kind of like surrogate parents."
The coach said Mosby called him early in his time at Kansas and said he was thinking about coming home.
"I told him, 'Look man, you're there, you're staying and that's how it's going to be.' He had a lot of other people telling him the same thing. That redshirt year helped him grow some roots. And then the new coach (David Beaty) said something about everybody being all in. Damani called me said, 'This is it. This is where I want to be.' He changed his tune. He's matured so much in six months."
Hathcock explained what made Pac-12 coaches want Mosby until he didn't pass a math class in the summer after high school.
"He's just a freak," Hathcock said. "Really fast for his size. He always said he ran a 4.5. I never got him better than 4.68. He's really explosive on his first step. That's what makes him different. His first step is absurd."
It's the first reason to believe Mosby is as good a guess as any to the question of who is KU's best player. If anyone has a better one, I would love to hear it.