The Kansas University men's basketball team will open this year's Maui Invitational with an 8 p.m. central time tip-off against Chaminade on Nov. 23.
The full bracket, which was released Tuesday, features KU taking on the host school in the opener and then facing the winner or loser of the final game of the opening day between UNLV and UCLA.
"It's obviously a great field," KU coach Bill Self said in a news release. "You have storied programs and programs that are right on the verge of doing something great. When I studied the bracket, I really pointed out what a great field it was. We'll play Chaminade, which is not a 'gimme game' by any stretch, in the first round. I'm sure we'll be talking to our players about Virginia (top-ranked and lost to Chaminade in 1982) many years ago before we play. Then the second-round matchup, we're either going to play UCLA or UNLV. UNLV gave us all we wanted last year in the Fieldhouse and UCLA has been to back-to-back Sweet 16s – so it's good. I know our guys are looking forward to it."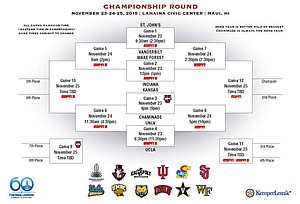 This year's tournament includes Danny Manning-coached Wake Forest, but a match-up between Manning and his alma mater seems unlikely. Because the two schools are on opposite sides of the bracket, the meeting would have to come either in the championship game on Nov. 25 or in the consolation bracket.
"I'm actually glad they put Danny and me in opposite brackets," Self said. "He and I talked about it and he's pretty happy about that, too. If we make it to the finals, that would be great for both of us, but I wouldn't be excited about playing Wake and I don't think he'd be excited about playing Kansas."
Manning today said he also is glad his squad is not matched against his alma mater in the tourney's early rounds.
"I'm very happy about that to be honest with you," Manning said, praising the talent on KU's team. Also .... "Coach Self gave me my break in the coaching profession. I think the world of him. I'm just glad we're not on the same side of the bracket. Wake Forest is my favorite college basketball team, a close second is Kansas mainly because my son (Evan) is there right now. Being on a different side of the bracket I'm very happy and thankful for."
Kansas returns to Maui for the sixth time overall and third time under Self. KU finished second at the 2011 Maui Invitational and the Jayhawks went on to advance to the school's 14th Final Four and the national title game later that season.
In 2006, KU finished seventh at the event, defeating Chaminade, 102-54, on the final day. The Jayhawks are 2-0 versus the Silverswords, having defeated them 89-62 in the 1987 Maui Invitational quarterfinals and in 2006.
This will mark the fourth trip to Maui for Self, who has taken two teams to the championship game of the event – Kansas in 2011 and Illinois in 2000.
Overall, the Jayhawks are 10-6 in the Maui Invitational and they won the 1996 tournament, where Raef LaFrentz earned Tournament MVP honors.