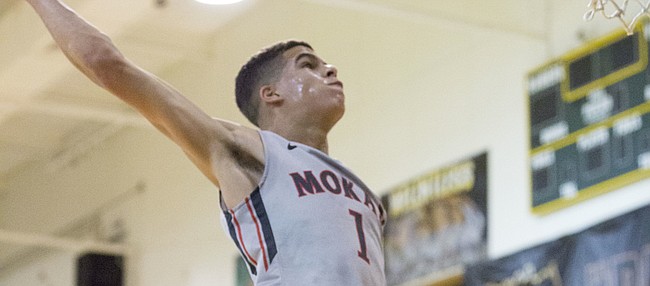 It's impossible to miss Michael Porter Jr. at the Hardwood Classic youth AAU basketball tournament at Shawnee Mission South High.
College coaches line the sideline. Fans and players on the other teams fill the seats, all sides of the courts and jam the exits.
They all want to catch a glimpse of Porter, a 6-foot-8 forward from Columbia, Missouri, and the No. 2-ranked player in the nation by Rivals.com in the Class of 2017. Porter scored a game-high 27 points in a win for his AAU team, MoKan Elite, on Thursday and dropped another 21 on Friday.
The attention is nothing new for a player who has already cut his list of potential schools to 17 and had a dunk last year that earned him the top spot on SportCenter's Top 10 plays.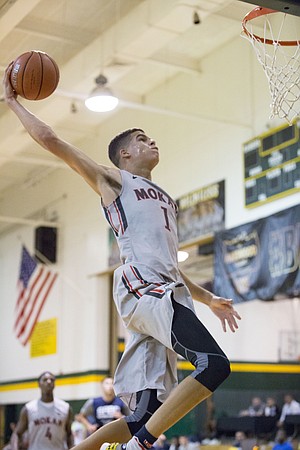 "It's definitely grown every year as I get older — attention has grown," Porter said. "I mean, that's a good thing. But it's also something that you have to learn how to handle. My parents … have both been through it, so they kind of keep me humble and just help me through the whole thing."
At Thursday's game, KU assistant coach Jerrance Howard was in attendance, along with assistants from Duke, Syracuse, Virginia, UCLA and Missouri. Friday's game was seen by Kentucky coach John Calipari and Texas Tech coach Tubby Smith.
Porter announced Thursday that he plans to attend the upcoming Late Night in the Phog, and he keeps in regular contact with KU coach Bill Self and assistant Norm Roberts.
Fans of the Border War will keep close watch of his recruiting. His dad, Michael Sr., is an assistant coach for Missouri's women's basketball team. His two older sisters, Bri and Cierra, both play for the Tigers. His aunt, Robin Pingeton, is the head coach of the MU women's basketball team. His mother, Lisa, played basketball at the University of Iowa.
"It's not really a factor," Porter said. "I'm not pressured to go to Mizzou or not go to Kansas by my family, at least. But by people in town, of course I am. Living near Mizzou doesn't really affect going to Kansas at all."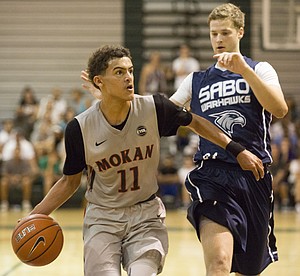 Another player attracting a lot of attention is Trae Young, Porter's MoKan Elite teammate. The 6-foot-1 point guard, ranked No. 28 by Rivals, attended Late Night in the Phog last year and plans to watch again this year.
"I'm playing a year up, and I'm playing in the EYBL — playing on the biggest stage in America in high school basketball," Young said. "I feel I've performed pretty well. So, I mean, I've think a lot of people have noticed. I know I have a lot to improve on and a lot to get better at."
Young's father, Rayford, starred at Texas Tech and has helped his son adjust to the recruiting process.
"He gives me advice that not a lot of people can give me," Young said. "It's fun. I know a lot can happen between now and my decision time, so I'm going to continue to count my blessings and working hard.
"I'm enjoying it. I can only do this once. I'm enjoying it and listening to what everybody has to say."
Trent recalls KU offer: Gary Trent Jr., ranked No. 10 by Rivals in 2017, picked up a scholarship offer from KU on the same day he made the first cut for the 16U national team in May, representing the U.S. in Argentina and eventually earning a gold medal.
Trent, a 6-foot-4 guard, is from Apple Valley, Minnesota and played in high school with Tyus Jones, the former Duke point guard and No. 24 pick in this year's NBA draft.
"It was a great day because I made the team, and then I got the offer from Kansas," Trent said of the KU offer, adding it's very early in his recruiting process. "It was great. I'm really enjoying it all and I'm glad they offered me, and I'm looking forward to moving on with them in the future."
Bamba talks KU: Mohamed Bamba, a 6-foot-11 stretch forward from Harlem, New York, ranked No. 4 in 2017, picked up a scholarship offer from Kansas in April, but his relationship with KU isn't where he wants it to be.
"Great program," said Bamba, who plays for the PSA Cardinals 16-and-under squad. "I know a little about them because Cheick (Diallo) goes there. But I don't really have the relationship that I want yet with coach Self. But I have a feeling it's going to get there."