Gwangju, South Korea — Kansas University junior guard Wayne Selden Jr. has led all scorers at the World University Games.
His biggest shot helped the United States men's basketball team earn a spot in the quarterfinals after the U.S. beat Serbia, 66-65, on Wednesday at DongKang College Gymnasium. 
Down three points after Serbia's Nikola Pesakovic drilled a three-pointer with 43 seconds remaining, Selden caught a pass from KU senior forward Hunter Mickelson on the left wing and swished a triple with 35 seconds left, tying the game 65-all.  
"To be honest, I knew I was shooting it," Selden said, finishing with a game-high 21 points on 9-of-18 shooting. "I wanted to try to find a good shot and I knew time was running down, so I knew I wanted to shoot the ball."
Serbia missed a shot on the next possession, KU senior forward Perry Ellis grabbed a defensive rebound and Selden was fouled with 12 seconds left in the tie game. He missed the first but made the second free throw. 
Photo Gallery
Team USA vs Serbia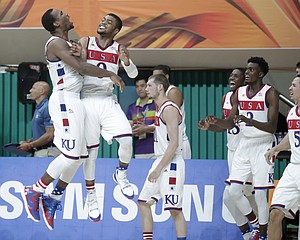 Photographs from Team USA vs. Serbia, Wednesday July 8, at the World University Games in South Korea.
Serbia had three shots at a game-winner, one attempt in the final second after Selden punched an air-ball attempt down the court, thinking time would expire. 
"There was no play," Kansas coach Bill Self said of Selden's three. "We didn't do anything. Wayne just made a shot. … Wayne's probably had the best tournament here of anybody playing in the tournament so far. He stepped up and made a huge shot. After we had the game and gave it away, then he came back and won it for us." 
Mickelson added: "That's a testament to (Selden). He's been working on that all year long. It's definitely great that he hit it." 
The Jayhawks trailed by seven, 52-45, with six minutes remaining, before Selden and Mickelson went on a personal 6-0 run. Mickelson, who finished with 14 points and seven rebounds in 22 minutes, made two layups in the stretch. 
"This has been the Hunter Mickelson coming out party over here," Self said. "Wayne has obviously been our best player, but Hunter has been our most pleasant surprise. I've said all along, he probably needed this as much as our freshmen did because he hadn't had a chance to play in two years. God, he's playing great." 
After both teams traded buckets and sets of free throws, Selden made an acrobatic layup, catching an errant lob pass from SMU senior guard Nic Moore and banking it off the glass for a 59-57 lead. 
After another stop — Serbia missed four straight shots after taking a seven-point lead — Moore broke out of a 0-for-9 shooting slump to drill a three. 
"He's not a good shooter, he's a great shooter," Self said. "He just hasn't made any shots in this building. He made shots in the other building. … He's got to be a threat and keep shooting." 
After taking a five-point lead, the Jayhawks missed two threes and Serbia scored on three straight possessions with three free throws and a jumper from point guard Stefan Pot to tie the game, 62-62, with 1:18 left. 
The Jayhawks struggled against Serbia's zone defense, shooting 37 percent (26-for-71) from the floor, including 5-for-21 from three. 
"When we did move the ball, we actually got a good look," Self said of USA's offense against the zone. "But no zone offense is going to look great if you shoot the ball as poorly as what we shot it. Fortunately we made enough shots to win. We need to definitely talk about how to attack it a little bit better moving forward."
"Our shots weren't falling today," Selden added. "As shooters you have to keep shooting the ball. They went in when it mattered."
The Jayhawks were without KU junior point guard Frank Mason III for the final two minutes, who was out with five fouls. He finished with 12 points, six rebounds, four assists and three steals in 32 minutes. Ellis added nine rebounds and seven points. 
USA is guaranteed a spot in the quarterfinals, as the top seed from Pool D, with the victory. Serbia and Brazil both have one loss and will play each other on Thursday. 
"There was chatter that we had no chance," Selden said. "We were baffled because we're 3-0, just like them. We really wanted to go out and compete against these guys. That's a really tough team. They're grown men. We're still getting there, you know. We're still trying to get to their level of maturity. We really got stops down the stretch and made big buckets down the stretch." 
The Jayhawks will face Switzerland in their final pool-play game at 10 a.m. Thursday (8 p.m. Wednesday CDT). In the quarterfinals, they will play the second-seeded team from Pool C.
---
More from USA-Serbia
---
https://www.youtube.com/watch?v=woSgkpT_qMA&feature=youtu.be