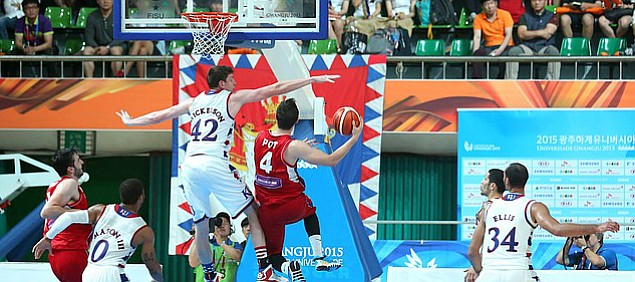 Gwangju, South Korea — Serbian players were confident they would find a way to win after climbing back from a five-point deficit in the final minutes of USA's 66-65 victory on Wednesday at DongKang College Gymnasium.
Trailing by one point with 12 seconds left after Kansas junior guard Wayne Selden Jr. hit a game-tying three-pointer and go-ahead free throw, Serbia's Dusan Kutlesic fired a three-pointer from the left corner after a drive-and-kick pass by Serbia guard Jovan Novak. Kutlesic's three-point attempt went off the front of the rim and Nikoa Pesakovic missed a fadeaway three after grabbing an offensive rebound.
"I think we played well, but we were just, like, unlucky to execute on the last play to score," said Nikola Jovanovic, a sophomore at Southern California who averaged 8.0 points and 4.4 rebounds as a freshman. "We were up by three and we had one defensive mistake, and then that cost us the game."
Photo Gallery
Team USA vs Serbia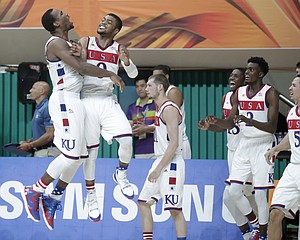 Photographs from Team USA vs. Serbia, Wednesday July 8, at the World University Games in South Korea.
Thinking there was less time on the clock, Selden spiked the ball out of bounds with 1.4 seconds left. Serbia freed Pesakovic with a screen, but his desperation 25-foot three at the buzzer went off of the back iron.
"Yeah I was nervous," Kansas coach Bill Self said. "I thought we had our best switching team and we actually defended them pretty well. They got off a guarded look, missed it. We had the rebound but Wayne makes probably the only bad thing he's done since he's been here, he tries to spike it for whatever reason to the other end of the court with way too much time left.
"Then they ran a great side out of bounds play. With no timeouts left, you can't talk about it. They ran a great out of bounds play to get a look. We were fortunate that they missed."
Serbia went on a 10-0 run over three minutes in the fourth quarter, taking a 49-43 lead with 7:26 left.

"We brought a lot of energy from the bench," Jovanovic said. "I think that boosted us up a little bit and we were able to make some stops. I think that was the crucial thing to make a comeback and take the lead."

Serbia caused problems for the Jayhawks with their zone defense, forcing USA into 37 percent shooting (26-of-71).
"It's hard to move the ball on a zone defense," said Jovanovic, who scored six points and grabbed three rebounds in seven minutes. "We scouted them a little bit, so we figured out zone would be the best (defense)."
Mason fouls out
Kansas junior point guard Frank Mason III fouled out with 2:02 remaining in USA's 66-65 victory against Serbia.
The Jayhawks were leading by five points when he exited the game, but went scoreless on the next two possessions before Selden hit the game-tying three-pointer. SMU senior guard Nic Moore took over ball-handling duties.
"He's the heart and soul of our team," Selden said of Mason. "He's our point guard. He's really the head of our team. It's hard when he goes off the court but when he walked off the court, we told him we got him. He got us there and we had to finish it off."
Mason finished with 12 points (5-of-10 shooting), six rebounds, four assists, three steals and two turnovers in 32 minutes.
"We've got to have Frank in the game," Self said. "He didn't have one of his better games today, but still he's our best ball handler and he can get in there and make a play, and make a play for somebody else."
Tired legs
Playing in their second game in less than 24 hours, Self thought the Jayhawks had problems with their energy.
The Jayhawks beat Chile on Tuesday afternoon, 106-41.
"I thought we played very, very tired," Self said. "I thought that was, without question, the least amount of energy we've played with so far. Wayne and Frank have played a lot of minutes. I'd like to press. I'd like to get out and pressure. But can't do it when guys have to play 38 minutes every game."
"Frank didn't have a great game," Self added. "Nic was 0-for-(9), then he makes a big shot. Perry was way off today. I thought we played like we were a very tired team. Hopefully we bounce back and be able to play a lot of people tomorrow. Then get a day off and be fresh for the medal round."
Late game strategies
After Serbia's Pesakovic missed a three-pointer with 21 seconds remaining, he intentionally fouled Selden after the Jayhawks made the first pass across half court.
In the bonus, Selden missed the first free throw before sinking the second, giving USA a one-point lead with 12 seconds left.
"That was a bonehead play to foul," Self said. "Almost as big as bonehead play as it was to try to spike the ball out of bounds. Obviously we would have had the game if he just rebounded the ball. But I was surprised that they did that."
After Selden spiked the ball out of bounds, the Jayhawks didn't have any timeouts left to set up a defense for the sideline out of bounds play. Pesakovic was freed by a screen, but the shot went off of the back iron.
"It's a little bit different to me," Self said. "We're definitely playing to win. That's the most important thing, but we haven't talked about any special situations or anything like that. Maybe we need to. I'm just letting the guys play and they've done a good job."
More from USA-Serbia
---