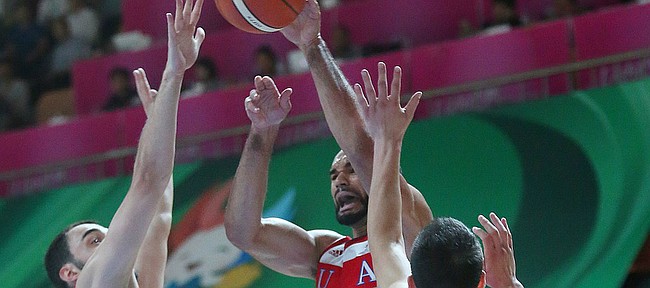 Gwangju, South Korea — In the second quarter of Team USA's narrow 66-65 Wednesday victory, Serbia switched to a hybrid 2-3 zone that caused problems for the Jayhawks. 
For that particular 10-minute stretch, USA shot 25 percent (4-for-16) with four turnovers, and in the third quarter the Jayhawks shot 29 percent (6-for-21). 
"We were awful," coach Bill Self said. "Everybody should play us zone because we were awful and didn't do anything. Even though we haven't practiced a ton, we didn't do anything like we practiced. The ball stuck and we were very lucky today. Very lucky." 
The Jayhawks finished strong, shooting 60 percent in the fourth quarter (9-of-15).
"It was funky," Kansas junior Wayne Selden Jr. said. "I feel like they had a little bit of trouble guarding us at times. Then they switched to that zone and we had trouble scoring against that zone because it was so wide out and they were so big. But eventually we got the ball inside and got the ball moving. Frank (Mason III) really got into the lane."
Tie-breaker revisited: With a 55-point lead against Chile on Tuesday and five minutes remaining, the United States men's basketball team still had four of its starters on the floor. 
The Jayhawks thought they still had some ground to make up in their 106-41 victory over Chile at Muan Indoor Court. 
Photo Gallery
Team USA vs Serbia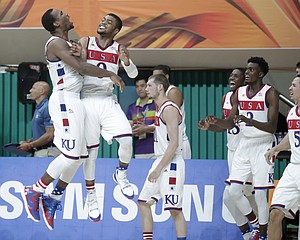 Photographs from Team USA vs. Serbia, Wednesday July 8, at the World University Games in South Korea.
If two teams are tied in the pool-play standings, the head-to-head tiebreaker will be used. If a tie involves more than two teams, the tiebreaker is point differential. The top two teams from each pool advance to the top bracket. 
It was believed the point differential was from all games, but the tiebreaker involves only the point differential in games played between the tied teams.
"Unfortunately by FIBA rules, you don't like playing this way, the object is to beat somebody as bad as you can in case there's a tie," Kansas coach Bill Self said after the game against Chile. "We won the first games by nine, both of them, but they should have been 15, probably. This game we told our guys we had to beat them by 50 and we ended up beating them by 65."
The Jayhawks won Pool D with their 66-65 victory against Serbia on Wednesday. Brazil and Serbia will play Thursday with the winner advancing to the World University Games quarterfinals. 
Bragg plays without mask: Kansas freshman forward Carlton Bragg played without a face mask for the first time since breaking his nose in practice last week. 
He finished with four points, two rebounds and four fouls in 11 minutes. 
"He got on the floor on several different times," Self said. "When you're not physically strong, a lot of people refer to that as being soft, which isn't really true. But to just break his nose and play without the mask and dive on the floor three or four times like he did to steal us some possessions, I think he played pretty tough."
Mickelson plays strong: KU senior forward Hunter Mickelson finished with 14 points and seven rebounds, leading all of the USA forwards with 22 minutes. 
"Hunt was big," Selden said. "He had scratches all over his neck. He was a grown man today, you know. He really stepped up for us." 
"It was pretty rough," Mickelson added. "I can't see any of this (scratch marks on his neck), so everybody has been messing with me. It's pretty tough. They've got a lot of big guys so it's going to be really physical."
Mickelson scored six points in the fourth quarter, blocked a shot and had an assist on Selden's game-tying three.
"At this point in time, even though it's early," Self said, "you can certainly see that you can have confidence to play him at the five this year."
World University Games standings
Pool A
Tm … W - L … Pts … PF - PA … PD
GER … 3 - 0 … 6 … 228 - 162 … +66
KOR … 2 - 1 … 5 … 239 - 198 … +41
EST … 2 - 1 … 5 … 198 - 181 … +17
CHN … 1 - 3 … 5 … 264 - 294 … -30
MOZ … 0 - 3 … 3 … 172 - 226 … -94
Pool B
Tm … W - L … Pts … PF - PA … PD
CAN … 4 - 0 … 8 … 331 - 226 … +105
RUS … 4 - 0 … 8 … 328 - 225 … +103
SWE … 2 - 2 … 6 … 262 - 273 … -11
MNT … 1 - 3 … 5 … 276 - 239 … +37
MEX … 1 - 3 … 5 … 282 - 322 … -40
MNG … 0 - 4 … 4 … 199 - 393 … -194
Pool C
Tm … W - L … Pts … PF - PA … PD
FRA … 4 - 0 … 8 … 334 - 213 … +121
LIT … 3 - 1 … 7 … 359 - 279 … +80
AUS … 3 - 1 … 7 … 293 - 245 … +48
FIN … 1 - 3 … 5 … 259 - 326 … -67
JAP … 1 - 3 … 5 … 284 - 297 … -13
CTP … 0 - 4 … 4 … 177 - 346 … -169
Pool D
Tm … W - L … Pts … PF - PA … PD
USA … 4 - 0 … 8 … 319 - 235 … +84
BRA … 3 - 1 … 7 … 311 - 230 … +81
SER … 3 - 1 … 7 … 253 - 193 … +60
TUR … 1 - 3 … 5 … 227 - 249 … -22
SWI … 1 - 3 … 5 … 216 - 274 … -58
CHL … 0 - 4 … 4 … 165 - 310 … -145
More from USA-Serbia
---