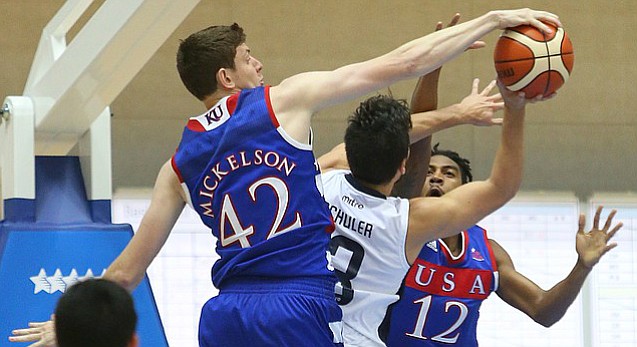 Jeollnamdo, South Korea — With a 55-point lead against Chile on Tuesday and five minutes remaining, the United States men's basketball team still had four of its starters on the floor.
In most games, the main emphasis would be running out the clock. But the Jayhawks still had some ground to make up in their 106-41 victory over Chile at Muan Indoor Court.
If two teams are tied in the pool-play standings, the head-to-head tiebreaker will be used. If a tie involves more than two teams, the tiebreaker is point differential. The top two teams from each pool advance to the top bracket.
The Jayhawks only had a plus-18 point differential in their first two games and were far behind Serbia and Brazil.
"Unfortunately, by FIBA rules ... you don't like playing this way, the object is to beat somebody as bad as you can in case there's a tie," Kansas coach Bill Self said. "We won the first games by nine, both of them, but they should have been 15, probably. This game we told our guys we had to beat them by 50, and we ended up beating them by 65."
Photo Gallery
Team USA vs. Chile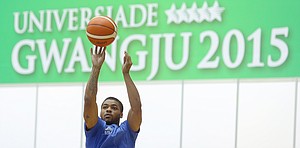 Photographs from a 106-41 Team USA win against Chile Tuesday, July 7, at the World University Games in Muan, South Korea.
After the 65-point victory, the Jayhawks are the top team in the pool with a 3-0 record and plus-83 point differential. Serbia is 3-0 but has a plus-61 point differential, while Brazil is 2-1 with a plus-79.
"We hate to run the score up like that, but in this type of competition, you have to win by a certain amount of points in games like that," KU junior guard Wayne Selden Jr. said. "Have to win by more than the other teams won by, so that was our main focus tonight — not necessarily to run the score up, but really working on what we had to work on, too."
Lucas cleans up the glass
Kansas University junior forward Landen Lucas led USA with 14 rebounds, including seven offensive boards, in just 13 minutes on the court.
Lucas only played three minutes in Sunday's game against Brazil and wanted to make the most of his next opportunity.
"I mean definitely, you want to play," Lucas said. "It was nice to get out there a little bit. I don't know how much I played today, but it was nice to get out there and be productive."
Along with a game-high 14 rebounds, Lucas scored six points on 3-of-6 shooting.
"I thought he played well," Self said. "I didn't think Landen played near as well the other night at all. But I thought he had a good attitude today, and I thought he got in and really went after the ball. If he just plays to who he is, he can be a really good player."
With Lucas leading the charge to rush the offensive glass, the Jayhawks finished with 31 second-chance points.
"Yeah, it's always a big emphasis," Lucas said. "I saw the opportunity to get a couple. I just went after rebounds hard."
USA switches defense in second half
At the beginning of the third quarter, the Jayhawks went to a run-and-jump defense near mid-court.
The Jayhawks pressured Chile's guards, forcing them into 13 turnovers in the second half while holding Chile to 27 percent shooting.
"We executed it very well," KU junior point guard Frank Mason III said. "Coach did a great job bringing it up at halftime, drawing it up, and I think our guys did a great job of executing the run and jump. Then it got us out in transition."
"We wanted to get out and play fast defensively, and we did that," Kansas senior forward Perry Ellis said. "It really created offense for us."
The Jayhawks scored 59 points in the second half, pushing the pace and earning easy baskets in transition. USA finished with 29 points off turnovers and had 12 fast-break points.
"It was against a bad team, so it worked pretty good," Self said. "But, certainly, I thought we did a pretty good job with it because we never practiced it. But we're not going to be able to do that against real guys. Tomorrow will be a big-boy game, without question."
Forwards take limited shots
The Jayhawks were led by their guards on Tuesday, but Self would like to see the forwards get more involved.
"We didn't really throw it inside," Self said. "That's the thing. We struggled with it last year. We're struggling with it right now. A lot of it's our guards, our guards being able to throw the ball to big guys and our big guys deliver. I think we'll get better at it, but that's something that we've still got to do a better job.
"Like, Perry scored nine points today," Self added. "He didn't play as many minutes because he's got a sore foot, but he scored nine points, and I think if we threw him the ball more, he could've had 15 so easily. So we've got to do a better job with that."

Ellis had nine points on 4-of-8 shooting in 21 minutes.
"They were shooting real well, especially first half we shot real well," Ellis said of the team's guards. "Nic (Moore) was knocking down a lot of shots in rhythm. They were good shots. That's always a plus."
Mason's wrist
Despite scoring a game-high 23 points on 8-of-12 shooting, Mason still feels soreness in his right wrist.

"Just a little," he said. "It's really the same. That last shot before the first half (ended), I fell on it again. So it's kind of sore still."
World University Games standings
Pool A
Tm … W - L … Pts … PF - PA … PD
GER … 2 - 0 … 4 … 161 - 104 … +57
KOR … 2 - 0 … 4 … 181 - 131 … +50
CHN … 1 - 2 … 4 … 200 - 223 … -23
EST … 1 - 1 … 3 … 127 - 117 … +10
MOZ … 0 - 3 … 3 … 172 - 226 … -94
Pool B
Tm … W - L … Pts … PF - PA … PD
RUS … 3 - 0 … 6 … 241 - 157 … +84
CAN … 3 - 0 … 6 … 225 - 185 … +40
MNT … 1 - 2 … 4 … 223 - 183 … +40
SWE … 1 - 2 … 4 … 206 - 220 … -14
MEX … 1 - 2 … 4 … 214 - 235 … -21
MNG … 0 - 3 … 3 … 158 - 287 … -129
Pool C
Tm … W - L … Pts … PF - PA … PD
FRA … 3 - 0 … 6 … 252 - 181 … +71
LIT … 2 - 1 … 5 … 269 - 203 … +66
AUS … 2 - 1 … 5 … 211 - 176 … +35
FIN … 1 - 2 … 4 … 190 - 244 … -54
JAP … 1 - 2 … 4 … 208 - 207 … +1
CTP … 0 - 3 … 3 … 145 - 264 … -119
Pool D
Tm … W - L … Pts … PF - PA … PD
USA … 3 - 0 … 6 … 253 - 170 … +83
SER … 3 - 0 … 6 … 188 - 127 … +61
BRA … 2 - 1 … 5 … 250 - 171 … +79
TUR … 1 - 2 … 4 … 168 - 188 … -20
SWI … 0 - 3 … 3 … 159 - 226 … -67
CHL … 0 - 3 … 3 … 117 - 253 … -136
---
More from USA-Chile
---