Jeollnamdo, South Korea — Five seconds into Tuesday's game against Chile, SMU senior guard Nic Moore drained a three-pointer from the right wing.
That set the tone for the United States/Kansas University men's basketball team in a 106-41 blowout victory at Muan Indoor Court in the World University Games.
The Jayhawks (3-0) made their first five shots, jumping to a 13-2 lead. Moore drilled another three, KU junior guard Wayne Selden Jr. made a three, senior forward Perry Ellis dropped in a floater, and freshman forward Carlton Bragg nailed a jumper near the free-throw line.
They never slowed down, taking a 47-19 lead at halftime before outscoring Chile, 59-22, in the second half. USA was forced to run up the score because point differential is the tiebreaker among three-way ties in the pool standings. USA is now in first place with a plus-83 point differential.
"Coach really emphasized, 'Don't ease up. Keep your foot on the pedal,'" said Ellis, who finished with nine points and eight rebounds in 21 minutes. "We did that."
Photo Gallery
Team USA vs. Chile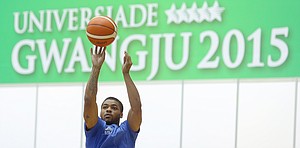 Photographs from a 106-41 Team USA win against Chile Tuesday, July 7, at the World University Games in Muan, South Korea.
The Jayhawks opened the second quarter with a 12-2 run, highlighted by two more triples from Moore, who had 15 points and two steals in 25 minutes. Ellis and KU junior point guard Frank Mason III added three points each in the run.
"Coach, my teammates just telling me to keep shooting," Moore said of his hot start after he was held scoreless when he fouled out in 10 minutes against Brazil on Sunday. "Telling me I was a good shooter, and they did a good job of finding me early. Just the encouragement of all of the guys.
"That first one, when I see that goes down, I just know that I'm going to have a good night and just keep shooting. It showed up tonight."
After Moore put on a display with his three-point shooting, that was only the first act for USA's backcourt. Mason scored eight straight points in a 13-1 run to end the first half.
Mason didn't stop there. The 5-foot-11 guard scored 10 points in the first five minutes of the third quarter, draining two three-pointers and driving through contact for a layup-and-the-foul.
"I was just getting into the paint," said Mason, who had 23 points on 8-of-12 shooting, including 3-of-6 from behind the arc. "It was there. Open shots, and I knocked them down. They just gave me confidence moving forward."
Kansas coach Bill Self added: "(Moore) and Frank hadn't made any shots since we've been here. I believe Nic goes 5-of-10 from three … Frank goes 3-of-(6) and Wayne goes 3-of-3, so your three starting guards are 11-of-19 from three, which is pretty good. You're not going to lose a lot of games when you shoot the ball that well."
https://www.youtube.com/watch?v=JmEtKMVIcHg
In the final three minutes of the third quarter, KU senior forward Hunter Mickelson scored eight points in a 16-2 run, while Selden added four points and an assist.
"Nic came out hitting big shots," Selden said. "That carried us. That was some good momentum we had there. Then it just carried us through the game.
"We came out, and we just played. Everybody was clicking on all cylinders. Frank had a great game. Perry played great. A lot of guys really stepped up today."
The Jayhawks played a run-and-jump defense around half-court for most of the second half, forcing 13 turnovers while Chile shot 8-for-30 (27 percent) from the field. USA outrebounded Chile, 52-28, with 20 offensive boards. KU junior Landen Lucas finished with a game-high 14 rebounds in 13 minutes to go along with six points.
Selden added 18 points, seven rebounds and five assists in 27 minutes, while Mickelson had 16 points and five rebounds. Bragg, who was in the starting lineup, had seven rebounds and two points in 12 minutes.
https://www.youtube.com/watch?v=GH1YyZ_fCnY
But it was the backcourt that stood out in the blowout. USA's Mason, Moore and Selden combined for 56 points on 66 percent shooting (19-of-29).
"We play off each other a lot," Mason said. "We never know who's going to get us off to a great start. We wish that it could be all three of us, but it don't happen like that all the time. Today, Nic got us off to a great start shooting the ball, and, you know, me and Wayne came along."
USA will play Serbia in a battle of the last two unbeaten teams in Pool D of the World University Games at noon Wednesday (10 p.m. Tuesday CDT). That game will be broadcast by ESPNU.
"Tomorrow will be a big-boy game, without question," Self said. "Serbia is one of the best teams here. So it'll be a big-boy game tomorrow."
---
More from USA-Chile
---
https://www.youtube.com/watch?v=uYZWBfJxRZw