Gwangju, South Korea — Kansas University junior point guard Frank Mason III has defended well, rebounded and dished plenty of assists to his teammates in the first two games of the World University Games.
The only thing missing is his shot. Mason is 6-for-19 from the field, including 0-for-7 from deep in victories against Turkey and Brazil in the World University Games.
Mason was 2-for-10 from the field (0-for-3 from three) in the United States' 81-72 victory Sunday over Brazil. He did hit 11 of 14 free throws.
Photo Gallery
Team USA vs Brazil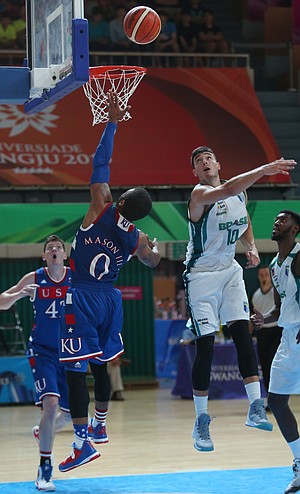 Photographs from Team USA's 82-71 win over Brazil Sunday, July 5, in Gwangju, South Korea.
Document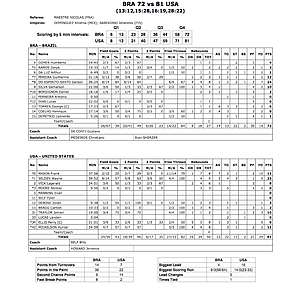 "Frank is a competitor," Kansas coach Bill Self said. "You guys may not know this, but he nicked his wrist up pretty good in Kansas City. He doesn't have confidence shooting the ball right now. The ball is not going into the hole. I don't know if he's made a three since we've been here, if I'm not mistaken. It's because of his wrist. It's just sore. But hopefully another day off will get him closer to healthy because he's so good with the ball."
Despite a sore wrist, Mason has averaged 13.5 points, 5.5 assists, 5.5 rebounds and two steals per game. He also has drawn 20 fouls.
"He's out there every possession," Self said. Mason has played at least 35 minutes in both games. "I thought that for the most part, he did well. We've just got to get (SMU senior guard) Nic (Moore) out there taking some pressure off of him."
Vick shines in fourth quarter: SMU senior guard Nic Moore fouled out with more than six minutes remaining in the fourth quarter in USA's 81-72 victory against Brazil on Sunday. KU freshman guard Lagerald Vick made the most of the opportunity, picking up extra playing time in the fourth quarter.
Vick drilled a three-pointer from the left corner early in the fourth quarter, ending a quick 4-0 run by Brazil. He added a jumper a few minutes later and put the game out of reach with a three-pointer in the final minute to give the Jayhawks a 10-point lead.
"Lagerald made real big shots down the stretch," KU junior guard Wayne Selden said. "He played his best game as a Jayhawk so far, and I'm really proud of him.
"Everyone was there when they were freshmen. They really didn't know what to do. They didn't really know their way. This game was a real good foot in the door for him."
Vick finished with eight points (3-of-6 shooting) and six rebounds in 24 minutes.
"It feels good to win, you know," Vick said. "Me coming in, newcomer, learning the system … I'm just working hard and playing like them.
"My confidence is so high, so it really doesn't bother me because I'm used to like clutch time."
Vick was scoreless in eight minutes against Turkey, going 0-for-3 from the floor.
"It's the first time, I thought, since he's been here with us that he played to his athletic ability rebounding the ball and quick-twitch," Self said. "He's going to be really good. He's got so much to learn. But I thought he did great. Of course, it's always good to make a shot to get your confidence, and he made two big ones."
https://www.youtube.com/watch?v=k1inRLHI0LU
Undefeated mind-set: Team USA players are feeling good heading into their first off day with a 2-0 record.
Serbia is the only other team in Pool D of the World University Games with an undefeated record. Serbia beat Switzerland, 58-41, and topped Chile, 69-43.
"We thought in order to have the best chance to get out of this pool, obviously, we needed to be 2-0 at this juncture," Self said. "Then we need to obviously play well and win on Tuesday, which will set up a really big game against Serbia. I think we're doing fine.
"I think the guys are doing fine. Certainly they're trying hard. I'm amazed at how poorly we've played, at times, offensively, but how well we've guarded defensively. It's almost unbelievable what our first-shot defense and our rebounding has been."
The USA players are off on Monday before returning to the court to play Chile at 2:30 p.m.(12:30 a.m. CDT) Tuesday at Muan Indoor Court. The game will not be televised.
"It feels great," KU senior forward Hunter Mickelson said. "Like I've said, our guys have been playing really well. We're definitely not done yet."
Pool D Standings
Team W L Pts PF PA PD
Serbia 2 0 4 127 84 +43
United States 2 0 4 147 129 +18
Brazil 1 1 3 150 114 +36
Turkey 1 1 3 125 127 -2
Switzerland 0 2 2 102 126 -24
Chile 0 2 2 76 147 -71
---
More from USA-Brazil
---
https://www.youtube.com/watch?v=3C-n4gyO56U