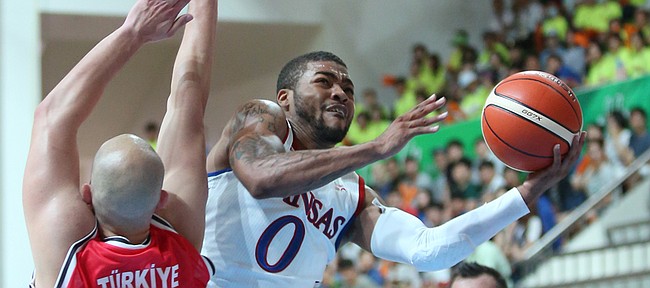 Gwangju, South Korea — The United States/Kansas University men's basketball team fought back from an 11-point deficit in the first quarter against Turkey to win its World University Games debut, 66-57, at DongKang College Gymnasium.
With strong defense in the second half, the Jayhawks pushed the pace and outscored Turkey, 34-21, in the final two quarters. KU junior guard Wayne Selden Jr. led the team with 19 points and nine rebounds, scoring 10 points in the second half.
"Our defense and getting to the boards," Selden said of the differences between halves. "Getting stops is big for us. Us getting stops … we like to get out and run and get layups."
Team USA had a 12-2 run to open the third quarter, taking the lead when KU junior guard Frank Mason III hit a free throw with 7:09 left in the third. The Jayhawks never trailed again, though Turkey cut the margin to four points, 61-57, with 3:48 remaining.
"We switched how we guarded the ball screens," KU coach Bill Self said. "I was pleased with how we defended. I thought we did a pretty good job.
Photo Gallery
Team USA vs Turkey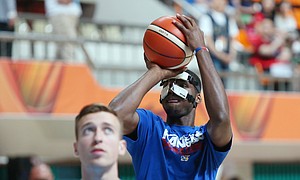 Photographs from Team USA 66-57 win over Turkey Saturday, July 4, in Gwangju, South Korea.
"I think that sparked us. It's always been my understanding, if you have good players and you play well, you're going to win. The key to having good teams is, when you don't play well, you figure out ways to win. That's what we kind of did today. We didn't play well."
In the run to begin the second half, Selden scored five points, driving to the rim for a layup and dropping a three-pointer from the wing. Turkey went 1-for-8 from the floor during the stretch with two turnovers.

"It's just being aggressive," said Selden, who shot 8-for-16 and made two three-pointers. "My biggest thing is trying to get to the boards. Just really running the floor and spacing out, letting Frank create, letting (SMU senior guard) Nic (Moore) create, and finding my spots."
"Nic and Frank didn't have typical Nic and Frank games," Self added. Mason scored 12 points (4-of-9 shooting). "We needed Wayne to play big, and Wayne played very well."
At the end of the third quarter, Moore scored six of his nine points and assisted on an alley-oop from beyond the three-point line to Selden.
"It was a good little run," Moore said. "Coach said I was being passive in the first half with stuff. I was just trying to be a good teammate and get the ball moving and stuff. When he told me to get my shots up and start looking for opportunities, I took advantage of that."
KU senior forward Perry Ellis added 17 points and six rebounds, fighting through contact in the paint. The Jayhawks outscored Turkey, 38-18, in the paint.
"They were physical guys, strong guys in the post," said Ellis, who shot 8-for-18. "I mean, yeah, we know we're going to have to play against that going forward. That was good experience.
"I felt pretty comfortable out there."
After taking a 5-0 lead in the first quarter, Turkey went on a 18-2 run over three minutes. Turkish forward MD Senli scored 10 points in the stretch, while Turkey made seven straight shots.

"I think they were just ready to play at first," Moore said. "New group of guys … we didn't know their team and who could do what. Second half, we kind of keyed on that and we started worrying about us, playing our game."
Self added: "We had no scouting report. Even when they warmed up, they kept their jerseys on so you had to look at their shorts to figure out what number they were. We figured out (Senli) was a good shooter after one quarter."
But the Jayhawks responded with an 11-2 run to open the second quarter with four points from Selden, a three-pointer from Moore, a layup-and-the-foul from Ellis and a putback from KU senior Hunter Mickelson.
Team USA will face Brazil at 8:30 p.m. (6:30 a.m. CDT) Sunday at DongKang Gymnasium. The game will air on ESPNU.