Gwangju, South Korea — The United States shot just 39 percent from the field in a 66-57 victory over Turkey in its World University Games men's basketball opener on Friday night at the DongKang College Gymnasium.
The U.S./Kansas University team hit 27 of 69 shots, including five of 20 (25 percent) from behind the three-point line.
One of the difficulties for shooters was adjusting to rims, which were harder than the rims with which they've practiced.
Photo Gallery
Team USA vs Turkey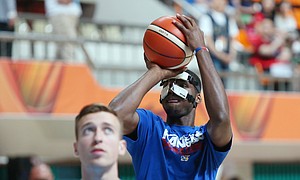 Photographs from Team USA 66-57 win over Turkey Saturday, July 4, in Gwangju, South Korea.
"It has to be a swish or it's going to be a brick," SMU guard Nic Moore said. "I didn't even know when we first got out here if the rims were breakaway because they look so hard."
FIBA officials keep game moving: There are a number of changes from NCAA rules to FIBA international rules, especially the 24-second shot clock.
But the difference between levels that impressed Kansas coach Bill Self was the officiating.
"I thought the game was very well officiated," Self said. "I mean, it's amazing. In the collegiate game, and these guys know it, there would have been 10 more fouls called underneath the basket. But these (officials) did a great job of verticality and all that stuff. It's almost like an NBA-type officiating crew, where the advantage doesn't always go to the offense if the defense makes a good play."
Bragg debuts face mask: KU freshman forward Carlton Bragg wore a white face mask with black straps Friday, three days after breaking his nose in practice Wednesday.
Bragg scored one point in 10 minutes, shooting 0-for-4 from the floor. He grabbed six rebounds and had four fouls.
https://www.youtube.com/watch?v=TjvUgFis1lI