Gwangju, South Korea — It's a simple formula: Force turnovers to get transition buckets. That's all Team USA needed to do in a 93-56 blowout victory over China in a scrimmage Thursday at Seolwol Girls' High in Gwangju, South Korea.
The Jayhawks took a 36-27 lead into halftime, before using their speed to outscore China in the second half, 57-25. They grabbed plenty of steals and it led to fast-break layups and alley-oop slams.
It was an unofficial scrimmage with no officials, no stats and a flip card scoreboard. The game clock wasn't shown. One man, who had a whistle to make a few obvious foul calls and to determine possession when the ball went out of bounds, would yell out the time remaining in the quarter periodically.
https://twitter.com/mikeyoderljw/status/616506275145383936
Despite the informal setting of the scrimmage, the Jayhawks tried to use it to their advantage.
"I think that's good," said KU junior Landen Lucas about playing without officials, "especially, I heard the Turkish team is physical. A lot of the teams we play are going to be. We can't expect any help from the refs. So having no refs out here is probably the best case for us. It will be good for us to learn from it, not rely on the refs and just go out there and play."
http://www2.kusports.com/photos/galleries/2015/jul/02/ku-vs-china/111760/
Photo Gallery
KU vs China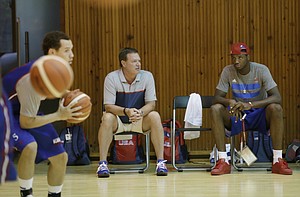 Photographs from Team USA's 93-56 win in a scrimmage game against China July 2 in Gwangju.
Eight of the Team USA players finished with at least nine points, including a team-high 13 points from KU freshman guard Lagerald Vick and 12 points from senior forwards Hunter Mickelson and Jamari Traylor. Freshman forward Carlton Bragg, who broke his nose in Wednesday's practice, sat out of the scrimmage, but expects to play Saturday once he receives a face mask. Ten of the remaining 11 players scored with senior Evan Manning as the lone exception.
"We got out and played pretty fast, which we need to do because I think we'll be a much better transition team than we will be a half court team," KU coach Bill Self said after his team shot 52 percent from the floor (43-for-83). "We did some good things. We didn't guard the ball very well at all. We need to be able to keep the ball in front of us.
"We looked pretty athletic at times. Our little guards need to play a little bit better and they will. But all in all, it was good to get out and sweat and do that. We accomplished today what I think we needed to accomplish."
http://www.youtube.com/watch?v=tTKOjuh-Ku8
KU forwards Lucas, Mickelson, Traylor and senior Perry Ellis (11 points on 5-of-7 shooting) were on the receiving end of a few alley-oops. Once they could get into transition, they sprinted past China's forwards for open looks around the rim. Frank Mason was on the other end, finishing with only two points but five assists. Junior Wayne Selden added four assists to go along with 11 points, shooting 5-for-11 from the field.
"It's an emphasis that you know they've been trying to put on us is to run," Lucas said. "It's going to be hard because we'll be tired, but we also have a lot of bigs, especially once we get Carlton back. So we'll be able to switch and rotate a lot. Running the floor is going to be big and getting easy buckets."
http://youtu.be/fuOJRF3DFM0
After two practices this week, the scrimmage was a change of pace for the Jayhawks. They changed gyms to avoid the slick courts at Gwangju High and it was the first team they faced since playing Canada twice last week at Sprint Center in Kansas City.

"It's a lot better because it's a court that we can stand up on," Self said. "But I think today was better than the hour practice from a conditioning standpoint. I don't know if you can lose conditioning in a couple of days, but our guys didn't seem like they had much bounce and I'll think we'll be much better each day that we're here."
But the biggest key in the scrimmage was the Jayhawks playing fast to tire China and earn easy baskets without having to run through plays.
"If you think about it, it's a lot harder for us to adjust to that shot clock in the half-court situation," Lucas said. "But fast breaks are fast breaks. The shot clock is out of play. We try to get easy buckets as quickly as possible. Then if not, do some quick plays."
Self added: "I think we've definitely played faster than the two teams that we've played. Canada we played a lot faster than they played. I didn't say better, just faster. I think that our speed over time kind of wore them down a little bit. But that didn't mean we played better. This team needs to play fast. We need to create some easy baskets."
Team USA will practice on Friday before the World University Games opening ceremony, then open pool-play versus Turkey at noon Saturday (10 p.m. Friday CDT) at DongKang College Gymnasium. Friday's game will be broadcast in the United States on ESPNU.
https://www.youtube.com/watch?v=k5ipu3LE1YA
---
TEAM USA (93)
Frank Mason 1-6 0-0 2, Wayne Selden 5-11 0-0 11, Nic Moore 3-6 0-0 9, Landen Lucas 5-9 0-0 10, Perry Ellis 5-7 0-0 11, Lagerald Vick 6-13 0-1 13, Julian DeBose 5-7 0-0 11, Hunter Mickelson 6-12 0-0 12, Jamari Traylor 6-8 0-1 12, Evan Manning 0-2 0-0 0, Tyler Self 1-2 0-0 2. Totals 43-83 0-2 93.
China 13 14 11 18 — 56
Jayhawks 18 18 21 36 — 93
Three-point field goals: Jayhawks 7-20 (Moore 3, Ellis, DeBose, Selden, Vick).
---
Kansas in Korea: Exclusive coverage of KU basketball at the World University Games from KUsports.com's Bobby Nightengale and Mike Yoder, who are on the ground in South Korea.