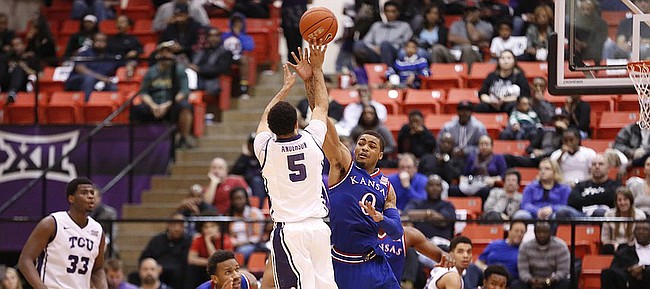 Photo Gallery
Kansas basketball v. TCU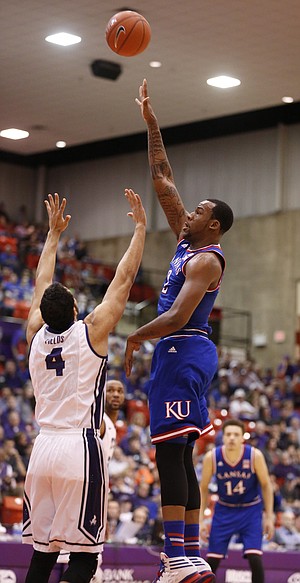 Images from Wednesday night's game between the Jayhawks and Horned Frogs in Fort Worth, Texas.
Podcast episode
Kansas basketball coach Bill Self was far from pleased with much of anything that transpired in the Jayhawks' 64-61 win at TCU on Wednesday night.
KANSAS 64, TCU 61
Fort Worth, Texas — Bill Self was squirming, and seething, on Kansas University's basketball bench Wednesday night as his first-place squad suffered a meltdown of near epic proportions against last-place TCU in Wilkerson-Greines Athletic Center.
"We were awful," Self, KU's coach, said after the (17-3, 6-1) Jayhawks, who led by 11 points with 3:35 to play, eked out a 64-61 victory over the last-place (14-6 1-6) Horned Frogs, a win assured only when Charles Hill's late three-point try clanged off the back iron at the buzzer.
"I don't know if you can play less intelligently," Self added of the final moments in which the lead slipped away.
KU led by nine with 1:40 left on the clock.
"I've been to the dentist and got a root canal. I may have enjoyed that slightly more than watching the last two minutes," Self said. "It seemed we gave them every opportunity. They played well and attacked the basket ... but that's a terrible way to close the game. Hopefully it will be a good teaching tape for us."
Remember how happy Self was after Saturday's victory at Texas? He was as despondent after Wednesday's narrow "W."
"There wasn't any competitive juice," Self said. "They got 26 offensive rebounds. They missed 50 shots. They got half their balls back. The guys and our team were a little full of ourselves and thinking that we are a team that can play to that level (exhibited at Texas) all the time. That's not the case at all."
Seeing all but three points of a 59-48 lead disintegrate will turn a coach into Scrooge rather quickly.
"The whole game was frustrating," Self said. "I thought they played harder. They were quicker to balls. They got every 50/50 ball. They competed hard. We were fortunate they shot a low percentage (30.6 to KU's 46.2 mark) and missed some free throws (TCU was 15 of 29; KU 13 of 20). It was a frustrating game and we were very fortunate we won.
"Not having energy, guys not being tough ... we were non-energetic and soft. That's not a very good combination on the road," Self added. "We were fortunate enough we made enough plays in a stretch in the second half, had enough of a gap they couldn't quite get to us."
KU used a Landen Lucas-led 12-0 run to erase a 43-40 deficit and grasp a 52-43 lead at 8:41. Lucas had four of his eight points and two of his three blocks in that run. KU extended the surge to 19-5 and led, 59-48.
"That was not a good energy game for us," Self said. "We're pretty good when we play with energy, a big drop-off when we don't. It was a pitiful energy game for us. Four of our starters (Jamari Traylor 0, Perry Ellis 8, Wayne Selden Jr. 5, Kelly Oubre Jr. 0) combined for 13 points. Our bench scored 35 and our bench wasn't very good. That shows how good our starters were. Every hustle play they beat us on."
This one came down to the final possession. Frank Mason III (16 points) missed two free throws with 4.7 ticks left, TCU having a chance to tie. Hill misfired, KU electing not to foul him to send him to the line instead of launching the trey.
"In that situation, I don't think he should have (fouled) because he (Hill) ended up hoisting a half-court shot almost. You've got to take chances on that," Self said. "If we could have fouled before half-court, that's fine. The way we rebounded, who knows if get the rebound on the free throw (with intentional miss). We were fortunate he missed."
Self did say he and his players were at least pleased to leave with a victory that keeps KU alone atop the league standings.
"We're always happy with a win. It was an ugly win in our eyes," Mason said. "We can get better. We did a lot of things wrong. We'll look at the tape and get better."
Noted Lucas, who responded well after not playing the previous two games: "It was not the best victory but we'll take a win. Really we got outplayed in many ways. We came out with a win, that's all that matters. Coach warned us how good they are and can beat us. We came in and understood that."
Of his effort, that included seven rebounds and three blocks, Lucas said: "I stay with it, practice my game when I'm not playing. Coach talked with Svi (Mykhailiuk, three points) and myself and some guys about staying ready when your number is called."
The Jayhawks, who led by 13 the first half (23-10) had just one player to score in double figures — Mason.
"I don't think there's any question. I'll say we as a coaching staff we were full of ourselves. We did play very well in Austin (Saturday)," Self said. "I'm OK with the outcome today. I'm not OK with our energy and attention to detail at all. We had guys check in the game forget to block out on a free throw. We were out of it. We were begging guys (to improve) body language, be positive, play with energy and compete. It seemed we never got there."
KU will next meet Kansas State at 1 p.m., Saturday, in Allen.
Bumps, ailments: Kelly Oubre Jr. (no points, one assist) was "under the weather," Self said, adding, "he didn't get much done when he was in there." ... Devonté Graham said he re-aggravated his turf toe injury, but did return to the game. "I'm fine," he said.
This, that: There was a computer snafu at the game, hence the players' minutes were not compiled correctly.
---
More news and notes from Kansas at TCU
---