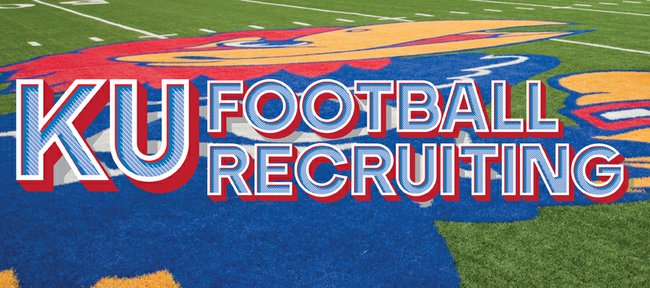 It was net two for the Kansas University football recruiting efforts over the weekend, as the Jayhawks and head coach David Beaty picked up four more oral commitments but also lost two previous commitments to other schools.
Three-star defensive end Dorance Armstrong, 6-foot-4, 220 pounds from North Shore High in Galena Park, Texas, two-star wide receiver Jeremiah Booker, 6-3, 187, College Station (Texas) High, two-star wide receiver Steven Sims Jr., 5-10, 165, Richmond, Texas, and two-star linebacker Osaze Ogbebor, 6-1, 195, Heritage High in Frisco, Texas, all gave oral commitments to Beaty in the past 48 hours.
Armstrong chose KU over offers from Cal, Houston, Illinois, Indiana, Iowa State, Michigan State, Northwestern, Oregon State and Purdue, among others. Booker picked KU over offers from Nevada and New Mexico and interest from Oklahoma State. And Ogbebor committed to KU over offers from New Mexico State, Tulsa and UTEP.
While that bit of good news was coming down the pipe, the Jayhawks also got bad news in the form of changes of heart from wide receiver Kevin Thomas, who now is committed to SMU, and athlete Arico Evans, who now is committed to TCU.
When they committed — Evans in December and Thomas last summer — the Texas athletes were regarded as two of the better gets in the Jayhawks' 2015 recruiting class.
Although the loss of Thomas hurts KU's receiving corps, adding Booker helps lessen the blow. Wide receivers coach Klint Kubiak, who first became familiar with Booker while working with KU coach David Beaty at Texas A&M;, was the lead recruiter on KU's newest wideout and Booker becomes the first significant pick-up by the 27-year-old, first-year KU assistant.
According to Jon Kirby of JayhawkSlant.com, Kubiak began recruiting Booker the day he was hired by KU.
"Coach Kubiak was beside me the whole time," Booker told Kirby. "He showed me support from the first time we talked and he saw my film. He was great through the whole process. It has been good to see the connection the coaches all have. They all come across as father figures. It gets me hyped. I enjoy all of them and it seems like a great staff."
Armstrong, who caught the KU coaching staff's eyes because of his size and speed, was the biggest fish the Jayhawks landed this weekend. With just a couple of weeks remaining before the Feb. 4 national signing day, his commitment appears solid.
"I'm happy to commit to Kansas and I am done with recruiting," Armstrong told Kirby. "I don't know yet if I will take another visit but I do know I am going to Kansas."
Late Sunday night, JayhawkSlant reported the Sims commitment. Like Booker, Sims had previous connections with Beaty and Kubiak.
The addition of Booker and Sims, who, according to Kirby, was first recruited by Beaty while he was still coaching at Texas A&M;, should help offset the loss of Thomas and adds depth to KU's most unproven position.
Sims, known for his speed and play-making ability in the open field, was drawing interest from Colorado, McNeese State, Boise State and Utah among others. One recruiting analyst who covers Texas said Sims was ready to play right away, "especially in the Big 12."
The plus-two weekend for the Jayhawks brings their total number of commitments in the current recruiting class to 23, which leaves room for two more commitments before signing day. Armstrong is the third defensive lineman and second D-End in the class, Booker and Sims are the third and fourth wide receivers in the class and Ogbebor is the lone linebacker.
Here's a quick look at the 2015 recruiting class as it stands today:
OL D'Andre Banks – 6-3, 325, 3 stars – signed
DB Bazie Bates – 6-1, 195, 3 stars – signed
DT Jacky Dezir – 6-3, 305, 2 stars – signed
RB Ke'aun Kinner – 5-9, 185, 3 stars – signed
DB M.J. Mathis – 6-2, 205, 3 stars – signed
OL Jayson Rhodes – 6-4, 310, 2 stars – signed
OL Will Smith – 6-4, 315, 3 stars – signed
DB Brandon Stewart – 5-11, 175, 3 stars – signed
---
DE Dorance Armstrong – 6-4, 220, 3 stars – committed
DB Shola Ayinde – 6-0, 168, 2 stars – committed
WR Jeremiah Booker – 6-3, 187, 2 stars – committed
OL Aaron Garza – 6-2, 287, 3 stars – committed
WR Chase Harrell – 6-4, 200, 2 stars – committed
RB Taylor Martin – 5-9, 187, 2 stars – committed
WR Emmanuel Moore – 6-0, 190, 2 stars – committed
TE Josh Moore – 6-5, 250, 3 stars – committed
LB Osaze Ogbebor – 6-1, 195, 2 stars – committed
DB Shaquille Richmond – 6-0, 180, 3 stars – committed
WR Steven Sims Jr. – 5-10, 165, 2 stars – committed
OL Jarek Smalley – 6-6, 315, 2 stars – committed
QB Carter Stanley – 6-2, 188, 2 stars – committed
DE Jace Sternberger – 6-4, 225, 2 stars – committed
QB Ryan Willis – 6-4, 201, 3 stars – committed
All star ratings courtesy of Rivals.com