Saturday, January 24, 2015
Photo Gallery
Kansas basketball v. Texas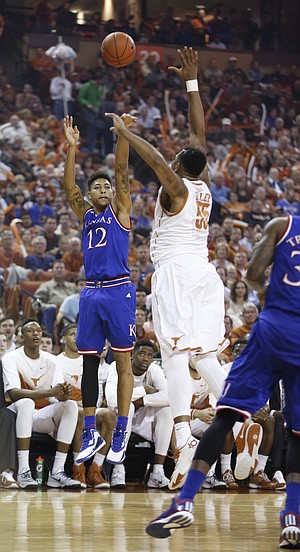 Images from Saturday's game between the Longhorns and Jayhawks at Frank Erwin Center in Austin.
Podcast episode
Kansas basketball coach Bill Self talks about the Jayhawks' Saturday road win at Texas, a victory in which he saw few issues for his team.
Podcast episode
Kansas basketball subs Brannen Greene and Cliff Alexander combined for 29 points off the bench in KU's win at Texas. They discussed the Jayhawks' win with the media.
KANSAS 75, TEXAS 62
Austin, Texas — Jamari Traylor, in one first-half frenzy of Kansas University's 75-62 win at Texas Saturday afternoon, went flying into the Frank Erwin Center stands while chasing an offensive rebound. And he wasn't done there.
After running to the other end of the court, the junior forward dove on a loose ball near halfcourt, and knocked it off UT's Demarcus Holland. The play ended with a basket and free throw from Frank Mason III. Traylor had eight floor burns in the game.
"He (Self) said it hands down was one of his favorite plays this year," Traylor said. "He was happy the way the guys came out and competed. That was one of the highlights of the game for him, I guess."
Let Traylor describe the action that so impressed Self and the bench: "I got my shot blocked. I ran down and blocked one. The ball bounced to me. I had to jump inbounds real quick to save it. I tried to get a good offensive rebound (off a Brannen Greene miss). I ended up falling into the crowd, falling on a cameraman. I was on my way back down, the ball happened to be rolling. I ran and dove to it. Frank (Mason III) ended up getting an and-one. It was pretty crazy.
"I feel it gave us a lot of energy, pumped up energy into everybody and got everybody going. I looked at the bench and everybody was hyped so I was like, 'Oh man, it must have been something,'" Traylor added.
---
More news and notes from Kansas at Texas
---