Saturday, January 24, 2015
Photo Gallery
Kansas basketball v. Texas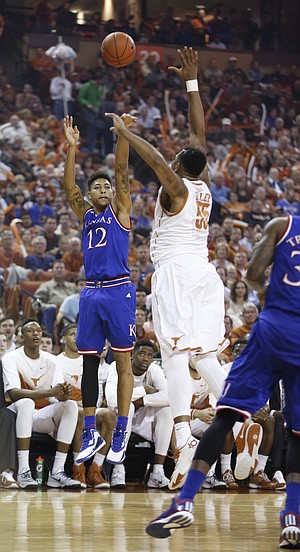 Images from Saturday's game between the Longhorns and Jayhawks at Frank Erwin Center in Austin.
Podcast episode
Kansas basketball coach Bill Self talks about the Jayhawks' Saturday road win at Texas, a victory in which he saw few issues for his team.
Podcast episode
Kansas basketball subs Brannen Greene and Cliff Alexander combined for 29 points off the bench in KU's win at Texas. They discussed the Jayhawks' win with the media.
KANSAS 75, TEXAS 62
Austin, Texas — Kansas University sophomore Brannen Greene, who scored 14 points in 20 minutes during the Jayhawks' 75-62 road win at Texas Saturday, had not practiced the previous two days.
Greene got hit by a Perry Ellis elbow at practice, keeping him from normal basketball activities. He had a shiner under his right eye.
"He hasn't practiced in the last two days. He just shot (on the side). We held him out of contact," coach Bill Self said. "They said it may have been slight (concussion). He had a headache. He said he could go. Doctors don't mess with that."
"My eye is not swollen, just black," Greene said.
Ellis explained: "I think he ran into me. I got the ball in the middle, turned around. He came and ran into my elbow. That's how it happened (practicing against zone)."
First place: KU is 5-1 in the Big 12, while Kansas State is 5-2. West Virginia and Iowa State are 4-2.
"If you told me we'd be 5-1 after six games I'd say we played really well," Self said. "Because three road games were really tough (Texas, Iowa State, Baylor)."
Coaches talk: KU led the entertaining game, 32-30 at halftime. "That was two good teams playing. Even Rick (Barnes, UT coach) and I talked at halftime. It was 'you're good. No, you're good, too.' Those were two good teams," Self said.
This, that: KU is 5-1 in Big 12 play for the 10th time under Self. ... KU leads the all-time series against UT, 24-8, with a 7-6 mark at Erwin Center. ... KU is 250-50 in Big 12 play. ... UT opened on an 8-0 run before Ellis scored KU's first points with 16:45 on the clock. ... KU is 12-0 when leading at halftime. ... After Myles Turner scored to put UT up, 44-39, with 14:36 left, KU outscored UT, 36-18, to end the game. ... KU concluded a four-game streak against ranked opponents with a 3-1 mark. A year ago, KU became the first team since North Carolina's 1997 squad to knock off four-straight ranked opponents in the regular season. ... KU became the third team to out-rebound the Longhorns this year (37-36). ... Self used just eight players, citing coach's decision for his moves. ... Greene chalked up double-digit points in consecutive games for the first time in his career (12 vs. Oklahoma, 14 vs. UT). ... Perry Ellis scored in double figures for the sixth time in his last eight outings, chalking up 14 points and tied his season-high with three assists. ... Since returning from an injury suffered against Georgetown on Dec. 10, Graham has recorded 20 assists and just one turnover in 92 combined minutes of play over the last six games. 
---
More news and notes from Kansas at Texas
---