Saturday, January 24, 2015
Photo Gallery
Kansas basketball v. Texas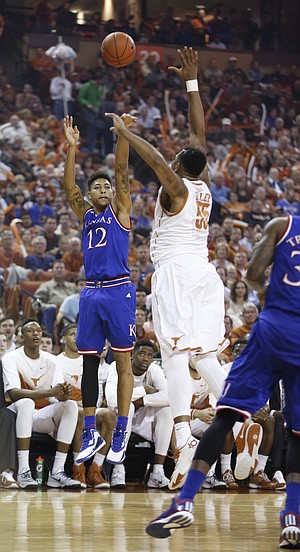 Images from Saturday's game between the Longhorns and Jayhawks at Frank Erwin Center in Austin.
Podcast episode
Kansas basketball coach Bill Self talks about the Jayhawks' Saturday road win at Texas, a victory in which he saw few issues for his team.
Podcast episode
Kansas basketball subs Brannen Greene and Cliff Alexander combined for 29 points off the bench in KU's win at Texas. They discussed the Jayhawks' win with the media.
KANSAS 75, TEXAS 62
Austin, Texas — Cliff Alexander has been trying to play with an accelerated "motor" since being benched the last 14 minutes of the Iowa State game on Jan. 17.
"I ran the floor a lot today. Brannen Greene and Devonté Graham looked at me, passed to me a couple times when I was running the floor," the 6-foot-8 Chicago freshman said after scoring 15 points and grabbing nine rebounds while logging 27 minutes in KU's 75-62 win over Texas on Saturday at Frank Erwin Center.
Alexander hit six of 11 shots despite playing with a bruised sternum that was also hit at shoot-around before the game.
"We worked the middle (of UT zone). Coach told us, 'Get the ball to the middle. It's open every time.' We got easy shots," Alexander said of KU's big men.
Of UT freshman Myles Turner, who scored eight points and grabbed eight boards in 27 minutes, Alexander said: "He is kind of thin down low. He can work down there. He's just kind of thin, that's all," the 240-pound Alexander said of the 240-pound Turner. "He has a nice game.. He can shoot the three, face-up," Alexander added of Turner, who was 0-for-3 from three on a day UT hit three of 18 threes.
"We were playing the post before they could get comfortable in the post," Alexander said of big man strategy.
---
More news and notes from Kansas at Texas
---