Saturday, January 24, 2015
Photo Gallery
Kansas basketball v. Texas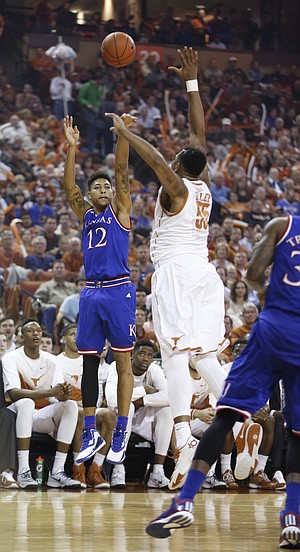 Images from Saturday's game between the Longhorns and Jayhawks at Frank Erwin Center in Austin.
Podcast episode
Kansas basketball coach Bill Self talks about the Jayhawks' Saturday road win at Texas, a victory in which he saw few issues for his team.
Podcast episode
Kansas basketball subs Brannen Greene and Cliff Alexander combined for 29 points off the bench in KU's win at Texas. They discussed the Jayhawks' win with the media.
KANSAS 75, TEXAS 62
Austin, Texas — Kansas University center Cliff Alexander has had his steps forward and backward, which can be said of almost every freshman in the country. But Alexander never has been one to drift too far away from the basket.
Texas forward Myles Turner, on the other hand, hasn't always used his 6-foot-11 frame to his advantage, according to Longhorns coach Rick Barnes.
"Myles, we need to get him to the free-throw line a lot," Barnes said after Turner totaled eight points and eight rebounds in UT's 75-62 loss to KU in which Turner did not shoot a free throw.
Turner averages 11.8 points, 6.8 rebounds and 2.7 blocks per game and shoots .883 from the line.
"You see him, you watch him play," Barnes said. "He should be on the block all the time. I think he could be a dominant 12-foot-and-in player. He doesn't have to get in there and try to be physical. I just think he catches that thing anywhere from 10, 12 feet in,  I think he can dominate. But he's got to want to do it all the time. And then his teammates have to want to get him the ball. That's a big part of it too."
Alexander was ranked No. 4 by Rivals in the Class of 2014, Turner No. 9. 
"I played against Myles Turner all the time in high school," Alexander said. "He's got a nice game, got a little touch, can shoot the three, face up, shoot the short jump shot, got a pretty decent game."
Asked if he is surprised Turner does not spend more time closer to the basket, Alexander didn't duck the question.
"He's kind of thin," Alexander said. "He's kind of thin, down low. I mean, he can still work out down there. He's just kind of thin, that's all."
Jonathan Holmes lamented the entire team's inability to cash in on size.
"We're one of the biggest teams in the country," Holmes said. "We need to understand that. I don't think we take advantage of it. It's frustrating. It's something we talk about every day."
---
More news and notes from Kansas at Texas
---