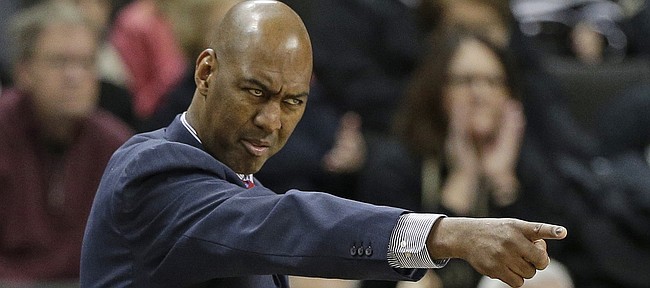 Winston-Salem, N.C. — Danny Manning isn't into moral victories. His first Wake Forest team has given him a few of them anyway.
The Demon Deacons (9-9, 1-4 Atlantic Coast Conference) have played unexpectedly close in losses to then-No. 5 Louisville, then-No. 2 Duke and Syracuse.
That's given them perhaps the most encouraging 1-4 start to league play in ACC history.
But now with No. 15 North Carolina visiting Wednesday night, they figure it's time to start turning those moral victories into real ones.
Guard Codi Miller-McIntyre said Tuesday that "there's definitely positives there, but ... we're still disappointed that we lost."
Post player Devin Thomas says Manning "challenges us in ways we've never been challenged before" by infusing them with "confidence ... we never really brought out of ourselves."
When Manning speaks after losses, the former NBA All-Star big man routinely brushes off any suggestion of moral victories, often responding by saying, "We lost."
He said Tuesday there hasn't been a moment this season when everything clicked, preferring to describe his team's improvement as gradual.
"Coming into it, this was new for everybody — it was new for the coaches, it was new for the players, the system was new for the players," Manning said. "So they're continuing to work hard and we're getting better every day. We just have to make sure that we're continuing to play with the energy level and effort level we've played with, with great intensity and find ways to finish games better."
The numbers sure seem to indicate this team is playing better than it did when it lost early-season games to Iona and Delaware State.
Wake Forest is the ACC's second-best team on the defensive glass, averaging nearly 28 rebounds per game, and a big reason for that is Thomas.
He scored a career-high 31 points against the Cardinals, followed that with 24 points against Duke and has reached double figures in scoring in five straight games — his longest such streak this season.
"We're just trusting the system more, trusting the coaches," Thomas said. "It's not easy for change, but Coach Manning and the coaching staff have the best interests (at heart) for us. We're just starting to come together as a team and everyone's starting to believe in each other."
Manning arrived last spring after two successful seasons at Tulsa to take over for Jeff Bzdelik, who stepped down in March following four years of road struggles, head-scratching losses and the occasional home upset of a Top-25 opponent.
Those early season losses made it seem like those struggles didn't leave when Bzdelik did.
But Wake Forest hung tough with Florida for much of a 63-50 loss and things started to click after a 2-point road win at Richmond on Dec. 28.
And once ACC play really got started, the Demon Deacons began playing much better: They led both Louisville and Duke late before fading down the stretch and losing to the Cardinals by nine and the Blue Devils by eight.
They beat Georgia Tech, then took Syracuse to overtime last week before falling 86-83.
Miller-McIntyre said nobody is satisfied with merely playing those teams close.
"We've lost those games within the last 4-5 minutes of each game," he said. "And that correlates sometimes with not finishing off practice. We've got to do a better job finishing out the entire practice versus the first two hours, and let the last 15-30 minutes go by."