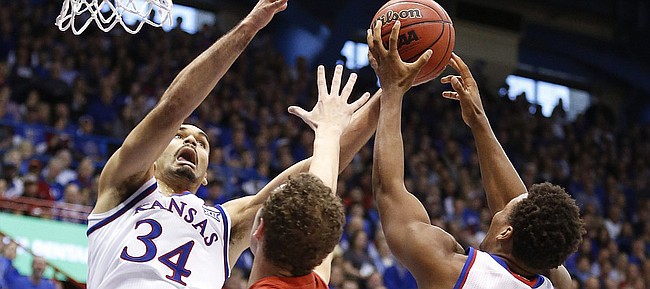 Kansas University forward Perry Ellis' shooting percentage — which topped at a sizzling 54.9 percent last year — has dipped to 41.7 percent through 16 games of his junior season.
Nobody's panicking over the decline in accuracy, which this season has included a 1-for-10 outing against Temple, 1-for-8 against Oklahoma State and 1-for-6 versus Kentucky.
"I think that Perry is just a fraction away from doing the things that we had envisioned him to do," KU coach Bill Self said of the team's second-leading scorer, who takes a 12.2 ppg average (to Frank Mason III's 12.4) into Saturday's 8 p.m., contest at Iowa State.
"I think one thing he has to do, he's got to be a player that's aggressive and believe that he's the best player on the floor every night, because when he plays well, he is, and he's proven that. I think Perry is going through a little bit of a situation where maybe we're winning (14-2, 3-0) and maybe it's OK for him to defer like he has in years past, because the end result has been OK. And that's not good for us." Self added.
"He's got to be the most aggressive guy looking to score every night we play. Even if he misses shots, he makes things happen if he's aggressive. I don't think he's far off at all, and certainly his talent level is as good or as better as it has been since he's been here. I think he's got to be our go-to guy, and I don't think he's far off. I wouldn't be surprised at him having a big game and a series of big games very soon. I really see him taking off the last half of our season."
Ellis is the kind of player, Self said, who "remembers his misses where some guys don't remember their misses. He remembers his screw-ups because he's conscientious, like you would want your son to be, whereas a lot of coaches would just as soon not coach your son. They would rather have some guys that can't remember their bad plays.
"I think he's almost too sweet and too nice a kid at times when things are not going well. One thing that I worry about with our entire team is our body language. I don't think we have been a great body language team and I think Perry is one of those guys that can improve on that," Self noted.
The low-key Ellis admits "sometime I do (put pressure on himself). It's something I'm always trying to get better at, let the game come to me, try to work on going out and having fun."
After a 5-for-7, 15-point outing against Texas Tech last Saturday, he acknowledged he'd been in ... "a slump. It's something the coaches have my back, they just want me to continue attacking in practice and are trying to help me out. Coach is always saying, 'Go hard to the hole and try to dunk.'''
Junior Landen Lucas said he has full confidence in Ellis, noting that he's been spending extra time in the gym and been going up to the basketball offices and "talking to coaches" as well.
"We know the talent level is there. The skill set is there. Once he gets back on track it'll be a quick change everybody will see," Lucas said.
"It's something where I've got to come next day to practice, keep shooting and you get past it," Ellis said of a slump.
The 6-8, 225-pounder noted it has been a bit more difficult finishing inside this season.
"Having Jo Jo (Embiid, now with Philadelphia 76ers) out there took a lot of the spotlight off me. It's definitely different (this season). I'm trying to get better," Ellis said.
One Jayhawk the polar opposite of Ellis from a mental standpoint is Kelly Oubre Jr., who has been on a roll of late, scoring in double figures in four of his last five games.
"Kelly can't remember (missed shots). He can be 0-of-4 and have three turnovers and he gets a deflection out of bounds and he thinks that's the play that won the game which is the way it should be. I think that's great. That's the way it should be, fun and enthusiastic like that," Self said.
High praise: KU's Wayne Selden Jr. was a teammate of ISU's Georges Niang at Tilton (N.H) school and also with the Boston Amateur Basketball Club. "He's the best player I played with until I got here," Selden said, smiling. What about Nerlens Noel? "Best until I got here," he repeated.
Monday's festivities: KU athletics will honor former student-athletes who were instrumental in the desegregation of Lawrence during the late 1950s during Monday's KU-Oklahoma game, to be contested on Martin Luther King Jr. Day.
Homer Floyd (football) and Ernie Shelby (track), who in 1957 expressed their intention to leave KU if some issues regarding discrimination in Lawrence were not addressed, will be introduced during the game. At 4:30 p.m., they will participate in a candlelight vigil at the Strong Hall Rotunda and walk with students from Strong Hall to the Kansas Union for a special social justice celebration. For more information on KU's Martin Luther King, Jr. Day activities, go to the Web address mlklawrence.com.
Recruiting: KU coach Self went on a recruiting trip to the Bass Pro Tournament of Champions in Springfield, Missouri, on Thursday night. Ivan Rabb, a 6-9 senior from Bishop O'Dowd High in Oakland, California, competed at the tourney with juniors Malik Monk, 6-3, Bentonville (Arkansas) High; V.J. King, 6-7, Paul VI High, Fairfax, Virginia and Harry Giles, 6-10 Wesleyan Christian Academy, Winston-Salem, North Carolina. Rabb is ranked No. 7 in the Class of 2015 by Rivals.com. Giles is ranked No. 2, Monk No. 6 and King No. 18 in the Class of 2016.
Points down: Self was asked about scoring being down in college basketball this season.
"I think a lot of that is bad offense. I think a lot of it is, it's easier to coach defense than offense and a lot of times easier to stop people than it is to exploit people," Self said.
"But our players' skill sets, I don't think is quite as good. I think it's just generally going down in large part because we don't have as many good players playing, many great players playing in the college game as what we've had in most of the years past because none of them stay past their sophomore year."