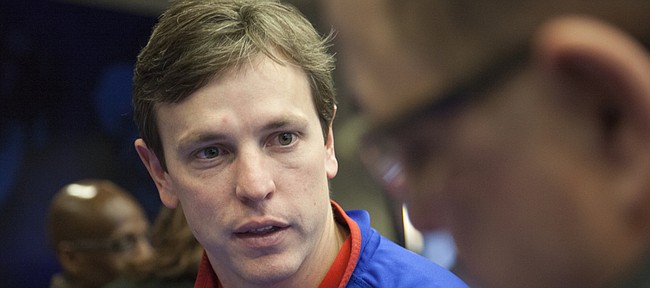 Mark Mangino had one scholarship left for his first recruiting class and he didn't want to spend it on a player who would amount to Mr. Irrelevant. Legendary Rockhurst High football coach Tony Severino remembers the conversation he had about a 205-pound Hawklet linebacker in his office with Mangino.
"I remember Mark said, 'Coach, are you sure?' I said, 'I'm telling you right now, this guy can play. This guy's a football player,' " Severino said Thursday by phone.
Severino was right and Mangino was wise to trust the coach's word. Kevin Kane proved to be just what his high school coach said he was, a football player. Not a blue-chip prospect, a football player. He didn't look any better on the stop watch than he did on the scale. But he sure looks good to this day on the Memorial Stadium scoreboard when the play that I still consider the one that best symbolizes Kansas turning into a winning program under Mangino is shown. Kane returned an interception 41 yards to give Kansas a 16-point lead midway through the fourth quarter on the way to a 40-15 victory in 2005 against Nebraska, which had gone 36 consecutive years without losing to Kansas.
Kane, whose career lasted from 2002 through 2005, twice was named honorable mention All-Big 12 and earned Academic All-Big 12 honors three times.
After graduating from KU, Kane spent two years in the athletic department, the first year in administration, then as a graduate assistant for Mangino in the Orange Bowl season. Then he built his coaching resume at Wisconsin (2008-10) and Northern Illinois (2011-2014). Kane is back as linebackers coach, working under defensive coordinator Clint Bowen and head coach David Beaty. Now instead of pitching Kane, Severino will be pitching to him.
"Kevin brings a lot of good experience with him," Severino said. "You can't argue with the success Northern Illinois has had over the years. He's a relentless recruiter. He goes after you. He'll do a great job in Kansas City. People know him. He'll be a real presence. That's what David had to get, someone who's known in Kansas City."
Kane has a tough job, convincing high school football players to sign with a program coming off its worst five-year run in history, but it's not any tougher than developing into a two-year starter in the Big 12 after arriving at school with the size and speed normally associated with walk-ons. Kane was in the program when it turned, which makes his voice important in discussions of how to turn it again.
In 2005, Kansas broke a string of nine losing seasons, went 7-5 and won the Fort Worth Bowl with Kane, Banks Floodman and Big 12 defensive player of the year Nick Reid at linebacker.
How did Kansas do it?
"One, we were able to get kids who wanted to be here," Kane said. "It was important to them. Two, we had some tough kids. We were tough. Whether it was working out or fall camp, coach Mangino, if you made it through here, you were tough. And that was one thing, we weren't scared of anybody when we walked on the field. OK, you're playing Texas, Oklahoma, it didn't matter. We were confident and tough."
What else?
"We had some football IQ on this team," Kane said. "You get those types of kids, you're going to have some success. You've got to find them. You've got to develop them, and you've got to keep going."
Kane spent the past four seasons recruiting those types of players to Northern Illinois, which compiled a 46-10 record in Kane's four seasons there, the last three as linebackers coach with the added responsibility of special teams coordinator in his final two seasons. Add the records of the staffs for which he did lesser jobs at Wisconsin and Kansas and his career record is 86-22. That means he's been exposed to the methods of multiple winning coaches.
Plenty of the winning plays on those teams were made by guys like him, who weren't obvious prospects.
"You always hope to bring in the best guys who can come in and compete right away, but is that the reality? Not always," said Kane, who grew to 230 pounds at KU and is back to 205. "... It's more a prediction. Then when they get here you have to give them the tools to have success. We've hired a (former KU strength coach) Chris Dawson descendant (Je'Ney Jackson), which I'm fired-up about. I think Chris is one of the best in the business and it's going to be very similar to what he has done. You can bring in guys who look like me and turn them into 230-, 235-pound guys who can help us."
Kane said being so ignored as a recruit by most programs and going through such tough workouts at KU made him "play my entire career with a chip on my shoulder."
The closer recruits are to home, the better said Kane, who also recruited Kansas City for Northern Illinois.
"It's right in our back yard," Kane said. "There are plenty of good football players in Kansas City. I was able to find those diamonds at Northern and then you develop them into good players. There are tons of kids in Kansas City who want to play here. If you get a player who wants to play here, he's going to work his tail off."
A player like Kane was at Rockhurst and again at Kansas after sweating in the weight room and on the practice field and studying film and the playbook.
"A guy like Kevin Kane," Severino said, "when things are going bad he ain't gonna walk away form you. You can't win a Big 12 championship playing with 20 Kevin Kanes. But you can win with five or six Kevin Kanes. Then if you've got five or six you have to run after and chase because they're walking away from you when things are going bad, if you've got that solid base you don't have to worry about, they can help you turn those other guys around."
It won't be easy to build the burnt bridges from the previous two KU head coaches who underrated Kansas City talent, but Severino sounded convinced Kane is the right guy to do it.
"It's funny," Severino said, "Kansas should have more of an inroad to Kansas City guys than Kansas State or Missouri. But you're kind of in a Catch 22. You have to get the players to win games, but you have to win games to get the players.
"You probably have 15 Big 12-type players in Kansas City every year. You've got to get your share of those. You're not going to get them all, especially with Kansas State and Missouri doing so well, but you've got to get your share. The closer players are to the school, the more loyal they're going to be. Those are the guys who are going to stay with you when things get tough."
Kane came to KU from Parkville, Missouri, Reid from Derby, Floodman from Wichita. Football players don't come much tougher than those guys. They endured a 2-10 freshman season, played in two bowl games and left the program in so much better shape than when they arrived. Now Kane's on the lookout for those type of guys to help bring the program back from the ashes the way he used to be on the lookout for ending plays with punishing hits.