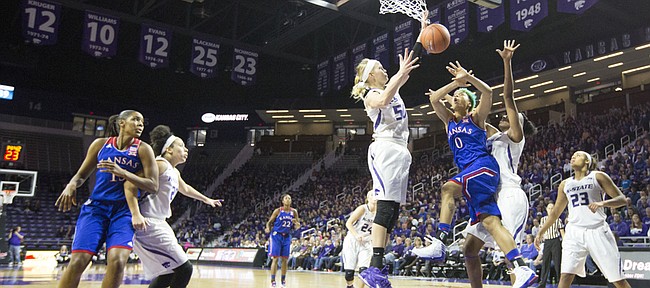 Photo Gallery
Kansas women at Kansas State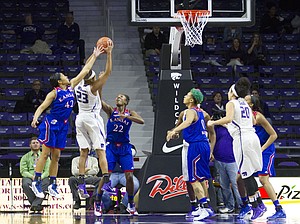 Images from the Jayhawk's Big 12 womens basketball match up against Kansas State on Sunday, Jan. 11, 2015 at Bramlage Coliseum in Manhattan.
Manhattan — Kansas University women's basketball coach Bonnie Henrickson and her Jayhawks walked off the Bramlage Coliseum court Sunday afternoon disappointed in what transpired in the Sunflower Showdown, and regardless of what happens next, they'll look back at the rivalry game as a win they gave away.
KU turned the ball over 14 times in the second half, only hit six of 23 field goals in the final 20 minutes and saw a 14-point first-half lead vanish in a 58-52 loss to Kansas State.
"We're our own worst enemy," Henrickson said after Kansas failed to earn its first Big 12 win and turned the ball over 23 times, leading to 21 K-State points. "We just let it go and were careless and lackadaisical."
Sure, K-State (11-3, 1-2) forced some of those miscues, but Henrickson said far too many KU giveaways were self-inflicted.
"We've gotta be better, more disciplined," the coach said, "attack and make the right decisions."
An issue throughout the loss, turnovers plagued KU (9-7, 0-3) for a span of more than six minutes early in the second half. The Jayhawks lost the ball six times, coinciding with an 0-for-7 scoring drought that stretched from a Chelsea Gardner jumper at the 18:22 mark to a Caelynn Manning-Allen layup with 10:44 remaining.
In the meantime, the Wildcats took advantage with an 11-2 run that gave them their first lead since 2-0, before Manning-Allen's point-blank bucket put Kansas back ahead, 41-40.
As Henrickson pointed out, KU used eight players and each but sophomore forward Jada Brown (11 minutes) had at least one turnover. Freshman guard Chayla Cheadle, who led the Jayhawks with 15 points, turned it over five times, and senior guard Asia Boyd finished with four.
"It's by committee right now," Henrickson lamented.
Manning-Allen (four points and six boards) scored one of KU's three interior second-half baskets with 7:47 left, giving Kansas a 43-41 lead as Gardner (three second-half points in 10 minutes as she battled foul trouble) sat on the bench. Gardner finished with 13 points and just four rebounds.
K-State's Kindred Wesemann knocked in two free throws to give the Wildcats the lead for good with 4:49 to play.
"The more they attacked, the more we didn't counter that by being as aggressive on the offensive end," Henrickson said.
As if things couldn't get any worse for Kansas, which had won four of the previous five in the rivalry series, the Wildcats' Ashia Woods (15 points) lofted an off-the-mark lob pass inside, and it went through the hoop with 2:58 to go, boosting K-State's lead to 49-44.
Cheadle converted a four-point play with 1:19 remaining to cut the home team's lead to three, but K-State's Brianna Craig (13 points) answered with a three-pointer of her own at the other end, pushing the Wildcats out of the Big 12 cellar and leaving the Jayhawks and West Virginia (10-5, 0-3) as the only teams without a league win.
The Jayhawks spent the first eight minutes of the rivalry game wrecking the Wildcats' defense. KU nailed its first four three-pointers (3-for-14 from that point on), and freshman point guard Lauren Aldridge (five assists) and Boyd (four assists) whipped passes inside that carved K-State's zone.
Cheadle said KU failed to sustain that style, which put them KU in front, 20-6.
"We just stopped attacking in the paint," Cheadle, a freshman from Columbia, Missouri, said. "We needed to keep attacking instead of playing outside of the zone."
Senior guard Natalie Knight (12 points, seven rebounds, five assists) summed up the feeling in the KU locker room: "We know we ended up beating ourselves."
Kansas, which remained winless away from Allen Fieldhouse (0-5), returns home Wednesday for a 7 p.m. game against TCU (10-4, 2-1).
Injured Texada leaves on stretcher
With 16:08 left, K-State senior guard Haley Texada lay on the floor after getting hurt in a scrum for a loose ball. She remained on the court several minutes as trainers examined her and concerned head coach Jeff Mittie looked on. The Jayhawks held hands in a huddle nearby as paramedics placed Texada in a neck brace and moved her onto a stretcher. Fans stood and cheered as she was wheeled off the court.